Tote Exacta | Tote Exacta Rules & Tote Exacta Payout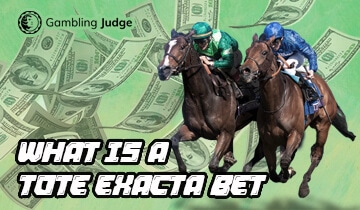 Tote Exacta betting is one of the most popular ways to wager in UK horse racing betting. While it is always possible to bag a decent return with straight betting, a Tote Exacta bet can see you win much larger prizes.
What is Tote Exacta, though? In this guide, we aim to help you understand how these bets work, how you can place them, and what you can hope to win. This might sound complicated, but with our guide, we will have you up to speed and ready to bet in minutes. If you are ready to have Tote Exacta explained to you, read on to find out more.
What is Tote Exacta? Understanding a Tote Exacta bet
Our Top Pick Bookmaker for Pool Betting in 01 November 2023 – Updated List
Tote Betting on William Hill
➤ William Hill is an agent for the Tote and accepts bets at Tote odds on horse racing in Great Britain and selected pools in the Republic of Ireland and other countries where their acceptance is advertised.
➤ The bets accepted at horse race meetings in Great Britain are the Scoop 6, Jackpot, Placepot, Quadpot, Trifecta, Exacta, Swinger, win, place and any other new bet introduced by the UK Tote.
➤ Where the UK Tote offers a pool facility for horse race meetings taking place outside Great Britain and the Republic of Ireland bets will be accepted.
How does a Tote Exacta work? Tote Exacta rules
Tote Exacta betting takes place at horse racing betting sites. The aim of the game is to predict the top two finishing horses. This typical Tote Win/Place bet involves choosing a winner and a horse to finish second. 
All stakes wagered will be placed into the Tote Exacta pool, and you can check the Tote Exacta board to see the latest options. If your permutations come true, after checking the tote exacta results,  and your two chosen horses finish in the correct order, you will win a share of that pot, based on your bet. A unit is typically defined as £1, so the more "units" you bet, the greater your share of the prize pot. This allows you to multiply your winnings compared to Each Way and To Win bets.
Different Tote Exacta bets you can play
There are different types of Tote Exacta bets that you can make. In the US, they may be known as Forecast bets. This was the original name for "Tote Exacta" before UK bookmakers changed it. Before wagering with one, it is worth checking them all out to see what each brings to the table. They include:
1. Straight Exacta: A Straight Tote Exacta requires you to predict the first and second finishing horses in the correct order.
2. Reverse Tote Exacta: This is essentially two Straight Exacta bets. A Tote Exacta reverse involves betting on the first and second finishing horses, but they can appear in any order. Over in the US, the Reverse Tote Exacta may be known as a Reverse Forecast bet.
3. Banker Exacta: This allows you to predict the first-placed horse and cover any number of possible permutations on the second-place horse. 
4. Combination Forecast Bet: Another term you may come across is a Combination Forecast bet, and this involves permutation betting. For instance, if you cannot decide on the order between horses A, B, and C, you can bet on all the possible permutations. This would naturally involve twelve bets in total.
How much will a Tote Exacta bet cost?
The Tote Exacta cost can vary, depending on the bet you make.
Most have fixed prices of £1.

However, not everybody plays by these rules.

For instance, some bookies have fixed the cost of a single bet at just 50p.
If you wager large sums of cash on multiple bets, lines and selections can cost as little as 10p.
Just remember that a Reverse Exacta will cost twice the price of a Straight Exacta, and Combination Forecast and Banker Exacta costs will depend on how many selections you have on your ticket. But for more information about this field, you can also read our 2023 updated article about how much a 50 cent trifecta box costs.
How to calculate your Tote Exacta winnings? Tote Exacta payout
What happens to non-runners in Tote Exacta bets?
What happens if you have a Tote Exacta with a non-runner?
If you have a Straight Exacta, which has a non-runner, your entire bet is void.
If your bet has multiple selections, then

Betting Rule 4

comes into play, and only the bets which feature eligible runners will count. The selections which featured non-runners are voided, and your stakes are returned for those selections.

Other types of bets may see SP odds come into play, so we urge you to read our "What Does SP mean in Betting?

" guide for more information on that.
Top tips for Tote Exacta betting online
We cannot pretend that we have got the perfect Tote Exacta system to guarantee a win. We are talking about horse races here – there is no miracle answer. However, we do have a few top tips to help you when you are first starting to bet with Tote Exactas. These include:
👉 Visit online tipsters. They can give you hints on the favourites and the selections you might want to consider.
👉 Do not wager on too many selections if you are new to Tote Exacta betting. Start off small.
👉 There are tools out there that can help you understand Total Exacta perms.
👉 Other permutation bets, such as Tote Swinger and Tote Trifecta (or the simple Tricast bets), are available if you want to branch out.
👉 Remember that wagering on Reverse Exacta and others will cost more.
The pros and cons of wagering with Tote Exacta bets
There are pros and cons to wagering with Tote Exactas, and these include:
PROS
You can win larger cash prizes than with standard bets
Lots of different types of Exacta bets are available
Most leading UK bookmakers offer Tote pool bets
CONS
US bookmakers tend to use older names for these bets, so you may need to learn them
Outside of the UK and US, Tote pool betting options become a lot more limited
FAQs: Your questions on Tote Exacta bets answered
Before betting with Tote Exacta bets, it may be worth checking this brief FAQ guide to ensure that you have brushed up on everything you need to know. For instance…
That depends. If you have a Straight Exacta, your bet is void, and your stake is returned. If you have a combo bet, then non-runners will be removed (and your bet returned) while the rest of the bets will go ahead.
No, but you should do it. Some bookmakers might have their own "tote-style" pool bets going on, but we would strongly recommend sticking to those Tote syndicate bookies, as they have straightforward and standardised rules.
A Computer Straight Forecast (also known as a Straight Forecast) is essentially identical to a Tote Exacta, save for one thing. It does not pay out based on the size of the pool. Instead, it uses an extensive calculation which is far too complicated for most bettors to understand. We would avoid it, personally.
That depends on your bet. Reverse Exactas cost twice the price of a Straight Exacta. Other types of Tote Exacta bets will vary depending on the number of selections. Expect to cough up at least £2 for a Straight Exacta.
Join top sportsbooks offering Tote Exacta bets today
You can find Tote Exacta bets at all leading bookmakers. Tote Exacta bets at William Hill, for instance, are some of the most popular bets around. Do not hesitate to check out our bookmaker reviews to find the best places to wager. At the same time, feel free to read more about different horse racing bets with our Quadpot, Scoop 6, or Tote Placepot guides before joining a leading sportsbook today.
Other articles you might enjoy: