Tote Win/Place Betting Guide | What is a Tote Win and Place Bet? [2023]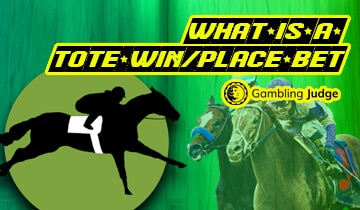 Risk-averse punters usually steer clear of horse races, because of the high volatility they involve. If you can pick winners, you will be paid lavishly, but the odds of making the right prediction are stacked against you.
Tote win and place provides punters with a safety net when betting on these events, therefore makes horse racing more appealing to beginners.
In this guide, we shall review the popular type of betting and see how it pays dividends in 2023 at the best horse racing betting sites UK has to offer.
Your 2023 guide for Tote win and place betting
Tote win/place is a mainstream type of horse race betting, therefore suitable for casual punters and amateurs. In this guide we shall explain what is tote win in horse racing and how it matches against other types of UK horse racing betting.
We'll look at the pros and cons of the Tote win/place bet to help those who have just learned how to bet on horses make an educated decision. Keep reading if you want to learn the tote win betting rules, as well as other horse betting terms that any punter must know.
Our Top Bookmakers with the best welcome bonuses in 27 September 2023 – Updated List
Rank
Bookmaker
Bonus
Safe & Trusted
Rating
Get Started
What is a Tote win and place bet?
Tote win and place differences at a glance
The best way to understand what is tote place in horse racing is to look at the differences between the two wagers that create this hybrid.
Tote Win bet
Getting the tote win bet explained is easy because this type of bet implies picking the winner.

It is the easiest type of bet and the most common one at

UK horse racing betting

websites.

Since it offers some of the best odds, it is perfect for using

UK free bets

that have the stakes subtracted, so you only get to keep the profits.
Tote Place bet
Moving on to having the tote place bet explained, we stumble upon an equally basic wager.

It is very similar to the

each way betting

that applies to football, but it has an advantage. It will pay even if the horse doesn't win the race, as long as it finishes in one of the qualifying places.

This type of wager can usually be placed only on races that have at least five runners, but different horse racing sites can have slightly different rules.

In any case, it provides an essential safety net to casual and recreational punters.
Tote win and place betting – Step by Step
Now that you know how does a tote win/place bet work, it is time to place the first bet. There are five steps to complete, so you can have your first horse racing wager up and running in a matter of minutes.
Step 1
Select the horse racing event you want to bet on
Step 2
Click the tote win and place icon next to your horse of choice

Step 3
Add more selections on your betting slip or stick to a single choice

Step 4
Enter the desired stake to have the potential profits automatically calculated

Step 5
Wait for the end of the race and claim your tote win and place returns

Tote win and place bets vs fixed-odds bets?
A frequent question for horse racing fans is what is the difference between fixed and tote? Both types of wagers are available at free horse racing bets no deposit sites, so punters must choose one or the other. Tote place vs fixed place are distinct options, so it's important to know exactly what each term stands for.
What's the price of a tote win and place bet?
We strive to address all the major concerns in our tote win and place guide, including monetary ones. How much does a tote win/place cost is obviously of great importance. At most bookmakers, including those offering some of the best reload offers UK has to offer, minimal stakes are low.
You can bet as little as €1 on the winner of the race and horses finishing on paid positions. The total cost of tickets increase when you create multiple combinations with trifecta box betting or place a tricast bet. 
There is an indissoluble link between potential winnings and risks and this includes the amounts wagered. Grasping what does sp mean in betting helps you estimate the profits when betting on horses. Fixed bet wagering simplifies the process as you know potential profits after placing the bet. Winnings at tote pool betting sites depend on how many people participate and how much money is invested.
Calculating tote win and place winnings
Top Tote win and place strategies
The tote win/place bet is defined by simplicity, which makes it easy to recommend to beginners. Based on its simple rules, you can craft advanced tote win and tote place strategies to maximize profits. They must be centered on a solid bankroll management system, which is at the cornerstone of any successful punter.
👉 Take advantage of rollovers
One of the biggest advantages of the tote win and place is that somebody is guaranteed to win. If nobody makes the right prediction on a race, the amount is rolled over to the next event. This means that there is more money up for grabs and you could win more with the same stakes. Take the time to learn what is a tote placepot and quadpot and whenever you have the opportunity bets on horses that had the amounts rolled over for bigger winnings.
👉 Bet against the public sentiment
Instead of blindly backing the favorites, try to extract value from betting on the underdogs. The tote win/place bet is simple but it can be developed into more complex strategies that involve permutation bets. Combined four or more horses in a tote exacta, with or without a banker to create multiple winning combinations. You have to pay slightly more for the bet, but the odds of winning will be greatly enhanced.
👉 Get creative with your stakes
Unlike fixed odds, which are more restrictive, the tote win/place bet accommodates variable stakes. Divide the amounts in such a way as to deliver identical, or at least similar profits based on the outcome. Essentially, you can allocate a larger part of the bet to the tote place and the smaller one on the tote win. This ensures the fact that you win a decent amount even if the horse only places.
Tote win and place Pros and cons
PROS
One of the easiest type of horse bets
You also win if the horse only places
Suitable for risk-averse punters
Available at all horse racing bookmakers
CONS
Subject to higher volatility and greater risks
FAQ: Your questions on the Tote win and place bet answered
Tote win/place can produce larger winnings with a smaller amount than regular types of bets
International horse racing specialists also feature tote win and tote place wagers
As one of the most popular bets, the tote win and place is available at most UK bookmakers, where tote betting is available.
There are no special maximum winnings for tote win/place bets, but the general bookie limitations apply.
With tote win/place you cash in if the horse places on any of the top paying games. Each way betting requires your selection to either win or finish in the second place.
Make horse racing bets safer with the Tote win and place
The tote win/place is a popular betting option among horse racing fans. It can be found at most of the top bookmakers and it offers multiple avenues to winning wagers. You can win a larger amount by picking horse winners and also a hefty paycheck for indicating placed horses. It is an excellent choice for amateur horse racing punters who seek the perfect balance between risk and reward. Give the tote win and place a chance and make horse racing fun, simple and profitable right now.