Call of Duty Betting Sites – Best CoD Websites in 2023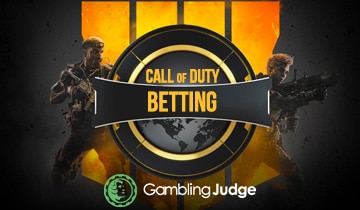 Call of Duty is the second most popular first-person shooter, trailing only Counterstrike Global Offensive on the esports stage.
Over the last couple of years, Call of Duty betting has gained a lot of traction, especially in esports betting UK, mainly because of the high number of proeminent tournaments.
High prizes are being awarded every year to the best players in the world and punters can make a nice side income with CoD betting.
The number of Call of Duty betting sites is also on the rise and this is a trend that is likely to continue in 2012 and beyond.
Best eSports Betting Sites
in 29 September 2023 – Updated List
Rank
Bookmaker
Bonus
Safe & Trusted
Rating
Get Started
How does Call of Duty Betting Work?
Punters who are familiar with esports know that Call of Duty betting follows the same general rules, with only slightly tweaks. Players can bet on the winners of upcoming tournaments, wager on individual matches and even place bets in real-time.
Call of Duty betting sites dedicate ample coverage to the most important events, while some also focus on niche competitions. Traditional bookies have incorporated Call of Duty esports betting into their offer so the first-person shooter spends a lot of time in the spotlight.
What is Call of Duty World League Betting?
Depending on the attention they pay to esports, bookmakers can focus exclusively on flagship events or cover minor competitions. Call of Duty World League betting is available virtually everywhere, as this is the most important international tournament series.
The events take place throughout the year and only the best teams in the world are invited or qualify for the finals. The odds are published well in advance by Call of Duty betting sites, which open the chance of betting on the outright winners at competitive odds.
Is Live Call of Duty Betting Possible?
Arguably the most exciting way of betting on video games is live and this goes well beyond first-person shooters. League of Legends live betting and Dota 2 betting attracts millions of punters every year, especially around major tournaments.
Live Call of Duty online betting is also a thing and it has the merit of empowering veteran players and experts punters. Things can change rapidly during a Call of Duty match and the amounts shift accordingly, but knowledgeable bettors can still take advantage.
Not all tournaments are susceptible to live Call of Duty esports betting, but World League and Majors are always on the list. Players can bet on virtually the same markets after the games have started and the overall odds don't decrease.
In order to make the most of live Call of Duty betting punters should be watching the games as they unfold. The best Call of Duty betting sites have live streams incorporated, but even in their absence, players can access dedicated streaming platforms such as Twitch for YouTube.
What is 1v1 Call of Duty Betting?
The high number of betting markets provides first-person shooters with multiple options besides the winning team. 1v1 Call of Duty betting is a new concept that shifts focus from the collective efforts of teams to the achievements of individuals.
This is not the kind of betting market to be found at mainstream bookmakers and sports books that have added Call of Duty esports betting. The individual performance of pro players is more difficult to evaluate and surprising outcomes more frequent than with team betting.
How to Choose the Best Call of Duty Betting Sites
As stated above, most of the classic sports books have added Call of Duty betting to their offer. Punters who enjoy the thrills of both sports and Call of Duty esports betting would be wise to choose one of these versatile operators.
Speaking of those that have been in this line of work for many years has the advantage of minimizing risks. Licensed bookmakers with a long tradition in this line of work are less likely to deceive players were treated unfairly.
In recent years, bookmakers specialize exclusively in e-sports betting have emerged and they take great interest in the first-person shooter. These Call of Duty betting sites offer better coverage of CoD tournaments and have live streams for players to watch.
Universal qualities, such as compatibility with mobile devices, reliable payment methods and professional customer support are mandatory. The size and frequency of bonuses is also to be considered when signing up for a real money account.
What Games are Suitable for Call of Duty Betting
The Call of Duty franchise spans over nearly 2 decades and the first game was released back in 2003. Call of Duty 4: Modern Warfare was unveiled in 2007 and it was the first game to be played at the highest levels of esports.
Call of Duty: World at War followed the next year and in 2009 the series set a major milestone with Call of Duty: Modern Warfare 2. This game was available across all major platforms and the same applies to Call of Duty: Black Ops and Call of Duty: Modern Warfare 3 in 2010 and 2011.
The number of people involved in Call of Duty esports betting increased even further in 2012 with Call of Duty: Black Ops II and the 2014 with Call of Duty: Black Ops III. Call of Duty: Ghosts was released in 2013 and it was a popular game but it didn't make an important contribution to the e-sports arena.
Today, Call of Duty betting odds can only be found on Call of Duty Modern Warfare tournaments. This game is a reboot of the 2007 game mentioned above and it brings the entire franchise full circle.
How to Make Call of Duty Betting Profitable?
Call of Duty betting sites provide players with the perfect environment to bet on the popular first-person shooter. They offer other esports betting opportunities, such as Hearthstone betting and FIFA betting, but each game is different in its own right.
In order to make the most of this type of gambling, punters need to mix research and experience with Call of Duty betting tips. Veteran players have a clear edge because they thoroughly understand the game, yet absolute newcomers can close the gap with CoD guides.
Perhaps the most important thing is to find the best Call of Duty Modern Warfare betting odds available. This is a general rule that applies to CSGO betting sites with no minimum deposit and other esports, as well as traditional sports bets. Having the option to bet on multiple markets will also improve the odds of finding the best possible wager.
There are plenty of tournaments scheduled every year, but sometimes it's better to focus on low-profile competitions rather than the Majors. These are the events where bookies maximize the house edge.
Call of Duty Betting Game Modes
One of the things that make CoD betting different from other esports is that this videogame has different game modes. Search and Destroy, Hardpoint, Capture the Flag and Uplink are the ones used in major and minor tournaments alike.
In each of them, players have to complete different objectives, such as holding a position, destroying objectives, annihilating enemies and capturing the flag. The winning condition differs and so do some of the special betting markets, but betting on the outright winner is always an option.
Call of Duty Betting FAQ:
This is the most popular first-person shooters and it enjoys ample coverage at all the important bookies. As long as players have a thorough understanding of the game, gain access to top odds and have the right strategy, Call of Duty betting can be profitable.
You can watch the Call of Duty games you are betting on s atream on the websites of Call of Duty betting UK and international bookmakers. When they don't have a live streaming service, the alternative is provided by Twitch and YouTube, for all major events.
Smartphones and tablets are perfect for online betting and esports make no exception. All the important bookies have optimized their websites for mobile gambling, so Call of Duty betting can be done on the go. You can download the dedicated app or browse straight in the browser.
The Call of Duty World League is the most important CoD tournament, with a guaranteed prize pool of $6 million. The best teams qualify directly while others have to claw their way to the main event through qualifiers. Players can bet in advance on the outright winner, during the event and also live.
Take aim at big payouts with Call of Duty betting!
Second only to Counterstrike Global Offensive among first-person shooters, Call of Duty is an immensely popular esport. The most important tournaments award millions of dollars to the best players and punters can make a nice profit by betting on flagship events.
Bookmakers dedicate ample coverage to Call of Duty competitions throughout the year and provide players with dozens of betting markets. Help yourself to a Call of Duty guide if you haven't played the game and enjoy a dynamic esports betting experience. But this is not all, on our site you can learn more about other esports like League of Legends special bets and other tips.