Overwatch Betting – Best Guide in 2023 | Top Overwatch Betting Sites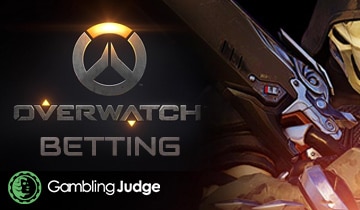 The world of eSports is fast evolving. It has grown into a multibillion-dollar industry in the past couple of years, with many fans coming from all parts of the world.
The ever-increasing number of competitive gaming has led to the emergence of eSports betting platforms where people can support their favorite gamers and win big in return, but for more read Esports betting USA, because there is the best esports market.
Though many people are familiar with FIFA betting, Dota 2 betting, hearthstone betting, and League of Legends betting tips, and League of Legends special bets, if you are a professional and several new titles are now taking over the industry.
One of the latest sports that offers professional-level play is Overwatch by Blizzard Entertainment – one of the reputable developers in the world.
Our complete guide covers all the fundamentals of Overwatch league eSports betting, including tips to increase your winning opportunities.
Best Bookmakers for eSports Betting
in 28 September 2023 – Updated List
Rank
Bookmaker
Bonus
Safe & Trusted
Rating
Get Started
What is Overwatch?
Overwatch is a team-based first-person shooter (FPS) game released by Blizzard Entertainment in May 2016. Since then, the games has established itself as a pro gaming juggernaut in the world of eSports. The Overwatch league eSports betting comprises of two teams of six gamers each and is played over a range of maps.
There are heroes with unique capabilities to choose from. It is the responsibility of team players to protect all control posts on the map within a limited time or escort payloads across the map. All these make betting on Overwatch league to be fun and highly rewarding.
How to Play Overwatch
In Overwatch eSports betting, the matches are presented in different types of modes, which are slightly different from each other. As aforementioned, before the game starts, players are assigned a team of 6 heroes to choose from. The different modes that contribute to the popularity of this eSport are:
Escort Mode: In this mode, players are supposed to escort a payload to a specific delivery point on the map. Players must fight the attackers from preventing the safe delivery of the cargo.
Assault Mode: The attacking teams are supposed to capture points on the map while the defending teams must use all possible means to stop it. The action takes place within a limited time frame and only increases after the first point are captured.
Hybrid Mode: This is a combination of the escort and assault modes. Here, one team needs to capture a payload before escorting it to a pre-determined location.
Control Mode: In this mode, the best two teams fight to seize one point on the map. The games in this mode are fast-paced and last only a few minutes.
Overwatch Character Roles
Similar to other popular eSports, heroes have a very vital role in Overwatch league eSports betting. The heroes are divided into different groups, and each has special abilities that are helpful in the game. This is why the characters must be selected carefully before the game starts. The heroes you will come across are divided as follows:
Offense Heroes: These characters can cause big damage to their opponents. Their downside is that they can withstand less incoming attacks.
Defense Heroes: These characters attack less, but they have excellent defense abilities. They are reliable when it comes to defending attacks.
Tank Heroes: They appear on the frontline during a fight and always absorb any damage on their teams. However, their offense powers are limited.
Support Heroes: This category consists of healers who support the team from behind and they have very limited offense powers. They can indirectly attack a team by applying debuffs which make them vulnerable to external attacks.
The Difference between Overwatch and Other FPS Games
There is no doubt that Blizzard Entertainment's Overwatch is more exciting and rewarding compared to other First Person Shooting (FPS) games like CSGO and Call of Duty.
Overwatch League bet follows a professional sports league format rather than the promotion and dismissal which is used in League of Legends live betting and other eSporsts
This game was the very first competitive FSP to be played on PCs and other game consoles like PS4 and Xbox.
Unlike other traditional games, Overwatch is fast-paced and you typically play against different characters. These characters have varying powers, moves, shooting styles, as well as playing styles.
Even though the game has balance problems like other FPS, you will not find heroes with matching skills. Additionally, this game is team-based, meaning, you cannot do anything on your own.
There is no scoreboard in Overwatch eSport betting. This was intentionally left out to prevent players from concentrating who was performing well or badly in the team.
Compared to other esports like CSGO betting guide that have been in the market for a long time, Overwatch has attracted a bigger international follow-up.
Overwatch League Defined
The Overwatch League (OWL) is the official competition of Overwatch eSports which run by Blizzard Entertainment. The goal of the developer is to create a league that beats the current eSports by focusing on a professional structure to achieve a model of success.
Many players consider Overwatch league eSports betting to be the 'pro sports league' for all modern esports. This is because it is designed to boost the talent pool and competitiveness of online sports. The teams will be able to sign new gamers and pay them a salary, just like other popular sports like basketball and football.
The Structure of Overwatch League
The Overwatch league bet structure shares many similarities with the traditional sports leagues in North America. The teams in the two divisions will compete against each other is a scheduled match for the first position in the season's playoffs.
This is quite different from other common structures that are used in international leagues. Although the season is divided into four stages, all wins and losses will contribute towards the team's general position. The official structure in Overwatch league consists of:
Overwatch League Pre-Season
Overwatch League Season 1
Overwatch League Post-Season
Overwatch All-Star Weekend
Overwatch League Prize-pools and Bonuses
League Divisions and Teams in Overwatch eSport
The Overwatch league hosts a total of 12 teams that represent different major cities globally, with the majority coming from North America. Here are the main teams and the divisions they fall under:
Atlantic Conference
Toronto Defiant
South Division
Washington Justice
Boston Uprising
South Division
Atlanta Reign
London Spitfire
South Division
Florida Mayhem
Paris Eternal
South Division
Philadelphia Fusion
New York Excelsior
South Division
Houston Outlaws
Pacific Conference
Seoul Dynasty
West Division
Vancouver Titans
Guangzhou Charge
West Division
Los Angeles Valiant
Shanghai Dragons
West Division
San Francisco Shock
Hangzhou Spark
West Division
Los Angeles Gladiators
Top Overwatch League Betting Tips that Work
Whether you are a beginner or a veteran gamer, these Overwatch betting advice will maximize your winning opportunities at all times. They include:
Take time to study the role of each hero of the game
Know your playing abilities before you start
Always be ready to swap between characters
Buy a decent gaming gear
Avoid chasing dangerous kills
Never waste your ultimate
Understand how Overwatch league betting odds work
Learn to place selective and objective wagers
Try to specialize where possible
Build a working strategy and stick to it
Bet at a reputable sportsbook
Use over-under betting types, like in the over-under League of Legends betting case.
How to Bet on Overwatch eSport
Contrary to many bettors' believe, betting on Overwatch eSports and events is quite simple and straightforward. The availability of numerous world-class betting platforms that offer generous bonuses and ongoing promotions has made betting on Overwatch to be even more fun. To start, bettors are required to choose a team they believe will win the game.
What makes betting on Overwatch league exciting is that you can switch between heroes, thus you can use different strategies to increase your winning opportunities. However, you need to understand how the odds work on different sportsbook before you risk your hard-earned money.
Can I Bet on Overwatch League Right Now?
The official 2023 Overwatch league is scheduled to commence in the spring and it's expected to host professional players from around the world. The host, Blizzard has announced that the event will feature great changes, including adopting the homestand model where participating teams will play home and away. The organizers have divided the Atlantic and Pacific divisions to reduce traveling.
Where to Bet on Overwatch eSport
Finding the best sites that offer overwatch tournament betting options is easy both to beginners and experienced bettors. Most leading esports betting platforms offer three main bets to choose from: match winner, handicap and outright winner. Before you start betting on your favorite team, you should consider several factors, including:
The range of eSports available
The size of bonuses and promotions
The convenience of banking options
Compatibility with other platforms
Availability of customer support
How Overwatch Live Betting Works
As one of the most popular competitive multiplayer shooter games, Overwatch league betting attracts fans from all walks of life. Thanks to modern technology, you don't have to travel to North American to witness this amazing event.
There are platforms where you can live stream Overwatch and other popular eSports in real-time across all devices including smartphones, tablets, TVs, and PCs. The best way to enjoy high-quality live streams is by watching the league's official website.
Reputable Overwatch eSports Betting Sites
If you are sourcing for the best Overwatch betting sites, then you have come to the right place. We have taken the burden of testing some of the top-rated available in the market to bring you nothing but the best. All the sites we have shared here are rated based on several factors to ensure that they meet the market standards. Some of the recommended Overwatch betting sites are:
BetOnline
888 Sports
Bet365
Arcanebet
Pinnacle
Betson
Nitrogen
Types of Betting Markets Offered on Overwatch eSports
Most Overwatch league eSports betting sites offer a wide range of betting markets to choose from. These are the main types of bets you will come across in the listed betting sites are:
Match Winner Bet: This wager requires players to bet on the team they believe will win. Depending on the site, this bet can be called 'Money Line' or 'Head to Head' (check here our head-to-head sports betting guide).
Handicap Bet: You bet on whether the team with handicap advantage or disadvantage will win. This bet can be placed where there are two possible outcomes.
Outright Winner Bet: The bet is placed on the overall winner in Overwatch tournament betting and not on individual teams.
What's New from Overwatch in 2023?
Some changes are expected on how the upcoming Overwatch League will be in 2023. Unlike in the past, there will be more than 50 homestands, where 20 teams will host at least two homestand weekends in their cities.
It means that the upcoming league will follow a structure more or less like the one used in other sports. Also in 2023 the Overwatch league will not be divided into stages to cut the cost and time of traveling.
Overwatch World Cup in 2023 – What to Expect?
The Overwatch World Cup tournament returns in 2023. This international event welcomes teams from different countries to compete before the winner is crowned. In January the 36 countries competing in the 2023 Overwatch World Cup will be announced. Only 16 teams will qualify for the battle in the fall of 2023 to determine the nwe winner
With the recent changes in the Overwatch league, like home/away, the upcoming world cup event is expected to be thrilling and fun than the previous one.
Pros and Cons of Overwatch Betting
Blizzard's Overwatch eSport has attracted hundreds of thousands of people from all parts of the world. The game is not only fast-paced but also adventurous to play. These pros and cons will help you decide whether or not to play:
PROS
Offers a flexible gaming experience to all players
Features a wide range of well-designed characters and locations
Easy to find a match to play with
Overwatch promotes adaptation and synergy
CONS
Lacks a single-player option
Matchmaking is based on player skills
This annual event is hosted at Blizzard Arena in Burbank, California.
No. The official Overwatch bet league is scheduled to commence in February.
There are three main types of bets available for Overwatch bettors: match winners, outright winner and handicap bets.
You can bet on your favorite Overwatch League team at any legal site that offers betting options.
Sure. You will most likely be able to watch the live streaming of the Overwatch world cup from anywhere in the world on Twitch, like for the one in 2019.
Ready to Start Betting on Overwatch!
Overwatch is with no doubt one of the most followed events in the world of eSports. It is not only fun but also a great way of making extra money. There are many betting options and generous Overwatch world cup odds to increase the chances of winning big prizes. You can pick any of the sites we have listed in the guide to bet on your team of choice.