Virtual Football Betting Strategy – Best Virtual Football tips & tricks [2023]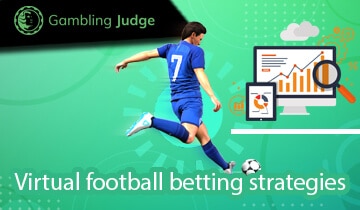 Virtual football betting is a popular form of gambling that brilliantly combines aspects of the real sports with casino entertainment.
In this guide, we take a closer look at the advantages and disadvantages of virtual soccer betting and try to come up with the best virtual football betting strategy.
There are plenty of popular bookmakers where you can bet on virtual football teams and leagues in 2023.
We review their offer, look at the software powering the games and suggest the top football betting sites UK has to offer.
Best Bookmakers for Virtual Football Betting
in 30 May 2023 – Updated List
Rank
Bookmaker
Bonus
Safe & Trusted
Rating
Get Started
The comprehensive 2023 guide on virtual football betting tips and strategies
What is and how does virtual football betting work?
Before you can unlock virtual football betting secrets, you need to understand how the games work. Once you sign up for an account and bookies offering this type of wagering, you can bet on virtual matches. These games mirror the betting markets and odds of traditional football games and have similar, although fewer betting options.
If you know how to bet on football and how to read soccer odds, you can use this knowledge for virtual sports. The higher the odds, the greater the potential profits, but the chances to win are also diminished. Few bookies offer the option of live betting and most require punters to bet pregame (check live betting strategies).
Top tips and strategies to try for virtual football betting
Pros and cons of virtual football betting
PROS
Ideal for beginners with little football knowledge
Totally safe when done at legitimate bookmakers
Crystal clear link between odds, chance to win and profits
CONS
Research doesn't help boost the odds of winning
Frequently Asked Questions about virtual football betting:
Virtual sports require no research and the odds clearly reflect the chances to win. Virtual football betting tricks focus on choosing the right system, while real football requires in-depth knowledge of the game.
If you come up with the best virtual football strategy you should use it at a licensed bookmaker. Choose the ones that offer the most competitive odds and try to find gambling operators offering bonuses.
Virtual football matches run on software that should be certified as fair by independent auditors. If these criteria is met, the odds of being scammed are slim to none and you can bet on virtual football securely. Check our betting scams guide for more details.
The most popular virtual football betting tips focus on the stakes, betting markets and game selection. The best strategy is the one that suits your appetite for risk, matches your bankroll and expectations.
A sound virtual football betting strategy can also be applied to the real sport. Stake distribution, sports betting money management, the use of accas, and many other tips and tricks work for both real and virtual football.
Mobile devices are perfect for all types of online gambling, including sports and casino games. Not surprisingly, they are suited for virtual football and you can bet on virtuals on smartphones and tablets.
Broaden your horizons with virtual football betting tips
Virtual football can be a fun pastime and for those who do it right, a profitable type of gambling. There's a lot of uncertainty involved, as a result of outcomes being determined by the algorithms. With the right virtual football betting tips you can mitigate the house edge and give yourself a fighting chance.
Level the playing field by using optimal virtual football betting strategy and you'll be successful in no time. Classic sports are easy to learn but difficult to master, but virtuals have a smoother and exciting learning curve.