Virtual Football Betting | Ultimate Guide [2023]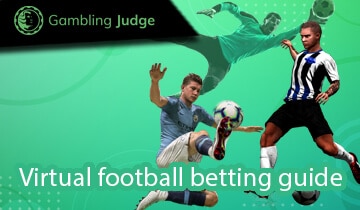 Bookmakers have diversified their portfolio to provide partners with multiple betting options beyond conventional sports like in our virtual betting guide.
One of the fastest rising categories is virtual football betting, a type of wagering inspired by the real sport.
Built on a random number generator, its outcome is determined by software and when played at a reliable bookmaker, it is completely random.
In our virtual football betting guide, we look at the key aspects of this popular form of gambling and review the best virtual football betting tips.
Best Bookmakers for Virtual Football Betting
in 01 November 2023 – Updated List
Rank
Bookmaker
Bonus
Safe & Trusted
Rating
Get Started
The definitive 2023 guide for virtual football betting
What is virtual football betting?
The name is pretty explicit, but it is still worth explaining what is virtual football betting. Inspired by the real sport, it bears many similarities to classic soccer betting, but with an original twist. It involves two teams that try to score at least one more goal that the opponents to win the match.
Punters bet on the performances of these virtual football teams and if they are correct they are paid based on the odds. Underdog betting is more profitable if you're correct, but also riskier than backing the favorite.
One team can win or the game can result in a draw, but punters can also bet on special markets. The main difference between virtual football betting and real sport is that the former have the outcome determined by the software. Signing up for an account with the best-fixed odds football betting sites mitigates the odds of being the victim of virtual football betting cheats.
How does virtual football betting work?
Is it possible to cheat on virtual football?
The first most common question asked by prospective punters is how to win at virtual football betting. Is virtual football betting fixed is the second and one that is just as important when betting real money.
As stated above, virtual football betting software determines the outcome of each bet regardless of match and odds. Legitimate bookies employ prestigious software developers to power their virtual reality football games. Such software is checked by independent auditors who post their conclusions on the website.
As long as you sign up for an account and gamble at a licensed and regulated bookmaker you won't become the victim of a scam. This also means that there will be no solution to how to hack virtual football betting question.
Just like any other casino game, it carries a certain house edge which ensures that the operator always wins. The key on how to win football bets rests with using the right virtual football betting techniques, rather than trying to hack or influence the software in any way.
What are virtual football betting leagues?
The most common way of virtual football betting is to simply place a wager on the next game to start. This usually involve random teams, frequently inspired by their real counterparts. The outcomes of the games are not connected and you only have to be successful on the current bet to cash in.
The virtual football betting league is a more complex way of betting that involves multiple matches. Instead of betting on individual games, punters wager on a string of games involving teams from the same virtual league. This requires a more complex virtual football betting strategy, but the outcome is still random.
Placing virtual football bets – Step by Step
The road to mastering virtual football betting secrets, begins with a single wager. Beginners who hope to make money betting on football can follow these simple steps to place virtual football bets.
Step 1
Sign up for an account at the bookmaker offering virtual football
Step 2
Enter the section dedicated to virtual sports and select football
Step 3
Choose the next game to start and a mainstream or niche market
Step 4
Place a bet by selecting the desired stakes and odds
Step 5
Wait for the match to end and your bet to be settled
Virtual football betting options
Enjoy the best virtual football betting odds
Any game whose outcome is determined by pure chance and randomness makes it difficult for players to improve. Veteran players have the same chances as beginners to pick winners, so the path to improvement involves other aspects.
The wise thing to do is to find bookmakers that offer bigger odds and a greater variety of betting markets. The higher the odds, the better the returns when you make the right prediction. Virtual football strategies and tips can also help in the long run in mitigating the effects of the house edge.
Virtual football betting tips and strategies
Virtual vs real football betting differences
The similarities between virtual and real football are obvious, but the differences are also important. Since virtual football betting is determined by software, the algorithms decide the outcome. You don't have to undertake any research, so beginners have an easier time predicting winners. The favorites win more often any bet that has lower odds is more likely to turn into a winner.
In real football, the rules are applied and enforced by referees, leagues, and match officials. When you understand what is virtual football betting, you realize that the algorithms decide its outcome. To avoid unnecessary risks, it is wise to bet at bookies whose software is certified by independent auditors.
Real football has more betting markets than virtual football, therefore a greater variety of betting options. They accommodate those who prefer to add multiple selections on the betting slip. Virtual sports usually lack this, so if you want to learn how to win football accumulators you should focus on the real sport.
Virtual football betting has the advantage of games being scheduled round-the-clock, so there is no waiting time whatsoever. Major football competitions are scheduled at certain hours and you'd have to wait for kickoff. On the bright side, it is more likely to find live betting options for real football than virtual. Furthermore, live betting bonuses are offered with a higher frequency on real football matches. Check our guide on live betting strategies to make sure you get the best odds.
Pros and cons of virtual football betting
PROS
Games start every few minutes
No research is needed to pick winners
Matches are settled in a few minutes
Available at most bookmakers
CONS
Fewer betting markets and less competitive odds
Frequently Asked Questions about virtual football betting:
The outcome is decided by algorithms, so legitimate software will keep the outcome truly random.
You can bet on a few other virtual sports besides football, with horse racing being the most popular.
Virtual football is available to US players in states where other types of casino games are legal.
Virtual football betting is possible at most bookmakers in United Kingdom.
Make virtual football betting profitable
If you love casino games and football just as much, the virtual game is the perfect combination. This hybrid between the real sport and games whose outcome is governed by software has many advantages.
Once you master virtual football betting, you can have fun round-the-clock as matches start every few minutes. With the right bankroll management (check here our sports betting money management guide), a sound strategy, and control over your gambling habits, virtual football can be a pleasant pastime and a potentially profitable one. You can certainly make money betting on football – be it virtual or real football.