Virtual Horse Racing Explained | Bookies, Odds & Tips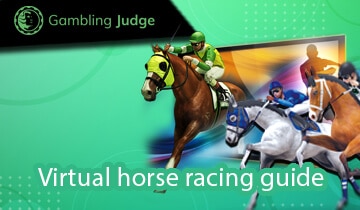 The biggest betting companies offer "virtual" versions of their betting options too, and virtual horse racing is one of the most popular ones. As can be guessed, it is the "computerized" version of horse racing betting and with the right choices, it can be as fund and profitable as the real one.
Virtual horse racing betting even offers exclusive "hippodromes" such as virtual horse racing Portman Park. However, there are not many guides out there for this exotic betting type, so we decided to create one.
First, we will answer what is virtual horse racing question, list the best virtual horse racing bookies in UK, and talk about virtual horse racing betting systems so you can make a fast start for other types like dead heat betting. 
What is virtual horse racing?
Where to bet on virtual horse racing?
Before we go further with our virtual horse racing explained guide the next step is to find a bookmaker that offers virtual horse racing betting. Luckily, you don't need to think about that: We analyzed all of the virtual horse racing bookmakers and picked the best ones.
The table below shows the best virtual racing betting sites as of 2023. Don't forget that they offer other "virtual" games too, such as virtual football.
Best Bookmakers for Virtual Horse Racing Betting
in 01 November 2023 – Updated List
Rank
Bookmaker
Bonus
Horse Racing Offer
Rating
Get Started
How does virtual horse racing work?
In other words, how to bet on virtual horse racing? This is actually easier than the real thing – let's explain with a screenshot, shall we? The image below is from Unibet but all of the biggest bookmakers UK offer similar interfaces, so you can expect the same from William Hill virtual horse racing and/or Bet365 virtual horse racing too, for example.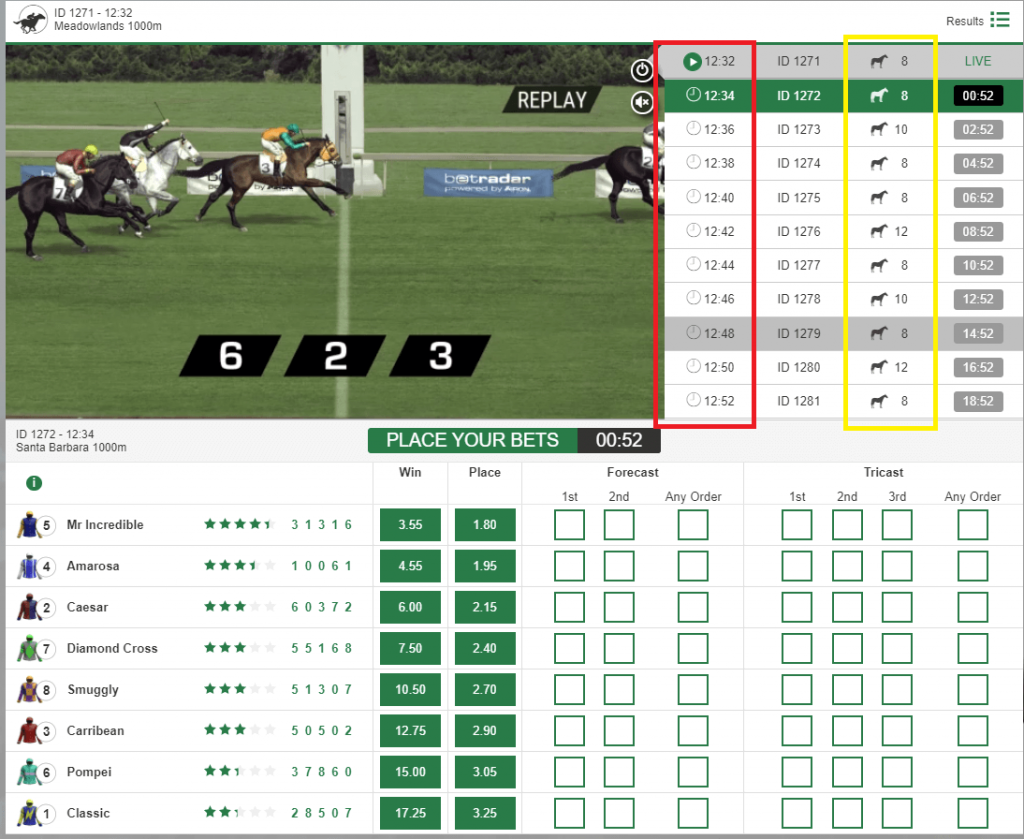 The red section shows the starting times of races. As you can see, a new race starts every two minutes. 

The yellow section shows the total number of horses that will run in that race.

When a race ends, a countdown starts: You can see it in the image file above. This means the next race is about to start and you need to place your bets before the countdown ends. 

You can place win, place, forecast, and tricast bets – just like the real thing. (We will explain your options in detail below.) 

The stars next to the horse names are based on how many races they have won in the past. In other words, they show the favorites. For example, "Caribbean Stud" has this track record:

You can also use the numbers next to the horse names to find out the favorite. For example, "Mr. Incredible" has these numbers: 3 – 1 – 3 – 1 – 6. This means this horse was the first at two races (1), third at two more races (3), and finished only one race as the sixth (6). 

After making your picks, you can simply click the "place bet" button on your slip: Now it is time to wait for the race results.
How to win virtual horse racing?
To explain how to win at virtual horse racing, we need to explain your betting options first. In other words, what kinds of bets and which types of virtual horse races are available? When you visit a virtual horse racing UK website, you will see the following options:
1. Virtual horse racing betting markets
These are the bet types. In virtual horse racing betting, you can place a bet for the following outcomes:
2. Virtual horse racing types
And now, let's take a look at the race types. Just like the real thing, virtual horse racing offers different race types and you should know about them too.
Odds on virtual horse racing cards
Virtual horse racing odds work differently than "real world" odds. In the real world, odds change as players bet on favorite and underdog horses. For example, odds of one day before the race and odds of one hour before are, therefore, quite different from each other.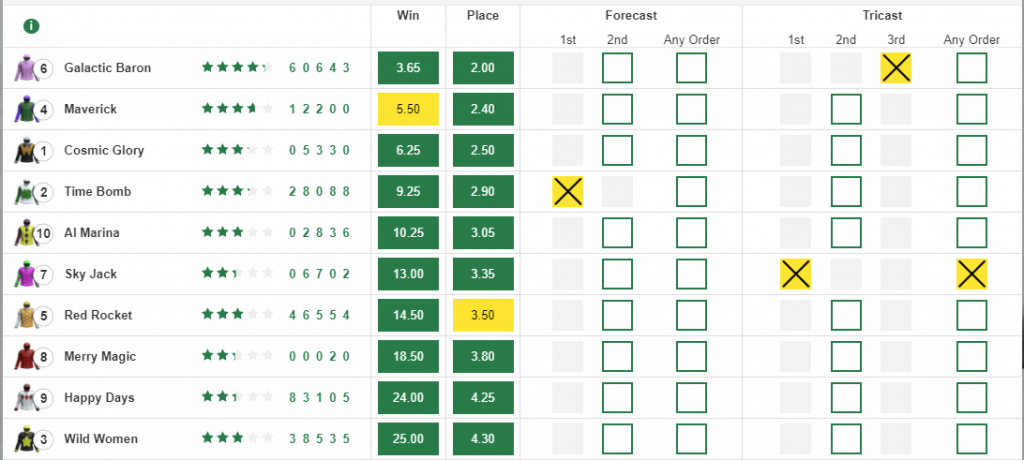 The odds you see on this card are created by computer software and are fixed – you don't have to wait to get the "best odds" as they don't change.
How to win on virtual horse racing: tips & tricks
If you want to learn how to beat the bookies virtual horse racing, you need to use the right virtual horse racing strategy. While there is no actual virtual horse racing loophole to use, we can still give you a couple of virtual horse racing tricks:
👉
Back the favourite
is one of the best virtual horse racing tips or strategy we can give you. These are not real horses so you cannot check their past performances and post position win percentage statistics don't mean anything here. You also shouldn't follow tipsters' advices on virtual horse racing. It has nothing to do with real races, where tipsters give you their NAP for a race. A horse racing NAP means a tipster's best bet on a race. In virtual horse racing if a horse is selected as the "favorite" by the software, it will usually finish the race in the top three. This is, of course, not a guarantee, as the results are determined randomly, but your odds are still higher with the favorite horse. So, the best bet you can place is a trifecta or each way for the favorite horse. Still, do you want to find out how much a 50 cent trifecta box cost in 2023? Check our updated article about this topic.
👉 As always, use your budget wisely: You can place dozens of virtual horse racing bets in a day so you should be more careful while spending your bankroll. Find more about sports betting money management in our brilliant bankroll system guide.
👉 You should still prefer betting sites with live streaming. While virtual races always stream "live", a bookmaker that offers this option will also offer more race options & game providers. 
👉 Remember that this is actually a game, not a real race. Do not try to use your "real world" tactics here: They won't work.
What to expect from virtual horse racing online?
PROS
Fun and profitable
You can place dozens of bets in the same day
The payouts can be quite satisfactory
CONS
Results are determined by RNG, so anything can happen
There is no actual strategy or system you can use: This is a computer game, just like slots
FAQ: Your questions on virtual horse racing betting answered
Virtual races are more fair and reliable than real races. A computer program determines the results and it is possible to check how fair it is. But is horse racing fixed? In real life, you may not even know there was cheating.
This depends on your expectations. They look like real races but they are still a computer program. However, if you want to bet on multiple races every day, virtual horse racing will be the better option.
On average, this period is 2 minutes. However, it also depends on the race type: There are shorter (and longer) races too.
While there are lots of developers working on virtual horse racing software, we can say that Kiron Interactive, NSoft, and EVONA are the most popular ones.
This depends on how advanced the software is but yes, horses can fall or unseat their riders, especially in jump racing.
Of course you can – all betting games offer you the same chance. However, don't expect to become a "millionaire": Virtual horse racing is a casual experience.
Win big with the right virtual horse racing systems
We shared lots of virtual horse racing tips above: Use them to score big wins! Virtual horse racing betting is fun and it can also be profitable with the right tactics. Pick a bookmaker recommended by us and place your first bet right now! We also invite you to read our other articles about exotic betting types, such as Quinella, Exacta or Superfecat, just to name a few.
Other articles you might enjoy: