Soccer Spread – Understanding How Spread Betting Works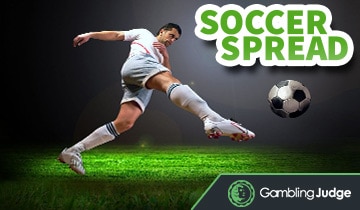 People bet on soccer in seemingly every country on the planet. International sportsbooks and the popularity of the game have helped fixed odds and soccer spread betting become a global business.
If you haven't tried betting on soccer yet, our soccer betting guide is for you.
If you want to know how to bet on soccer, or you're asking yourself, "how did soccer betting spread?", this is the guide for you.
Over the following sections, we'll look at the popularity of soccer, and how to wager on the game.
We'll also look at soccer spread betting. This may be as new to regular fixed-odds bettors as it is to soccer betting newbies.
Off the back of a successful Women's World Cup, and ahead of a new football season and next year's European Championships, here's never been a better time to learn how to bet on soccer.
Best Soccer Betting Sites
in 19 September 2023 – Updated List
Rank
Bookmaker
Bonus
Safe & Trusted
Rating
Get Started
Wagering on the Beautiful Game
Ordinarily, most people across the globe use fixed-odds soccer bets. The simplicity of these bets has played no small part in how soccer betting spread around the world. In short, a fixed-odds bet is wagering on an event in a football match which has predetermined odds.
You will know how much you can win, irrespective of how the odds change after your bet is placed. Common fixed odds bets include full-time scores, the next player to score, and even oddities such as the number of fouls, penalties, corner or cards in a game.
What you might not be familiar with are spread bets. These are starting to become popular with players. This type of betting option is going to form the focal point of our piece today.
The US Obsession with Spread Betting
When you hear the term "spread betting", you will likely think of the United States. While most of the world uses simple fixed-odds bets or accumulators for their footy bets, the US is obsessed with spread betting.
Soccer is one of many spread betting sports that Americans like to have a punt on. You will find the same system deployed for basketball, baseball, American football and hockey bets, too.
However, when you bet on soccer, the way that spread betting works is slightly different from its sister sports. We'll start looking at how that is the case now, as it is time for soccer spread betting to be explained.
Using Spread Betting for Soccer Wagers
How does soccer spread betting work? After all, we're talking about using a quintessentially American way of betting on a quintessentially non-American sport. Soccer spread betting is one of the most challenging ways to learn to wager on sports games. It is complex, or at least appears so when you first start out.
For any spread bet, there will be a range (known as the spread). The lower value is the selling price while the higher value is buying price. When placing a spread bet, you can pay either price. Players will wager a set amount for every point in the spread.
When purchasing the buying price, every point over the spread will see them win that amount per point, but every point below the spread will see them lose that figure per point. When purchasing the selling price, the goals are reversed. If that sounds complicated, we've put together two examples for you here. Both examples feature the buying price.
Long-term Bet Example: Let us pretend that we're betting on Manchester United finishing the Premier League season with 74 or 75 points. We're going to buy the spread (75 points) at $1 per point. Every point that Manchester United achieves over 75 points will see us win $1. Every point that the club falls below this marker will set us back $1.
Short-Term Example: In this case, let us say that we fancy betting on Marcus Rashford to score within so many minutes. A typical spread bet might be available and set to 35-40. This time, we're going to wager a hefty $10 per point, and buy at 40 points. After the end of a match, the minutes in which Rashford scored will be added together, to give you a points total. Once again, you're looking to be north of the spread (40 points). If Rashford scored goals in the twelfth minute, sixteenth and thirty-third minute, you're looking at 61 minutes, so 61 points. This will give you a return of $10 for every point (21) over the spread, so a profit of $210. If he only scored one goal in the twelfth minute, you're doomed. You will lose 28 points. At $10 per minute, that is a total loss of $140.
As you can see, soccer spread betting can be hugely profitable if you know your onions. However, it is also tremendously risky if you are having a wild stab in the dark. There is often another figure in spread betting, though, and that is the selling price. It can play a role in your fortunes, too.
Sell, Sell, Sell – Spread Betting with the Selling Price
You don't have to place a bet that is over the spread, though. You also have the option of betting under the spread. In this case, you would purchase the selling price. In the examples we gave above, you would no longer be looking for Manchester United to land more than 75 points, but less than that.
You would also require Marcus Rashford to score in less than a combined total of 40 minutes, so earlier in the game. This is just another one of the soccer spread betting rules that you may wish to keep tabs on.
A Look at Spread Betting Versus Traditional Fixed Odds Betting
You should no longer be asking "how does soccer betting work?". As you can see from above, spread betting is challenging, but not impossible once you get to grips with it. Yes, betting with spreads does take quite a bit more work than fixed-odds betting. However, if you're lucky, the rewards can be considerable.
One of the most significant differences between fixed odds betting and spread betting is the unknown. Let us place a $5 bet on Manchester United to acquire 75 points with both a fixed odds bet (at 2:1), and a spread bet (74-75) at the buying price. Here's what can happen in our examples:
Manchester United acquire 78 points: With a fixed odds bet of 2:1, the player will only win 2x$5 (2:1), no matter how many points Man Utd achieve. So, the total prize is worth $10. However, with a spread bet, punters can snap up $5 for every point over the spread, so the win is 3 points at $5, or a $15 haul. Spread betting is more advantageous here.
Manchester United acquire 72 points: With a fixed odds bet of 2:1, the player will lose their wager, no matter how many points Man Utd are off by. The total loss is set to the original $5 stake. However, with a spread bet, punters will lose $5 for every point that Man Utd are off target by. In this case, 3 points at a rate of $5 per point, so the total loss is more costly, at $15. In this case, fixed odds betting is more advantageous.
When you place a bet with fixed odds, you will know what you can win. You have already placed your bet, too, so you will know exactly how much you are set to lose. There are no variables to contend with in this equation. However, with a spread bet, you aren't sure just how much you will go on to win or lose.
Now that we've covered the basics of spread wagering for soccer, it is time to move on to some of the other types of bets out there. Let's start by looking at soccer lines, PK spread, money line and three-way odds bets. If you've heard the term lines before, and want soccer betting lines explained to you, read on…
Meet the Squad: The Types of Spread Bets You Can Use in Soccer
With soccer spread betting explained, for now, we can turn out attention to other types of bets. To ensure that soccer bets are explained to you clearly, we have tried to make this section short, simple and easy to follow. Most of these soccer terms are not spread options, and are as follows:
PK Spread: PK stands for "pick 'em". This type of soccer spread bet is explained simply enough. It isn't a spread at all. Instead, PK offers no spread and is instead a fixed odds outright bet. Esentially this would be the answer to the question "what does PK mean in betting?".
Soccer Lines: Soccer lines can be explained as outright bets, but those which use American odds (positive or negative odds), as opposed to decimalised and fractional odds which are popular elsewhere in the globe. Betting lines are often known in soccer as betting against the spread.
Three-Way Odds: Another generic term, and nothing to do with soccer spread odds. This is essentially a term which means wagering on a home win, an away win or a draw. Wagers don't come much simpler than that.
Two-Way Money Line: This soccer money line bet is an outright bet on one of three options. Those options include a bet on Team A winning or drawing, Team B winning or drawing, or Team A winning and Team B winning.
Three-Way Money Line: Soccer money line rules state that a three-way money line bet consists of Team A winning, or Team B winning, or a draw. This is the most common type of outright bet.
Goal Lines: Most of the soccer bet lines we've covered above aren't spread bets, but goal lines are. A goal-line is often represented as -0.5 goals. However, in matches with a clear favourite, they may be set to -1.5 or -2.5. Any team you bet on with a negative figure must win their match. For instance, a -2.5 bet means your team must win by 3 goals. By contrast, a bet with a positive figure means your team can win, lose or draw by that amount. For instance, a +2.5 bet means you can win, lose or draw by 1 or 2 goals.
Betting Totals: Betting totals, as do alternative goal line bets, also involve wagering money on goals. However, you'll be placing bets on whether you win by over the number of stated goals, or under that amount. We're going to need to look at these types of soccer spread bets, so let's move on to the next section.
Betting Totals and Point Spreads
The two examples we have earlier (about Manchester United and Marcus Rashford) are perfect examples of spread betting. However, there are other ways to wager, including soccer point spread betting. These other soccer point spread options open to players include betting totals, as mentioned above. They are a bit easier to grasp than standard spread betting. With that in mind, let's look at these point spread bets.
A typical point spread bet will feature two teams in a match. One will have a positive figure, and the other will have a negative one. The positive figure means that a team can win or lose with that number of goals or less. The negative figure means that a team must win by that number of goals or more. A soccer point spread bet, or a soccer score spread is essentially a wager on how many goals a match will have, and this is how it works:
In our example, England are set to play Scotland in a match. The point spread/betting total will be displayed as follows:
Scotland +2.5 (2.0)
England -2.5 (1.5)
As you can see, England are the heavy favourites to win. A bet on England means that they must win by 3 or more goals, as the spread is set to Over 2.5 (-2.5). A successful bet on $1 will see players win $1.50 (as the 1.5 odds show).
For a $1 bet on Scotland to be successful, Scotland must lose by two goals or less, or win, as the spread is set to Under 2.5 (+2.5). As the odds are 2.0, you would win double your $1 bet, giving you $2 winnings. This is also called EVS betting or evens betting.
Draws can occur with these types of bets but are rare as the bookie would often have to refund many bets. The inclusion of 0.25, or 0.5 into the odds essentially all but eliminates the prospect of a draw.
Looking at Handicap Soccer Odds
You should by now have a fair good idea of what the point is of soccer spread betting. However, an important aspect of learning how to read soccer odds is to know what handicap betting is. European handicap options are commonly found in betting totals and point spreading.
A handicap is a figure set by the bookie. This should counter any bias in a game between two teams, to provide odds which are a touch more balanced. A level handicap is used when there is no handicap because opponents are evenly matched. It eliminates draw, with all bets refunded if a match is tied.
By contrast, a single handicap is used when one team is significantly stronger than another. That team will be given a goal handicap (for instance, the -2.5 we mentioned in our England vs. Scotland example). Other types of single handicaps could be: Asian Handicap 1, -1 Asian Handicap, Asian handicap +0.5 or Asian handicap -0.5.
Split handicaps also occur. These appear when the bias between two teams is minimal. This allows you to split your bet over two handicaps. For instance, you might see a team offered 0 and -0.5. In the event that your team loses, you will lose both bets. However, if they were to draw, you'd get your zero (0) stake refunded and only lose your -0.5 bet.
Soccer Spread Betting: Tips and Strategies to Get You Started
Before you dive headfirst in betting on soccer, there are a few tips and strategies you may wish to consider. None of these will guarantee a win, but they can help put you in an ideal position to bag one.
Avoid Decisive Matches: You're going to want to avoid the big games. When two teams are evenly matched, your odds of successfully predicting any spread betting events are going to be tough. As mentioned, the loses are considerable, so it may not be worth your time.
Stop Loss: If things aren't going your way, any bookies will permit players to predetermine a point in their bet where they can cancel it. Doing so will see them suffer a smaller loss than if they were to continue it.
Join Late: Sometimes, players may find that when they want to bet on a soccer team, it is advantageous to bet late. Sometimes, a better spread appears the closer the match gets to kick off.
Settling in Time: It is also advantageous to avoid betting on football during the first game of the season. Everything is unknown at the start of a competition. Give it a week or so to see if the teams (with their new signings) achieve the expectations everybody thought they would. Considering that spread betting works best when you're in the know, this is an excellent way of seeing how the markets develop before betting.
Practice Makes Perfect: Because there is always a risk when chasing spread bets, it is worth practising. Take a weekend and choose which games you would bet on, but don't bet any money. If you do this for several matches or several types of bets, you should have a good idea of how things would have panned out. Study the results over the weekend, or over several weeks, to get a good idea of how successful you are likely to be before you wager money on spread bets.
Get a Slice of the Action: The Latest Soccer Odds
Keeping up to date with the latest odds for the major European league is advised. Odds frequently change, particularly if a team has a bad start to the season. Before you bet on a soccer team, browse the net to see what other bookies are offering.
There is a chance that the odds at one site may differ from those at yours. By comparing the latest soccer odds, you can put yourself more in the now before you bet on soccer.
Frequently Asked Questions about Soccer Spread Betting
The negative (-) point shows that the team is favorite. The positive (+) point shows the team is the underdog. These points show the victory margin, and the event result must match these points in order to win the bet.
If it is -2.5, for example, the team must win the match by at least three points or more. If it is +2.5, for example, unless the team loses the match with three points or more, you still win the bet.
This is an Asian handicap. If it is +0.25 the match ends in a draw, you win half of your stake. If it is -0.25 and the result is a draw, you lose half of your wager.
The team that must cover the spread is the team you bet on. In other words, it must win (or not lose) by the predetermined victory margin of the bookmaker.
If the "draw" outcome is available for betting, push does not occur in soccer bets. This outcome is only available in Asian handicap bets, which do not contain the "draw" outcome.
Kicking Off with Soccer Spread Betting
If you've followed our guide from the start, you should no longer need to ask, "how does soccer spread betting work?" We've covered the basics of spread betting and point spread betting.
We've looked at fixed odds bets, money lines and betting totals. Hopefully, you will feel as though soccer betting has been explained a bit clearer to you. If that's the case, you're about ready to go.
Use the advice above to ensure that you're well-positioned to bet. You may also want to look at the latest betting trends for live, in-play bets. These can add a fascinating extra dimension to soccer betting.