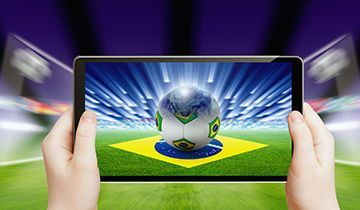 Back in the day the very possibility of wagering over the Internet sounded far-fetched and punters were delighted when the first online bookmakers emerged.
Mobile betting sites came later and for quite a while, punters were reliant on their computers for all forms of gambling.
Today the sky is the limit and the advancements of technology make it possible for players to bet from virtually any location, as long as they have an active Internet connection.
Sports betting apps are the pinnacle of technology and they've moved the industry a step further, by enhancing convenience.
There are plenty to choose from, but only the best have made our list of top rated sports betting apps.
Modern bookmakers are not only allowing customers to bet using smartphones and tablets, but also do their very best to encourage the use of mobile devices and to open the mobile betting sites.
Playing straight in the browser is a worthy option, but it second to what the best app for sport betting can offer.
The best mobile betting apps provide them with the impetus to deposit, wager and cash out profits using exclusively these gadgets.
The vast majority of these devices are either powered by iOS or Android operating systems, so it comes as no surprise that the best betting apps will work smoothly on both iPhones and Android smartphones.
No serious bookie will charge a dime for these applications, so those who want to take their gambling to the next level would be wise to download it for free.
The best betting app for beginners to get players immersed into the gambling atmosphere immediately without requiring any financial commitments.
The most straightforward way of kicking your online gambling into overdrive is by visiting the official website and downloading the corresponding sports betting apps.
Those who have accounts with various gambling companies can also visit the Apple Store or Play Store and download all of them at once and even experience with third-party applications.
The latest betting apps were accepted by the online app stores, but they can also be acquired from the official websites.
Top 10 sports betting mobile apps in 2020 – Updated List
The best mobile betting apps for Android users
The beauty of owning a smart phone developed by Samsung, HTC, Motorola, LG is that you can use the same gambling apps android. An Internet connection is all it takes and in a matter of seconds, the app will be downloaded on the corresponding device.
They have the advantage of being available right away and the top betting apps don't even require the latest device, as they don't consume many resources.
The top rated sports betting apps run smoothly even on older generation devices, so they are worth a try regardless of the smartphone and tablet used.
Savvy gamblers who are not familiar with mobile betting should know that even these best betting apps will require them to operate some changes in the settings. Since Android devices are not preset to accept third-party applications, the user has to do his due diligence and grant them permission.
Depending on the bookmaker of choice, it might be worth making the first deposit using the corresponding app, as this will grant you access to special mobile betting bonuses and even live betting bonuses.
There is even a chance for punters to gain access to an exclusive bonus for mobile if they download and install a sport betting app for Android.
The top betting apps for Android devices are naturally free, just like most of the applications available in the Play Store. Since bookmakers and online casinos take mobile gambling seriously these days, they pay a lot of attention to these applications, so they don't crash often and run silky smooth.
Betting sites with live streaming got an impressive selection of markets and include sports popular worldwide while incorporating the much appreciated in play wagering.
This is a common feature of any good sports betting apps and there are quite a few bookmakers who meet these high standards.
Top betting apps for iPhone
If you are the proud owner of an Apple made device, then the android betting apps will be no good to you, but there is no reason to be concerned. Betting apps for iphone are currently offered by virtually all bookmakers who have an android counterpart, so you won't be left hanging.
In fact there were plenty who made these applications available well before they released the Android version and have plenty of users.
The most popular sports betting app will always come in both flavors, as bookmakers simply can't afford to miss out on the business brought the users of both operating systems.
Unlike most of the applications running on iOS, the inplay apps for sports betting are absolutely free, as they are developed by the bookmakers themselves. The learning curve is virtually nonexistent, so if you had the chance to use one of the Android live betting apps will have no problem in making the transition to the iPhone version.
The same encryption technologies are used on these applications and desktop computers, so punters don't trade security for a more convenient way of betting.
Contrary to popular belief, real money gambling apps are not any different from those used by people who choose to wager only virtual currency. Since modern gambling operators are offering the possibility of customers to play casino games and poker in addition to sports betting, play money is used on a large scale.
Mobile gambling apps are supposed to act as facilitators for the fast rising community of tablets and smartphones users, without erecting any unnecessary obstacles.
Top 10 sports betting apps

William Hill is the preferred gambling operator for players from the United Kingdom, mostly due to its ability to maintain the same high standards over the decades. Once they made the transition to the online environment, they were quick to embrace the latest technologies and the William Hill android app is a shining example of success. The application runs smoothly on all smartphones and tablets powered by this operating system, but they also have a similar app dedicated to iPhone users.
The William Hill android app also acts as a Gateway to generous sign up free bets, with the introductory video awarding players a cool €25 free bet. All that new members need to do is to deposit the same amount and the free bet will be credited immediately, with hundreds of in play markets available. This can also be used as a highly successful horse betting app, since William Hill covers all the popular races.

The Ladbrokes app looks very similar to the one mentioned above and has all its popular features, so those who have an account with this bookmaker will not feel shortchanged. It stands out from the crowd due to its ease-of-use, making it one of the most user-friendly mobile gambling apps. While there is no dedicated welcome bonus for mobile users, new members will be able to clear the standard package by wagering exclusively on smartphones and tablets.

Betfair is not only the largest betting exchange in the world, but also a staunch supporter of convenience and a promoter of online gambling. The Betfair app was released immediately after smartphones had the capability of running live betting apps. Occasional updates keep it running smoothly and all the sports and betting markets offered by the betting exchange like the first goalscorer, ante post bets and others are also available on this application.

888 was one of the first bookmakers to tap into the immense potential of Internet gambling and they managed to stay ahead of the curve ever since. The 888sport app is just one of the ways in which they meet customers halfway and the application is free for download on their official website.
The gambling operator also runs a highly successful online casino and a poker room, but the 888sport app is restricted to betting on sports. It does its job flawlessly and players enjoy fast access to their online accounts, their funds and can even check out their performance over a longer period of time. The app is also an excellent interface for deposits, cash outs and all sorts of financial transactions.

The Betfair app allows customers to bet in real-time and enjoy all the lay and back features that are available for desktop users. Those who prefer to assume the role of a bookmaker and lay the teams, can complete this process on their mobile device even for games that have already started. There is no live streaming feature incorporated in this real gambling app, but then again this is one of the few shortcomings of Betfair and it affects desktop users as well.

The popularity of the Sky Bet real gambling app is indissolubly linked to the fact that the bookmaker has its entire business geared towards live betting. Punters can watch most of the games live on Sky Sports but also on their smartphones and tablets, since the app incorporates a highly successful live streaming service. There are dedicated applications for iPhone and Android users and both of them can be downloaded without paying a dime from the official website.
The Sky Bet horse betting apps make it easier to wager on the daily events and there is overall a heavy selection of sports betting markets. Punters enjoy all the perks of signing up for real money account, including unrestricted access to the pool betting competitions, as Sky Bet is one of the best pool betting sites. New depositors will receive a free bet of up to €20 or currency equivalent, if they deposit no less than €5.

Victor Chandler and his flagship bookmaker has not only sports betting, but also poker and casino games compatible with mobile devices. The Bet Victor sports betting mobile app has easy to navigate menus and beginners will have no problem in placing their first bets. The application loads quickly and it gives clear directions, so the need to get in touch with the customer support is virtually nonexistent.
Luckily for those who encounter any problems with the in play mobile apps, support is available 24/7 and BetVictor also has a very useful FAQ section. All new members will eligible for a €25 betting bonus which is restricted to mobile users who have downloaded the Bet Victor mobile app.

The Paddy Power mobile app brilliantly succeeds to re-create the atmosphere of gambling using the desktop computer or laptop. The fact that the layout is so similar to the version of the standard web browser comes in handy, particularly for those who are betting here for the first time. There are two distinct applications for iPhone and Android device users, but both of them offer the same features.
The welcome bonus is identical and their flagship promotion invites customers to deposit and wager €10 to collect a bonus worth €30. Even those who have already claimed the welcome package by using the desktop computer for this purpose will be eligible.
It is hard to come up with a better incentive for players to switch from conventional gambling to mobile devices, than by offering a glitch free app and bonuses.

The Titanbet sports mobile app is one of the best looking ones available online, with a clean look and an inspired design that greatly simplifies navigation. There are no limitations in regard to the number of sports and markets that players can wager on and new members are also eligible for a cool welcome bonus. Those who sign up and make a qualifying deposit will unlock great prizes and free bets designed for UK custormers.
Further freebies can be unlocked and under normal circumstances, these promotions are not mutually exclusive and players can apply for several bonuses. As with all bonuses restricted to mobile users, it is essential for Titanbet players to use a smart phone or tablet when they make the first deposit, but also when they wager for the first time.

BetFred only recently introduced a sports betting mobile app, but it is already one of the most popular as a result of a generous welcome bonus. Players who wager €10 will receive a bonus three times as high, with the only shortcoming being that the prize actually consists of a free bet. Punters will only collect the resulting profits, while the stakes are subtracted, so they will have to take higher chances.
Betfred app is very versatile and covers all the sports that are included in the standard bookmaker offer. It is possible to wager in real time using this application and it also provides live statistics on some of the most popular English football games. The same goes for greyhound and horse racing and players enjoy unrestricted access to useful statistic
Other articles you might like: