Money Back if your horse finishes second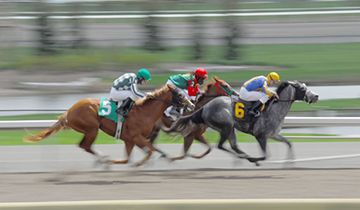 Horse betting has never been easier but the prospect of winning a lot of money and having to wait less than a minute for the outcome is appealing. Apollobet presents members with plenty of reasons to bet on horse races, with the money back guarantee promotion being among the strongest incentives. This is also known as the virtual cash back, as players will be refunded if their horse finishes second.
It makes no difference whatsoever how far behind the leader the chosen horse finishes the race, as long as he would sit on the second step of the podium. Every player is eligible for one refund per race, with the maximum amount not to exceed €50 or the currency equivalent. The adrenaline rush is guaranteed, because you will still be rooting for the hosts to win, yet you will have a safety net covering losses up to the aforementioned amount.
Start enjoying breathtaking horse racing finishes
In the same category of promotions aimed that horse races fans is the one that goes by the name of Fair Play Cashback. The name can be a bit deceiving, but what this campaign is all about is a reimbursement of up to €100 for those horses who fail to start. Once again, all UK and Irish races are covered on a daily basis, so it comes as no surprise that only players from these two countries are eligible. Free bet stakes don't qualify and this campaign only applies to single bets.
You no longer have to worry about missing the race as the odds are made available hours and sometimes days ahead of the event. On the other hand, those who are concerned about betting on lower odds can put their worries to rest, thanks to the best price guaranteed promotion. All UK and Irish horse races are included and the bookmaker agrees to pay the better price regardless of how the odds change between the moment the bet was placed and kickoff.
It's just as good for greyhounds
Many of those who bet on horse races are equally attracted by the prospect of backing on greyhounds, in fact some find these events more enthralling. They take less time to complete and they take intensity to an entirely different level, so they make a nice substitute. It would've been unfair for Greyhound racing fans to be stripped of the possibility to place their bets in advance, so Apollobet will guarantee the best odds once again.
Other Sports