Sportsbet.io Refunds the First Losing Bets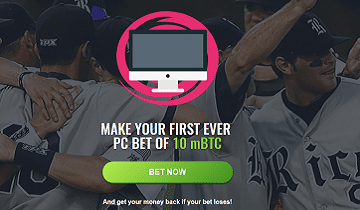 New players usually have the hardest time beating the house edge, mostly because they lack the experience of savvy punters. Sportsbet.io looks after its newest customers and wants them to succeed and that's why they sometimes enjoy preferential treatment. While all their members have access to great bonuses and ongoing promotions, the welcome packages are the most generous ones. With a little help from the bookmaker and an impressive collection of sports bet on, new punters are likely to succeed.
To get them started, the betting site has prepared a generous offer that is available exclusively to new customers. Since this is one of the Bitcoin bookmakers, it comes as no surprise that the welcome bonus is also offered in crypto currency. New players are invited to make their first deposit and then place a bet on the match before kickoff on 10 mBTC or currency equivalent.
This is an affordable sum, so it shouldn't place an unnecessary burden on new customers. Furthermore, the bookmaker is ready to refund the stakes if the first bet loses while players keep the profits if they are successful. When things sound too good to be true, they usually are, but in this case players are really upon a win-win situation. Minutes after setting up a real money account, they can make a deposit and place the pre-live, single bet that can't lose regardless of circumstances.
Secure your welcome offer in three steps
It all begins with players creating an account at Sportsbet.io, a straightforward process that requires no previous experience. Those who need the assistance of experts can get in touch with customer support and get all the details they need. The second step requires them to deposit in the amount they feel comfortable with and explore the wide selection of games. Feel free to take your time and identify the best matches out there, to greatly increase the odds of placing the winning bet.
This bookmaker enables players to bet in real-time and live bets happen to be not only fun but also very lucrative. For this particular offer however, players are advised not to wait until the game starts and place a pre-live wagered. This is pretty much all they need to do to check all the boxes and become eligible for the reimbursement of 10 mBTC. Sportsbet.io will take care of everything else, so if you happen to lose, the amount will be refunded in less than 24 hours.
Sportsbet.io doesn't impose any restrictions, so players who decide to participate in this promotion enjoy a lot of freedom. They will have a crazy number of markets to choose from and the odds are just as competitive regardless of their sports of choice. Whether they prefer to bet on the outright winners or take a chance with special markets, they will still qualify for a reimbursement of up to 10 mBTC. Simply put, there's no better way to start betting online than placing a no-risk wager.
Other Promotions