Barbados Gambling Sites and Law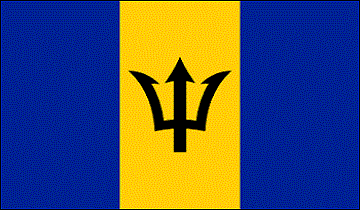 Barbados is a scenic island in the Lesser Antilles that claimed independence from the UK in 1966.
With nearly 300,000 residents packed into a land surface of just 166 square miles, Barbados has the world's 15th highest population density.
While forms of agriculture have been a traditional contributor the economy, tourism has grown exponentially in the past several decades.
About 1 million visitors arrive each year and those visitors spend more money per head here than in any other Caribbean destination.
These tourists do not come to gamble. With the exception of slot machines, horse racing, and lottery games, all forms of gambling are illegal here.
There are many places to play slot machines and there is one main horse racing track but there are no casinos.
Fortunately for residents who like to indulge in casino table games, poker, and sports betting, there are no laws that prohibit them from getting their fill at foreign online gambling sites.
Despite the small gambling market, there are a great number of online wagering companies that offer their services to Barbadian customers.
Gamblingjudge.com's online betting site database lists nearly 200 trusted internet gambling sites that accept Barbadian players.
Top 10 Gambling Sites for Barbados in 29 September 2023 – Updated List
Rank
Casino
Bonus
Safe & Trusted
Rating
Get Started
What are the Best Barbadian Gambling Sites and Promotions?
With nearly all forms of gambling being banned here, there are no online casinos or sportsbooks operating out of Barbados. This doesn't mean that residents can't participate in online gaming. A great deal of international gambling companies is that they accept Barbadian players and also offer many sweet bonuses and promotions.
As can be expected, the biggest and most trusted names in the online gambling industry are involved. Betfair has a £300 bonus ready to be claimed from Barbados and 888Sports is offering players a €140 bonus.
For those more serious casino gamers, Play Grand Casino offers a whopping $10,000 bonus. Other industry leaders like Ladbrokes, Betrally, and LsBet are top options while William Hill and Bwin both offer €200 welcome bonuses. Barbadian punters can find the top online gambling sites that offer customers the latest and most long term bonuses at Gamblingjudge.com.
How Regulated is the Gambling Market in Barbados?
With very few exceptions, there is no gambling in Barbados which means there are next to no regulations. There have been a few groups that have lobbied for amendments to Barbados' gambling laws but they have been unsuccessful.
As it stands, there are no laws in place that prohibit Barbados' residents from placing bets on internet gaming sites and there is no law that prevents online operators from accepting bets from Barbadian residents. The same rules apply to gambling sites in Puerto Rico.
Recent governments have shown no signs of changing the status quo. Despite the financial benefits that expanded casino and online gaming would bring, the government seems intent on keeping casinos out in an attempt to maintain the island's laid-back atmosphere. However, it is obvious that the slot machine establishments, which are licensed by the government, are really thinly veiled casinos that just lack table games.
Is Gambling Legal in Barbados? What is the Legal Age?
Only slot machines, horse racing, and various lottery games are legal in Barbados. All other gambling such as casino table games, poker, and sports betting is outlawed. In order to enter a gambling establishment or place bets on horses, players must be at least 19-years-old which is different for other countries like Panama, where the minimum age is 18. Interestingly enough, there is a land-based sportsbook that operates in Bridgetown but it only offers horse betting which is legal. Therefore, there are no legal betting sites operating in Barbados. So if you want to gamble online an alternative for you might be Bahamas online gambling.
Does Barbados Tax Gambling Winnings?
Barbados does not tax gambling winnings but operators are facing ever-increasing taxes and fees. Gambling establishments from this jurisdiction pay licensing fees and are taxed on each gaming machine that they operate.
What Currencies and Payment Methods do Barbados' Players Generally Use?
The Barbadian Dollar, also known as the Bajan Dollar is the official currency in Barbados. One Barbadian Dollar is equivalent to approximately $0.50 USD. Punters who are looking to deposit into an offshore gambling site had many of the usual options including major debit/credit cards and prepaid credit cards.
EWallets such as Skrill, Neteller, and EntroPay are also widely accepted and these are some of the fastest options as well you can use them at Moroccan gambling sites. The vast majority of online gambling sites also allow for bank wire transfers.
You can find out what the most popular and accepted method of payment is by referring to Gamblingjudge's list of sportsbooks. Be sure to understand both deposit and withdrawal limits as well as processing times.
Other interesting articles: