Cambodia Gambling Sites, Bonuses and Law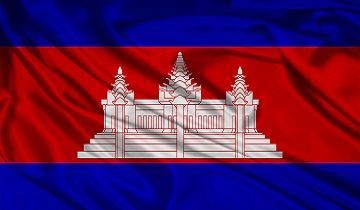 Gambling in Cambodia has gone through many changes over the last few decades. After a complete ban on gambling was implemented by the Khmer Rouge, it was again legalized in the early 1990s.
It didn't last long. In 1996 gambling was once again outlawed and all gambling licenses were revoked. This prohibition did not originally extend to slot machines but even they were banned in 2009.
The government quickly realized that they were missing out on large amounts of tax revenue and gambling licenses were once again issued.
Current Cambodian gambling laws make it legal to operate casinos within the country. However, only foreign players are welcome.
Tourists and visitors from neighboring countries keep the Cambodian casinos afloat. Betting remains illegal for residents of Cambodia.
There are no specific laws that address internet gaming here but it is widely considered to be illegal under the 1996 gambling ban.
Both online operators and Cambodian players have reportedly been fined and imprisoned for participating in online gambling.
Top 10 Gambling Sites for Cambodia
in 29 September 2023 – Updated List
Rank
Casino
Bonus
Safe & Trusted
Rating
Get Started
What are the Best Cambodian Gambling Sites and Promotions?
There is a lot of speculation that Cambodia's internet gambling laws will be amended in the near future. As it stands, foreigners in this country are allowed to gamble online but it remains illegal for residents to do so. There are many online gaming sites that offer their services to foreigners here.
Some of these highly rated betting sites include 888 and Nordicbet. Fans of sports betting exchanges are happy to know that Betfair will take your bets and they have a great £300 casino bonus waiting to be claimed.
In fact, there are many gambling bonuses available to those online casino fans in Cambodia. Industry leaders like Paddy Power and their €300 casino bonus and BetVictor with their €200 bonus are excellent choices for any online casino aficionado.
Internet casino gamers who want to place bets from Cambodia can also cash in on Play Grand Casino's $10,000 bonus offer. Be sure to check out Gamblingjudge.com's promotions section to find the biggest and best bonuses that can be found at the world's top online casinos.
How Regulated is the Cambodian Gambling Market?
From reading the newspapers and perusing Cambodian gaming laws, it would appear that gambling laws are strictly enforced here. While there have been documented cases of Cambodian residents being fined and even imprisoned, it is also a fact that Cambodian authorities are some of the most corrupt on the planet. It's not unheard of that officials have taken bribes in exchange for looking the other way.
It is also worth mentioning that the Cambodian government is taking a serious look at regulating online gambling. It is not known whether these regulations will apply to offshore operations, onshore operations, or both. Until then there are plenty of options to explore, such as betting on gambling sites in Thailand. One thing is for certain, with the exception of the few individuals that have been made an example of, betting among Cambodian residents is alive and well.
Is Gambling Legal in Cambodia? What is the Legal Age?
The legality of gambling in Cambodia primarily depends on whether or not you are a resident. For foreigners, placing bets is legal in Cambodia and is a great contributor to the government's tax revenues. The law requires that casino patrons must produce a passport in order to gain entrance to a casino here.
As for Cambodian citizens, it is illegal to place bets, just as it is in Jordan. Those found in contravention of the laws face monetary penalties and/or imprisonment. The legal age for placing a bet here is 18.
Does Cambodia Tax Gambling Winnings?
Under current regulations, gambling winnings are not taxed despite the ongoing discussion. Casino operators carry the tax burden but that burden is relatively light compared to other gambling jurisdictions. The Ministry of Economy and Finance is tasked with collecting taxes from Cambodian casinos.
What Currencies and Payment Methods do Cambodian Players Generally Use?
The Cambodian Riel is the official currency here. It is accepted at all casinos in Cambodia. Because online gambling is illegal here, Cambodian residents are very limited when it comes to payment methods. Wing has become one of the top choices for making online money transfers.
Foreign players who are legally allowed to participate in online wagering commonly use major credit cards and eWallets such as Skrill, EntroPay, and Neteller. Be sure to check with your online casino to find out which methods are accepted.
Other interesting articles you might like:
The best overall gambling site in Cambodia
Full with available gambling bonuses