Gambling is for Losers…Or isn't it?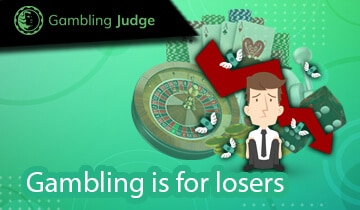 "Gambling is for losers" – how many times have we heard this proverb alongside stories of gambling losses before? A large part of society perceives gambling the same way it looked at it centuries back.
Apprehension and reservations for wagering have stayed despite the advancements in technology, solely due to the age-old stories of gamblers who lost it all.
Even though online gambling has seen an unimaginable proliferation over the past few years, the perils of this trade give rise to some of the horrifying gambling debt stories of the present day.
In this article, we shall talk about gambling losses stories and conclude with the risks of money-making that players should be wary of.
Best Online Casinos
in 18 September 2023 – Updated List
Rank
Casino
Bonus
Safe & Trusted
Rating
Get Started
The Odds of Winning – A Comparison between Losses and Gains
Gambling Addiction – Causes and Effects
The gambling addiction was such critical that supervisory authorities such as UKGC went ahead and formed legal bodies such as
National Online Self Exclusion Scheme Limited
or
NOSES,
set up the
National Gambling Helpline
, advised the
Betting and gambling council (BGC)
to devise policies to save the youth from the wrongful provocation of gambling.
Many charitable and self-care programs came into being, often headed by people who had suffered heavily due to addictive gambling. Gamblers Anonymous and Gordon Moody Association could be two such names.
For centuries at a stretch, gambling has been considered a means to an end – a harmless way to earn money. Even though there are people who indulge in gambling out of their interest in the gameplay, numerous have lost millions gambling simply because they fell prey to the menace that wagering can be.
Gambling addiction is a severe issue that can negatively affect a person's physical, mental, and social well-being. The repercussions of worst gambling losses due to addiction reach far and wide beyond financial debilitation. The common symptoms of gambling addiction include irritability, desire to gamble, bursts of excitement, distress, and anger.
Gambling addiction affects relationships and can also trigger even more difficult disorders such as drug abuse, alcoholism, and psychological disorders like anxiety, depression, and obsessive compulsion.
The stories of gambling losses will make it evident how coping with gambling losses is a multi-faceted issue. The addiction can be far-reaching in terms of damage as it breaks the trust, confidence, and even self-belief of problem gamblers. The excitement from gambling high often gives gamblers a reason to keep going back, making it difficult to break out of the circle.
The treatment for gambling addiction includes therapy, medication, and self-exclusion programs (such as Gamstop, Gamcare, Gamban).
History of Gambling Losses
Losses are part and parcel of gambling – be it online or offline. More often than not, people who end up hitting the jackpot lose millions in the bat of an eyelid. Professional players who have records of winning significant amounts have their fair share of gambling losses stories or, worse, casino addiction stories.
Harry Kakavas, an extremely popular problem gambler and a real estate agent in Australia, had a streak of placing high bets on casino games. He lost a whopping amount of $1.5 billion in a span of fourteen months while he was rolling high on a baccarat game. Even though Harry Kakavas had sued Crown Melbourne Ltd for luring him into the casino, it was of no use – his gambling problem stories as still known far and wide.
The name of Kakavas represents the biggest gambling loss in history, but another name that cannot be left out is William Lee Bergstrom. Bergstrom placed a bet of $1 million at the Horseshoe Casino in 1984, which he lost. This happens to be the biggest bet ever lost in a land-based casino. We don't know if he applied
the best and most famous systems to roulette
, but Frank Sarakakis is the multi-millionaire who recorded the biggest loss on roulette, after losing $8 million in gambling in 1994.
The online gambling losses stories are lesser known as people tend to wager in a more discreet manner. Knowing the sports betting addiction stories, one can easily imagine how many lost thousands gambling on an average. While participating in sports betting, it is best to know the basics, such as how to read soccer odds and cut your losses with this money-back offer under all gambling promotions.
The size of the loss often ends up being subjective to the gambler and their financial condition. The biggest loss to a gambler could be as small as $100 in terms of casino bets.
Higher Odds of Losses in Casino Games
Tips and Tricks for Avoiding Losses
Losing money gambling can be annoying before it quickly progresses to a compulsion of winning, hinting towards addictive tendencies. Take a look at these tips to know more.
 "

I lost money gambling

" – this is a phrase most players are afraid of as it makes them feel inferior. While gambling, it is a crime to involve one's self-respect with the winnings.

Do not expect a bigger repay when you encounter a loss. This rarely happens. The house edge is always facilitating the casino, and only in rare cases can someone recover the money they have lost in a round by betting repeatedly.

It is easier to gamble when you look at gambling as a sport meant for entertainment. The attitude behind "

I gambled and lost

" is better than a situation where one would have to say, "

I lost all my money gambling

."

Research the casino industry before you play the games. It is better to know which games offer a higher payout and which ones do not. Find out the better websites. A quick search will reveal the

best basketball betting sites and bookmakers

or

the best sports betting promotions and offers

to make use of.

 Bet with small amounts using the

low odds laying system

. High rollers stand the risk of losing more than they started in the first place. Not everybody can afford such a situation.

Have a budget in mind. 
Frequently Asked Questions About Gambling
Gamblers choose to opt for games that do not require skill or time. Besides, the high house edge leads to more losses. Free bets for back of the net promotion can lead to losses if one does not read the terms and conditions carefully.
Gambling, in reality, is a loser's game as the industry functions on the losses made by the players. With the right skill and experience, players can minimize their loss.
The best idea is to take a break from gambling. The desire to win the money back from the casino is unhealthy and should be avoided.
The gambling losses are around $55,000 on average in the United States alone.
There can be no way to get the money back from gambling losses. Betting to get the money back often leads to addiction problems. Regardless of the promotions available, resist the urge to win back losses – be it late goal insurance offers or offset losses with the money back 2nd promo in case of bookies.
The Real Gamble: A Concluding Thought
Gambling can be quite an exciting adventure if you are seeking a thrill. Nevertheless, it does not take long to turn this rollercoaster ride into a nightmare. The key to careful gambling is to set limitations, respect boundaries that you have set for yourself, and keep your cool while making decisions concerning money. An essential aspect of wagering is research. Go ahead with authorized and licensed international gambling companies so that you do not stand the risk of falling prey to scams and keep yourself up to date with gambling regulations from all over the world, even from the Philippines gambling industry.
Besides, these websites come with self-exclusion schemes that allow problem gamblers to isolate themselves. Bet small and avoid a high roller casino for money-making. No one should be the man in the story with the headline of "gambler loses everything" or Is gambling a sport?
Other articles you might like: