Iceland Gambling Sites and Laws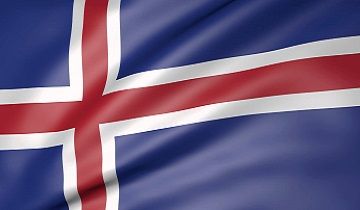 With a population of just under 350,000 and a land mass of about 40,000 square miles, Iceland is the most sparsely populated country in Europe.
The Icelandic people enjoy a high quality of living, a relatively strong economy (despite the economic crisis in Europe), and comparatively low taxes.
The tourism industry is growing so rapidly that the government is considering putting a cap on the number of visitors.
The number of tourists has risen to well over 1 million per year and the industry is responsible for approximately 5% of the country's GDP.
People come from all over the world to experience the culture, nature and laid back atmosphere. One thing tourists definitely don't go to Iceland for is gambling.
You won't find any casinos, poker rooms, or Las Vegas-style sportsbooks. You will find bingo halls, lottery outlets, and a few slot machine arcades.
Any legal gambling establishments can only operate if the profits go to charity so it isn't surprising that there are very few.
While sports betting is legal here too, there are very few legal options because it must be run as a non-profit enterprise.
So, what is a gambler in Iceland to do? Well, many have turned to online gambling sites.
These are technically illegal but the Icelandic authorities do very little to stop it from happening. In fact, they don't even bother to block internet wagering sites and they do not prosecute players.
There aren't too many countries that don't need extra tax revenues and Iceland could certainly use the cash flow that expanded gambling could provide.
Although there is a demand for this, there doesn't appear to be any plans to do it.
Top 10 Gambling Sites for Iceland
in 27 September 2023 – Updated List
Rank
Casino
Bonus
Safe & Trusted
Rating
Get Started
What are the Best Gambling Sites and Promotions for Iceland?
Iceland is a very small gambling market but that doesn't mean that online gambling companies can't make money there. With so few alternatives for online gambling in Iceland, international gambling companies are playing a major role in filling the void.
Some of the biggest and most respected brands accept Icelandic players and they also have some nice bonuses available too. BetAtHome is one of the highest-rated online casinos for Iceland and they are offering a €50 welcome bonus. William Hill and Bwin have €200 ready for you to claim. Icelandic online casino fans hit the jackpot when they take advantage of Nordicbets's bonus or Betclic's great services.
Icelandic poker players can rejoice too with the many bonuses that they can collect from the world's best online poker sites. Get into the game with $400 in poker bonuses from 888. Betsafe and Bet1128will add up to €500 to your bonus account while Redkings and RedBet go over the top by giving Icelandic poker players up to €2,500 in poker bonuses.
What Currency and Payment Methods do Icelandic Players Use?
The Icelandic krona is the official currency here and it is accepted at those few places where Icelanders can legally bet. When it comes to making payments to online gambling sites, Icelandic customers usually use credit/debit cards.
Prepaid cards like EntroPay are widely accepted and eWallets such as Skrill, Neteller, and WebMoney can also be used. Bank and wire transfers are accepted at many online gambling sites that cater to Icelandic players. Check your preferred online operator to find out what other options they have.
FAQ about Iceland gambling sites
With so few legal betting options available, there is very little to regulate here. Authorities have the power to arrest, fine, and even imprison those who are found to be involved in illegal gambling activities but it very rarely happens.
Some forms of gambling are legal here. Lotteries, bingo, sports betting, and slots are allowed provided they are run as non-profit with the proceeds going to charity. Casino games and poker rooms are completely banned but the authorities do not prosecute those who partake in online casino or poker activities.
Any gambling winning which is pretty much limited to lotteries, bingo, sports, and slots are not taxed. The operators must give all profits to charity.
In Iceland, most forms of gambling are illegal since 1926, but you can play bingo, lottery and some sports it is not about the profit, so you can gamble for fun in Iceland.
The best overall gambling site in Iceland
Full with available gambling bonuses