Cash in on a €20 Risk Free Bet at 1bet.com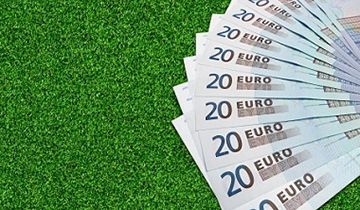 When something sounds too good to be true, players should raise the alarm flags because they are probably in for another unpleasant surprise.
Savvy punters will be surely intrigued by the €20 risk free bet proposition made by 1bet and would like to learn more about what reads in the small print.
The good news is that this campaign is straightforward.
Therefore, there are no strings attached or hidden conditions that will render this seemingly generous offer not worth the effort.
New customers are invited to wager an amount of up to €20 and in the unfortunate case that they fail to predict the winner, their stakes will be refunded. Players who choose to wager in excess of this threshold will still be eligible for a reimbursement but the amount won't exceed €20. Those who haven't played here before and open a real money account should deposit €100 or more to qualify for this campaign, although their first deposit can be five times smaller.
Your €20 first bet can be returned, if it is lost
New customers are not automatically enrolled in this campaign, so those who are interested in becoming a part of this lucrative deal, should write an email to customer support. This is more than enough to be listed as a participatant in this offer and the trigger for reimbursement will be made by the qualifying deposit of at least €20. The best case scenario is to convert the first bet into profit, so that there won't be any need for a reimbursement but there is always the possibility of things going the other way.
What makes this promotion special is that not only new members but also existing clients can take advantage of this risk free bet. They only need to deposit the qualifying amount of €100 during the promotional period and then place a wager of €20. Assuming you bet in another currency, you will receive the corresponding amount, so all clients regardless of location can participate.
What bets qualify for this refund?
To qualify for their risk free bet of €20, players need to wager on single events that have odds of at least 1.50 and should refrain from betting on parlay bets. Those who are entitled for a refund will receive the amount in a maximum of 72 hours after the bet has been settled. The money is credited in the form of bonus funds, which are subject to five times wagering requirements at odds of 1.80 or above.
Other Sports