Thailand Gambling Sites and Laws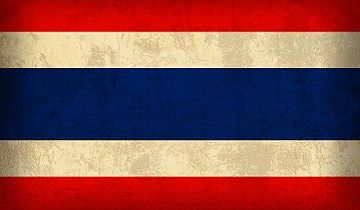 The Kingdom of Thailand is a Southeast Asian country that boasts a population of nearly 68 million people.
The country is a newly industrialized nation that enjoys a relatively strong economy that is driven by manufacturing, agriculture, and tourism.
Thailand hosted the most tourists of any Southeast Asian country in 2013. Visitors are attracted to the colorful history, the culture, and some of the most beautiful beaches on the planet like in the Macau case.
One thing that tourists do not come for is the gambling. Thai gambling laws forbid almost all forms of betting although illegal gambling runs rampant.
It isn't too hard to find an illegal bookie, underground casinos, or cockfighting here but participants face fines and/or imprisonment if caught.
Thai authorities do not put a lot of time and effort into the fight against illegal gambling but they have been known to bust up the occasional betting ring.
Such was the case when a group of senior citizens was arrested for partaking in a game of bridge.
They also made several arrests in connection with an illegal online betting operation that was said to be generating nearly $3 million per month.
Still, the impact of these raids does not really put a dent in Thailand's illegal gambling market as it is estimated that there are nearly 200 illegal gambling facilities operating in Bangkok alone.
These operations reportedly saw over $6 billion worth of wagers in 2011. The Thai government has discussed legalizing state-run casinos but none have been built yet.
Even though Thai gambling laws do not specifically address online wagering, it is considered illegal.
While there are provisions in place that allow for authorities to punish offenders, Thai online gamblers are rarely prosecuted.
This has led to an increasing number of Thais placing bets with international online gaming sites.
Top 10 Gambling Sites for Thailand
in 29 September 2023 – Updated List
Rank
Casino
Bonus
Safe & Trusted
Rating
Get Started
What are the Best Gambling Sites and Promotions for Thais?
The world's most trusted brands in online gaming accept bets from Thai players and they also offer many valuable bonuses that are easy to claim and fun to use.
Thai online casino players are cashing in on the welcome bonuses that are offered at Bet Adonis, Casollo Casino, or LSbet.Thai online gambling fans love the variety of gaming options and the €100 casino betting bonuses that are available at Guts, and Casino King. Looking for something bigger? It's easy to get your hands on €1,000 in casino betting bonuses at Box24.
These awesome bonuses aren't just for Thai online casino participants; loads of bonuses await Thai online poker players, bingo players, and almost every other gambling type. The latest and greatest bonuses are found in the promotions section at Gamblingjudge.com. Get yours today.
How Regulated is the Thai Gambling Market?
There are very few legal betting options in Thailand (check here the article on Thailand betting sites and bookmakers) that leave the Thai gambling market virtually unregulated, just like the Cambodian betting sites and bookmakers. A couple of horse tracks that are run by the Royal Turf Club and the Royal Bangkok Sports Club provide legal betting. There is also a state-run national lottery but, funny enough, the illegal version is more popular than the legal state-run version. Internet gaming is illegal which means that it is also entirely unregulated, just as the Jordanian gambling market is.
What Currency and Payment Methods do Thai Players Generally Use?
The official currency of Thailand is the Baht and it is accepted throughout the country. It is also a currency option at many Asian-based online gaming sites. The most commonly used payment method is via major credit card although cards issued by Bangkok Bank will not work at online gaming sites.
Prepaid cards like EntroPay are also widely used and accepted while many sites also accept Skrill and Neteller. It is highly recommended that Thai online gamblers check with their preferred gaming site or Gamblingjudge.com to find out what easy options are available. But wait, this is not all, if you want to keep yourself up to date, we have some other articles from this region, like Philippines gambling sites and other countries.
FAQ about Thailand Gambling
Thai lottery winners are taxed at a rate of .5%. Winnings from horse racing are not taxed but the operators are charged a 20% fee on entry tickets and a 20% tax on revenues minus winnings paid out to punters.
With a couple of exceptions such as horse racing and the national lottery; gambling in Thailand it illegal. The illegal gambling industry is massive and features everything from underground casinos and poker rooms to illegal bookmakers and lotteries. Internet gambling is also forbidden but recreational players are generally left alone.
No, according to the Thailand Gambling Industry, any form of gambling is illegal in the cities. So, no, the casinos are not legal in Bangkok.
No, all types of gambling and betting are illegal in Thailand's Gambling Industry. You can still play some online poker but just for fun, you can't win real money.
Other interesting articles: