Gambling in Portugal: Laws, Regulations & Casinos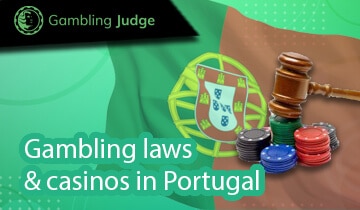 Gambling in Portugal and Portugal gambling laws have undergone some major changes in the last years. Most notably, online betting is now legal, licensed, and regulated under the Serviço de Regulação e Inspeção de Jogos do Turismo de Portugal (SRIJ).
One problem that faces the Portuguese gambling industry is the high tax rate which has forced several high-profile online gambling operators to leave the Portuguese gambling market.
It is expected that many Portuguese online gambling fans will do their betting with foreign sites that do not possess Portuguese gaming licenses.
We know that you are looking for the best Portuguese casino sites and we also know that finding the best ones is not an easy job when you have multiple options. We are also aware that not everyone likes the same thing: Some of you are looking for the best Portuguese slots sites and some want to play at the best roulette sites in Portugal.
Well, no matter what you are looking for, we got you covered: We checked all of the new online casinos and the biggest gambling companies in Portugal and picked the best ones for you. Check the list below and pick any name you want: All of them will offer you the best online slots and most useful gambling bonuses. Good luck!
Top 10 Gambling Sites in Portugal
in 18 September 2023 – Updated List
Rank
Casino
Bonus
Safe & Trusted
Rating
Get Started
Gambling laws in Portugal
Portugal gambling laws are quite complex and different for land-based / online gambling. Let's talk about them one by one, so you get a better idea about what is going on in Portugal when it comes to gambling.
No matter which category it is, all bookmakers and casino legal Portugal sites are licensed and audited by the Portuguese gambling regulatory authority, called SRIJ. Casinos, bingo halls, poker rooms and betting shops must pe approved. Only SRIJ approved casinos and bookies are legal and getting a license costs at least 600.000 EUR. This may not be a big amount for global operators but as we will explain below, there is also a special "gaming tax", which causes most operators to decide not to enter the Portugal market.
We have given detailed information about the Portugal gambling laws above, but before proceeding, let's briefly answer the most frequently asked questions on this subject below.
Is gambling legal in Portugal?
Just like most of the land-based casinos and bookmakers in Europe, "physical" (land-based) gambling is legal in Portugal. You can go to a casino or visit a betting booth to place a bet – both are legal and audited by the SRIJ, a government agency. 
Is online gambling legal in Portugal?
Online gambling (casino Portugal and Portugal betting sites, in general, online gambling companies Portugal) is legal. As long as licensed by SRIJ, all kinds of online gambling activities are permitted. The only exception is, interestingly, fantasy sports betting: There are no online gambling regulations for it. Lotteries remain a state monopoly are operated by Santa Casa da Misericórdia de Lisboa.
You can see a list of SRIJ licensed bookmakers and casino sites in Portugal at this address. As you will notice, the addresses of all licensed websites end with ".pt". You will also notice there are only 15 websites on this list. To learn the reason, check the "online gambling Portugal tax regime" section below. 
What is the legal age to play at Portugal gambling sites?
In order to play at Portuguese casino sites or try your luck in horse racing betting, you need to be at least 18 years old in Portugal. This is the age of majority according to local laws and applies to everything, not just gambling. Some casinos will not admit anyone under 25.
The tax regime for online gambling in Portugal
We have good news and bad news. The good news is that even if you play at high roller casinos and win millions, you do not have to pay any taxes. Player winnings are not taxable in Portugal.
However, casino online Portugal sites and bookmakers are taxed with pretty high rates:
These are pretty big figures and that's the main reason why there are only 15 licensed operators in Portugal. Since Portuguese players can still play at international casinos and bookmakers, most of the operators do not bother with a local license.
And even with these small numbers, revenue from online gambling taxes was close to 122 million USD in 2020, which is approximately 0.05% of the GDP of Portugal.
Most popular games at Portugal online casinos
As can be guessed, the most popular games for online gambling Portugal consist of games that are permitted by the current legislation. We can divide them into two groups:
Slot machines (games of chance)

Table games (baccarat, blackjack, poker, roulette).
Of course, slot machines are the most popular among them, but we can say that poker is as popular as they are. This is due to the fact that poker has a special status in Portugal, we talk about it in more detail below.
You can play all these games in both land-based and online casino sites. If you want, you can get both at the same time by trying live casino games: You can make a selection right now by browsing our list of the best live casinos, or you can find the site that suits you best by reading our best online casino reviews.
Playing Poker at online casinos Portugal
Poker is especially popular in Portugal, maybe even more than slot machines. Even Cristiano Ronaldo, who is probably the most famous Portuguese person at the moment, is a marketing face of some poker websites.
The difference in playing poker in Portugal is the player base: In June 2017, Poland, France, Spain, and Italy signed a liquidity deal that allows online poker players to share their poker player pools.
So, for example, let's say Operator A is licensed in France but not in Portugal. Even if this is the case, Portuguese players can legally play against French players in special online poker rooms.
Best payment methods for gambling in Portugal
Since gambling is legal, there are no restrictions on payment methods. Therefore, we can act freely and decide according to ease of use when choosing the best casino payment methods for online gambling Portugal. Below, we list the payment methods we think would be the best choices for gambling in Portugal: Note also that you can use them to claim the best online casino bonuses.
Credit Cards
Cons
Not ideal for transferring large amounts
Bank Transfers
Cons
Terribly slow deposit and withdrawal times
E-wallets
Pros
Fast and extremely low fees
Cons
Once again, not the best option for large amounts
Prepaid Cards
Pros
Amazingly fast and zero fees
Cons
Most of the time, cannot be used for withdrawals
Also, while Bitcoin online gambling or with other cryptocurrencies does not have legal tender in Portugal (legally, they don't count as "money), you can still deposit and withdraw using them. You can always convert them to Fiat currencies at exchanges.
Online gambling Portugal FAQ
No, gambling is not illegal in Portugal. Both land-based and online gambling are permitted, as long as licensed by a government agency called SRIJ.
As a player, you do not have to pay any taxes for your casino or bet winnings. The only ones that pay tax are the operators, and they pay pretty big taxes.
The terms and conditions of 1xBet do not list Portugal as one of the accepted countries. These policies may change over time, so we recommend contacting customer support and asking this question.
Yes, poker is listed as an "allowed game" on both land-based and online casinos. There are even special poker rooms that share a player pool from different countries.
The legal age to play at casinos and bookmakers is 18, which is the general age of majority in Portugal. If you are under the age of 18, you cannot gamble at all.
Check our list of top Portugal online casino sites
These are everything you need to know about gambling in Portugal and Portugal gambling laws: You are ready to start your adventure now. We already picked the top casino sites Portugal for you, so all you need to do is choose one and create a new account. (Also, remember that we can recommend gambling sites by countries – any country you like.) We are sure that you will have a good time and score some winnings: Good luck out there!