Weekly free bet competition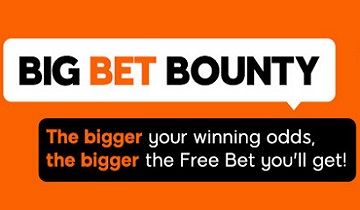 Here's an awesome promotion that will get your competitive juices flowing.  888 Sports is offering punters their share of over £2,000 worth of free bets in their weekly betting competition.  Their top prize is an £888 free play bonus and it can be yours for climbing to the top of the leaderboard.
It's quite simple.  Place a minimum wager of £5 on an event with odds equaling 1.50 or greater.  Punters can lay action on single events or parlays.  The bigger the winning odds, the higher you climb the leaderboard.
At the end of the week, the punter with the highest winning odds total takes home the £888 free bet.
So when a punter places a winning bet at 8.5 odds on Monday, then wins a bet with 11.5 odds on Tuesday, they will be ranked according to their 11.5 odds bet.  If they happen to hit a 30 odds wager on Friday, then the player will be ranked with the 30 bet.  Needless to say, losing wagers do not qualify.  Don't worry if you don't finish on top.  Prizes will be awarded to the top 10 finishers so there are plenty of opportunities for you to cash in on a sweet prize.  In the unlikely event of a tie, the tie-breaker goes to the player with the most bets placed in that period.
When you win your prize you will need to put it into action within 7 days or it will expire.  The free play must be placed all at once.  Breaking it into several smaller bets is not allowed nor may you use the free play on permutation betting.  Also know that when you place your bonus bet and win, the amount of the free bet will not be included in the return.  So if you win the £888 first prize free play and place it on an even money event, you will receive £888 back for a win and not £1776.
All qualifying bets are counted from Monday to Sunday and must be settled within the same timeframe.  This means that if a wager is placed on Sunday for an event that will take place on Monday then it won't count.  Duplicate, void, and cashed-in bets do not count, and member bet limits apply to all free plays.  Lastly, the offer is limited to one player per household, computer, and email address or payment details.
This is a fantastic offer for those of you who like to play for big payouts.  Whether you are a small-timer who likes to play parlays with big payouts, or a high roller who likes to have action on big underdogs, this promotion is definitely for you.
Not a member at 888?  What are you waiting for?  Sign up now and claim any number of great bonuses that are currently being offered.  This operator knows how to keep their customers happy by offering a multitude of betting bonuses, fast and hassle-free payouts, and excellent customer service.
Other Sports