How to Read Boxing Odds | How do Betting Odds Work in Boxing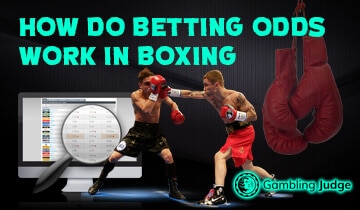 How to read boxing odds or how do betting odds work in boxing? Surely it is not that complicated to place a bet on the big fight? After all, boxing like UFC is one of the easiest sports to bet on. You just pick a winner out of two fighters, right?
As it happens, there is a bit more to it than that. You need to know how to read boxing betting odds, for starters, and you will need a bit of insight into the two fighters. You will also have multiple ways to bet and different betting odds to consider.
If that sounds too complicated for you, you need not worry. Without our boxing betting odds review, we will walk you through everything you need to know.
Your guide to understanding boxing betting odds in 2023
Learning how to read betting odds (any betting odds) will help you when it comes to understanding boxing odds in 2023. If you know how to read soccer odds (for example) in American or decimalised formats, you will be well-placed to follow the rest of this guide. If not, we are here to help.
Our guide will explain boxing odds for you, so you can start wagering on this popular sport at trusted sports betting sites today. Let us begin…
Top 10 Boxing Betting Sites in 27 September 2023 – Updated List
Rank
Bookmaker
Bonus
Safe & Trusted
Rating
Get Started
How do betting odds work in boxing?
How do betting odds numbers work in boxing? If you are wondering how to read betting odds for boxing, then you need to know about the two main types of odds. Moneyline bets and decimalised bets are the options you will most commonly have at the best bookmakers in the world. In both our examples, we are going to bet on a fighter to win. Read our how to bet on boxing article for more information. 
A typical moneyline bet will work like so:
While the moneyline bet is popular with American players, Europeans (and those based elsewhere in the world) prefer decimalised odds rather than boxing betting lines. 
If you are wondering how does boxing betting work with decimal bets? Let us tell you…
What plays a part in influencing boxing odds?
Boxing betting odds are easily explained to you above, but what influences them? Before you rush off to bet at legal betting sites, consider the following:
The "Tale of the Tape": This expression is used to describe the weigh-in. This is the period when two boxers are measured, weighed, and assessed before a fight. It can give you an idea of the "stats" of a fighter.
A proven track record:

Have the boxers met previously? What other types of boxers has your chosen fighter fought?

Boxing style:

Not every fighter has the same style. Some are more technical, street fighters, powerhouses, southpaws, or brawn. It is up to you to gauge which style suits a fight best. How long is their reach? Are they likely to tower over their opponents? Are they light on their feet, dancing around the ring, or big and slow but packing a powerful punch?

Peak physical condition:

Boxers who regularly fight are likely to be more tired. However, if they go through lengthy spells between fights, they could be out of practice. Also, consider whether they are carrying any niggling injuries.

Form and motivation:

A boxer on bad form will usually be an underdog. However, this may also be the motivation they need to provide a shock win.

Stats you need to know:

Have a look back at former stats. The number of punches thrown versus landed, the total number of jabs and power punches per round can make interesting reading for any player interested in

prop betting strategy

.

Special bets:

All manner of other things, like the number of knockouts and TKOs (technical knockouts), can be considered. So, too, can betting options like

Asian handicap

s, which may spice things up and add more value to a David vs. Goliath fight.
All the above could play a decisive role in determining the odds of a boxing match. We would strongly recommend that you study fighters for these things before deciding to wager money on them.
Types of boxing bets you need to know
Learning how to bet on a boxing match also means having boxing bets explained to you. Below, we will introduce you to some of the most common ones. They include:
Winner (Favourite)
Ideal for decimal or money line betting, picking a winner will usually come down to the favourite. They will be likely to win the fight, but the prize you win will be less.
Winner (Underdog)
You could opt for underdog betting. The underdog may not have the best shot of success, but if he or she fights well and they pull off a surprise, the amount you could win could be extensive.  
Total Odds (Over/Under Rounds)
Round betting boxing may come under many forms. How many rounds do you think a match will go? Alternatively, how many rounds do you think each fighter will win, or in what round do you think your fighter will win in? Over/under betting options are ideal for these kinds of wagers.
Points Betting
Sometimes, a fight does not end with a TKO or a knock-out. Instead, it will be determined by points awarded for blows landed by ringside judges. You can bet on the points they will give if you want.
Knockout
A popular straight-up bet, wagering on there being a knock-out is ideal when dealing with heavyweight favourites with an excellent track record.
Top tips and tricks for betting on boxing
Now that you know a bit about how boxing betting works, let us improve your game with a few tips and tricks:
👉 Always look for the value in a bet. There is no point placing underdog bets if your man is a dead cert to lose.
👉 Odds to not always reflect reality. Bettors prefer wagering on underdogs, so this inflates the odds of a favourite. 
👉 Pay more attention to the fighters themselves rather than form. A boxer who spanks a succession of fighters who he should be expected to pummel might look great on paper, but it does not tell you a lot about when they come up against the real deal. For this reason, form is not as important as the quality of two specific fighters.
The pros and cons of having a bet on the boxing
There are ample ways to bet on boxing. There are also a few pros and cons to doing so. For instance…
PROS
Lots of weight divisions which can see value added to the odds
Some fights are "quite easy" to predict
Every bookie wants to offer a host of special odds for big fights
CONS
Major title fights occur so infrequently
Two heavyweights getting it on can be mightily difficult to predict successfully
FAQs: Your questions about boxing betting answered
You now know how to bet on boxing matches, but do you have any other questions? Let us try and answer some below…
Bookies take into consideration the opponents stats themselves. They do not worry too much about form but are paying attention to reach, height, punching power, style, and even the venue.
Yes and no because it depends on the underdog. At some point, underdogs will climb the ladder and become favourites. It is up to you to find a fighter which looks like they will do that. Generally speaking, though, boxing bettors love wagering money on the underdog.
Yes, but it is not as common as with other sports. Boxing matches have no allotted timeframe (beyond the number of rounds) can be over in seconds, so not too many bookies offer this option.
That depends on the fight rather than the bookmaker. For major title fights and heavyweight bouts, expect daily price boosts and enhanced odds, money back for draws, and special deals on the number of rounds and if there is a knockout.
Again, this can vary from site to site. There are betting sites with live streaming, and they are typically happy to let you bet with in-play boxing bets. However, the money moves fast, as a boxing match can end with a single punch at any time, in any round.
Start wagering on boxing with leading sportsbooks today
Did you begin by asking how do betting odds work in boxing? Now, we like to think you at least know how to read betting odds in boxing. The next step is the start placing bets at leading sportsbooks. On our page, you can find the top 100 bookmakers offering boxing bets. We can introduce you to Bitcoin bookmakers, new bookmakers in 2023, and even dollar betting sites. If you want to bet on the best fighters in the business, look no further than our top and trusted online bookmakers.
Other articles you might enjoy: