How To Bet On Boxing – Expert Guide on Betting on Boxing in 2023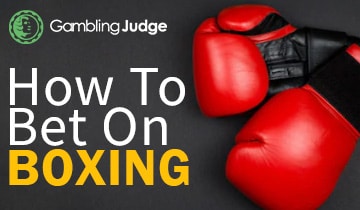 Placing a bet for a football match may be popular among bettors, but "classic" sports events are not the only things you can try your luck.
Online boxing bets can be a quite good alternative: These matches last was shorter than other sports events but still offer the same level of excitement and adrenaline.
But before you start trying your chance on these events, you must learn how does the betting on boxing work.
While placing a bet on a boxing event is not that hard, there are still lots of things to learn and be aware of – for example, how does boxing gambling work and how to bet on boxing online?
Well, this is the purpose of this guide: We will show you how to bet on boxing, explain the most common betting types, give some tips & tricks, and teach you how to bet money on boxing like a pro. Let's start: Another big match is coming up!
Best Boxing Betting Sites
in 01 November 2023 – Updated List
Rank
Bookmaker
Bonus
Safe & Trusted
Rating
Get Started
How To Bet On A Boxing Match?
In order to learn how to bet on boxing matches, you must know the basics. First of all, you need to find a bookmaker – this is a company that will accept all the bets and makes the payouts after the event is over. So, the first answer to how do you bet on boxing question is finding a reputable, fair, and legal bookmaker: There are lots of online betting sites that offer this service.
However, only a couple of them is worth playing. In order to save time, you can simply select one of our recommended bookmakers and start playing today: We already checked them all.
After becoming a member of that online bookmaker site, it is time to learn how to place a bet on boxing. This part is also simple: The website will show you a long list of boxing matches which you can place a bet and also give you the odds information. Click on any of these matches and analyze the odds.
If you are satisfied with them, deposit some money and complete the process: You just need to wait for the results now. But there are still two unanswered questions: First, what are boxing odds and how to read boxing odds? Second, which betting types are available for boxing events? Let's answer them both below.
Boxing Betting Odds Explained
So, how does sports betting work in boxing? To answer this question, we must talk about how do boxing odds work. Boxing matches are sports events and there are two possible outcomes:
One of the fighters will win the match,
The match will end in a draw.
There are literally no other possibilities: The match will either end in a draw or some boxer will win (and the other one will lose). Now, we only have two outcomes but it is possible to create more possibilities: For example, there may or may not be a knockout during the match. Or, it can or cannot end before the fifth round. It is possible to place a bet for all of these possibilities and the odds of each outcome will be different, depending on its actual probability.
For example, picking a single boxer and betting on that he will win the match is a simple and straight bet. The majority of bettors will decide to pick this option. One of the fighters will always be a favorite, so most of the people will expect him to win the match and place a bet in favor of him. And one of them will be the underdog – the possibility of him winning the match will be very low. As can be expected, there won't be many people betting on the underdog.
So what happened here? Let's say there are 100 people who placed a straight bet. 80 of them put their money on the favorite. Since everybody expects him to win the match, the payout (and the odds) will be lower because there is not much risk involved. And 20 of them placed a bet for the underdog – their payouts (and odds) will be higher because they are taking a bigger risk, nobody expects the underdog to win the match.
So far so good, right? You understand how do odds work in boxing and why these odds are different from each other. Let's continue by giving a simple example, which will help you to understand how to bet on boxing odds.  A sample straight bet offer will look like this:
Boxer A (-170) vs. Boxer B (+130)
Straight bets always have "+" and "-" signs. They show which boxer is the favorite and which one is the underdog. In this example, the boxer with the "minus" sign is the favorite. Why? Because his odds are lower. And the boxer with the "plus" sign is the underdog, because he is getting higher odds. This example means that:
In order to win 100 EUR, you must bet 170 EUR on Boxer A
In order to win 130 EUR, it is enough to place a 100 EUR bet on Boxer B
Basically, for the favorite boxer, your bet must be higher than the expected payout. If you win this bet, the bookmaker will pay your initial wager back (170 EUR) and the payout (100 EUR). So, your net profit will be 270 EUR. But if you are betting for the underdog, the bet amount can be lower than the expected payout. Bet 100 EUR on the underdog and if you win, the payout will be 130 EUR (230 EUR in total). Or, we can list these signs like that:
The "minus" sign shows the minimum bet amount in order to win 100 EUR
The "plus" sign shows the potential payout if you bet 100 EUR
"100 EUR" is only an example of course, it can be another amount too. In real life, these range between these numbers will be much wider. To give you an idea, here is a real example: During the 2000 Olympic Wrestling event, there was a fight between Rulon Gardner and Alexander Karelin. Karelin was the favorite and Gardner the underdog – his odds were +2000. Yes, 2.000, not 200. And guess what – Gardner win the fight and made a couple of people very happy that day.
We can call this section "boxing odds explained" – these are all the things you need to know about boxing betting odds. We believe that you have a better idea on how to bet on boxing decision now, so we can continue with the boxing betting types.
Basic Categories Of Boxing Betting
Just like other sports, there are several betting options for boxing matches too. Some of them are quite familiar – placing a bet on which boxer will win the match, for example, is an easy to understand betting option. However, some of the betting options are specific to boxing matches. In order to understand how does betting in boxing work, you need to know about all these options. Here are all the ways to bet on boxing:
Straight Boxing Bets: As the name implies, this is the most basic version of boxing bets. Basically, you are betting on which boxer will win the match. As explained above, it looks like this: "Boxer A (-170) vs Boxer B (+130)". The numbers represent odds and in order to learn how to place a bet on a boxing match, you must first learn reading these odds. Take a look at the section above to see how do betting odds work in boxing.
Parlay Bets: A parlay bet is a combination of multiple bets. In other words, your betting coupon will contain multiple matches and outcomes. For example, placing a straight bet on two different boxing matches on the same coupon is called a "parlay bet". So, why is it needed? Well, placing a single bet for different matches and outcomes pay more. This is because you are taking a bigger risk: In order to win a parlay bet, all of your picks need to win. If this happens, you will win a lot more than by placing two separate bets. Here is a simple example of parlay bets:
Boxer A Vs Boxer B, you place a straight bet on the Boxer B
Boxer C Vs Boxer D, you place a straight bet on the Boxer C
And both of these outcomes are on a single coupon. If both of your picks win, you will win a quite big payout. But if one of them loses, you will lose the whole bet.
Over/Under Bets: Have you ever heard the terms "round betting boxing"? Well, this is it: You bet on how long a fight will last and/or at which round it will end. So, how does round betting work in boxing? A sample over/under bet looks like this:
Boxer A 3.5 (+170)
Boxer B 3.5 (-130)
You already know what plus and minus signs mean, so there is one thing left to explain: Numbers right after the name of the boxer. These numbers show at which round the match will end. For example, by betting on the Boxer A, you are placing a bet that the fight will end only after the third round, but before the fourth round. So, basically, you are betting that it will end somewhere during the third round. If the matches end before this (or after) you will lose the bet – this is how does boxing round betting work.
There are also "prop bets", and explaining them is necessary in order to understand how does betting on boxing matches work. Basically, prop bets are betting options that are not covered by the three main categories above. They will be different at each online boxing betting site. For example, betting on that the match will end with a knockout is a prop bet.
Or, you can even place a bet on when will the knockout will happen. As we mentioned, prop bets offer various possibilities and different odds. However, these won't be different from any other odds – in other words, once you learn how to read boxing odds (read the understanding boxing odds section above), you can understand what do they mean, no matter what the actual betting type is.
So far so good, right? We believe you have a better idea of how does betting work in boxing now. So, let's continue with some tips and tricks, which will help you to score a winning.
Tips & Tricks: Boxing Betting Explained
You have learned how to bet on boxing fight, but there are still some things you should know. Learning how to make a bet on boxing is not enough – there are lots of tips & tricks to keep track of. We are sharing some of them below:
Learn online boxing terms. KO is short for the knockout. And TKO is short for a technical knockout. The draw means a tie. You will keep hearing these three terms over and over, and you now know what do they mean.
Analyze each boxer. You must do your homework before placing a bet. Follow the private and professional lives of boxers: You don't need to be a detective; these are publicly available information. Subscribe to their social media accounts, check their previous win/loss history and make sure that you have a pretty good idea about the performance of each boxer before placing a bet.
Use bonuses. Online bookmakers have bonuses too, just like online casinos. You can use these bonuses to place additional bets – in fact, you can get free betting coupons too. If you want to place a bet for a match but don't want to spend from your budget, using a free bet bonus may be the answer.
Pick a bookmaker that supports mobile devices. You need to watch the match from start to finish, and you won't be able to use a PC always. Pick a bookmaker that supports mobile platforms, so you can watch the event and place additional bets if necessary, no matter where you are or what you are doing. Mobile betting will give you true freedom.
FAQ About Boxing Betting Online
You can search the internet for the best odds and bookmakers but this will be a futile effort, especially if you are a beginner. Instead, use one of our recommended bookmakers: They offer the best odds overall and cover all of the boxing leagues. And explaining how do they work will require another article this long, but in short, we can say that they are also playing in odds. No matter which boxer wins the match, the bookmaker will still make a profit.
This depends on the local laws of your country, but overall, being 18 years old is the generally accepted legal limit. Do not place a bet or gamble if you are younger than 18 – it is illegal and invalid.
This was a valid question during the 80s when the mob-controlled almost all of the boxing betting operations. It is not that valid nowadays: Boxing betting is an audited industry nowadays and all bookmakers are licensed operators. The chance of a match-fixing in boxing events is the same as the match-fixing in any other sport. In short, don't worry about it.
Sure. Like any other sports event, it is possible to place live bets for boxing matches too. However, the available options won't be that rich: These are short matches and most of the time, they will be over before you knew it. So you will be getting live betting offers, but you need to be quick to use them.
That depends on the offered options. If the operator offered only "win" or "lose" options for that match and it ended with a draw, you will get your money back. However, if "draw" is among the offered betting options, bettors who played on "win or lose" will simply lose their money.
This depends on the laws of your country. If gambling is illegal in your country of residence, online boxing betting will be considered illegal too. But if it is legal, then yes, this will affect the boxing betting and make it legal. To give you an idea, boxing betting is legal in Canada and the United Kingdom, but illegal in the United States.
Learn How Boxing Betting Works, Place Your Bet Today!
There you go: Now, you know how to bet on boxing and more importantly, how does boxing gambling work. Since you have a better idea of how does boxing betting work, it is time to try your chances.
Pick one of our suggested online bookmakers, find a boxing match to bet, and go wild! Remember that dozens of boxing matches are held every day in the world, so there will always be an event to bet on. Good luck to you all!