MLB Parlay | Baseball Money Lines Explained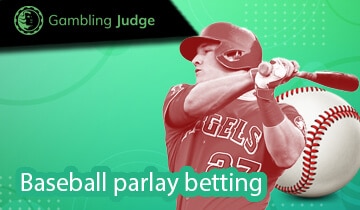 When it comes to MLB parlay wagers or any other sports betting, it may be a profitable endeavor, but it can also be tedious. This is due to the fact that with a parlay bet, you are wagering on many games, and you must win each one in order for the wager to be successful. For instance, if you place a five-game parlay bet and four of the games win, but one does not, the bet is still a loser. A parlay bet, on the other hand, may be highly profitable, allowing you to gain a lot of money by betting a little. The bigger the reward in a parlay, the more games you bet. Before plunging into the best baseball betting sites and bookmakers and teaser betting strategies, check out the bet on US sports and get a 50% parlay bonus and types of sports betting real quick!
Best Baseball Betting Sites
in 29 September 2023 – Updated List
Rank
Bookmaker
Bonus
Safe & Trusted
Rating
Get Started
An online MLB parlay is a betting term that refers to a single wager that combines numerous selections. In the best MLB parlay, the chances of each MLB parlay expert picks are multiplied to create the parlay odds, thus there is a huge opportunity to wager small and win large. MLB Parlays, like NHL Parlays, lack a regular points spread market, with the run line betting in baseball often set at +/- 1.5 runs and the odds changing rather than the line itself in MLB parlay prediction. 
You want to construct a 3-pick parlay, and in this case, we will select three teams to win straight up or Moneyline, as seen on the Sportsbooks offering MLB guaranteed picks. 
Red Sox -160

Yankees -130

Mets +120
In this bet, a $5 stake would pay you $26.63, and a $100 wagers would net you $532.50 with odds of +532.5. Even if you bet on huge favorites, like -200 or more, you can still win a lot of money in the MLB streak parlay betting system. For instance, if you put $100 on the Braves -210, Blue Jays -200, and Phillies -200 in a parlay, you would earn $232.14. That's not terrible at all. As you'll see, a parlay wager is more difficult to win, but the payout is considerable. In a free MLB parlay, the more you wager on an underdog, the bigger the reward.
How To Bet On MLB Parlays
Winning an MLB Parlay Bet
MLB parlay bets and baseball run line betting are becoming extremely prevalent, but they may be infamously difficult to land, with teams frequently splitting MLB series' and the notion that anybody can defeat anyone on any particular day. The most difficult aspect is eliminating these possible mistakes when adding picks and parlays. Here are a handful of the best sports betting strategy for attempting to improve the value of your odds in order to avoid baseball's unpredictability and offer yourself the potential of making a profit in the long run. How to Win At Sports Betting with Parlaying Large Favourites?
Straight wagers on huge favorites provide minimal value to gamblers; a $100 betting on a -200 favorite will yield just $150, a little payout for your risk. Consolidating the two favorites at the same odds of -200 would result in a $225 return on your $100 bet, a more attractive return for your gamble. Home Favourite and Under MLB Parlay Cheat? You may combine the money line and the run total via the MLB parlay calculator in the same game, and the under is a popular pick among MLB parlay gamblers. In baseball, home teams strike last, and when they hold a lead, the game only lasts 8.5 innings instead of 9, which is a positive for under bettors.
Calculating MLB Parlay Odds
When MLB parlay betting on an MLB Same Game Parlay, all of the choices come from the same game in sports betting, as opposed to a selection from several separate games, as with a standard MLB parlay. With an MLB Same-Game Parlay, you may enhance your chances of winning by combining numerous choices. As with other parlays, the odds of your MLB Same-Game Parlay improve with each selection. In addition to being able to be smart in our approach, MLB Same Game Parlays enable us to understand which selections to combine. Adding correlated props and picks to the parlay is one of the most common MLB parlay rules. Adding more picks to your MLB Same Game Parlay and straight betting tips to boost your chances of winning, will make it more difficult to win, but it will also improve the odds.
Record
Simulated Season
Run Difference
Postseason Changes
Make Playoffs
Postseason Changes
Win Division
Postseason Changes
Win World Series
PROS
A small risk might result in a huge profit.
Parlays can give numerous games with a rooting interest.
It is possible to mix numerous sports/leagues into a single stake.
Allows bettors to utilize Moneyline favorites with no value as a single wager.
CONS
It is tough to succeed on a continuous basis since all sides need to win.
Even though the reward increases, each additional pick makes it more difficult to win.
Certain marketplaces may be excluded depending on the site.
When utilizing decimal odds, determining parlay odds is quick and easy: Simply add the chances from each leg to get the parlay odds.
Sports provide dynamic odds, which means that no two bets would have identical 50/50 odds. Fortunately, the computations are not too difficult. Multiply all bets by the stake if you are using decimal odds. If you are gambling on a three-team parlay with odds of 1.2, 1.5, and 1.4, simply multiply all three numbers by your investment.
A parlay is defined as a collection of numerous separate wagers (two or more) that are linked together and considered as one large stake. To win the whole wager, you must win each of the individual bets on your parlay. If you lose a single wager, you lose the whole parlay bet.
Parlay bets are a sequence of straight bet wagers that are combined together to produce larger rewards. The essential point is that you must win every wager in the parlay in order to payout.
To calculate the payoff of this parlay, multiply the payment for each game by the number of games in the parlay.
There's nothing wrong with putting a parlay or teaser bet for fun every now and again. However, gamblers should never make parlays and teasers a regular part of their betting regimen.
Baseball parlay bets are a wonderful method to wager small and win big. A baseball parlay has nearly limitless possibilities with up to 15 games each day. You may attempt to make that -200 wager into a more successful 3-team parlay by combining a couple of the hot favorites, or you can go through the run line odds and rapidly build up a massive baseball parlay for the day.
Other interesting articles you might like: