Czech Koruna (CZK) Bookmakers and Betting Sites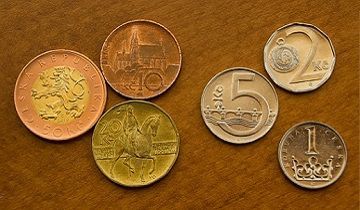 The Czech koruna (CZK), sometimes referred to as the Czech crown.
It is the official currency of the Czech Republic which is a country of over 10 million people in Central Europe.
The koruna is accepted throughout the Czech Republic including at the dozens of casinos and other betting establishments.
It is also accepted at many of the world's top international gambling companies, although it is not often offered as a betting currency at the new bookmakers 2021 sites.
In fact, the koruna is only supported as a betting currency at 8 of the 95 sportsbooks that are recommended by Gamblingjudge.com.
Who can use Koruny when Making Sports Bets?
As long as you have koruny and your sportsbook supports betting with CZK, you may bet using koruny. Koruna credit/debit/prepaid cards, eWallets, and bank accounts can be used to fund your betting account at most sportsbooks.
People with cash in their pockets can use a wire service to deposit as well.
Just because a bookmaker does not support betting with CZK does not mean koruna users can't bet. They absolutely can.
They can still deposit using CZK at most sportsbooks but their funds will be converted into a supported betting currency.
Best Czech Koruna Betting Sites
Rank
Betting Site
Bonus
CZK Currency Accepted
Rating
Get Started
What Bookmakers allow Betting in CZK?
Unfortunately, not many international betting sites facilitate betting in CZK but those who prefer to use koruny for betting still have a few great choices. VBet, Jetbull, and Cash Point are a few of the recommended bookmakers that allow customers to place bets using CZK. Punters can also place bets using CZK at Noxwin, Bet Adonis, Win Masters, and Exclusive Bet.
Of course, Czech punters may deposit using CZK at bookmakers such as Sports Bet, SBObet, and Dafabet. They will just have to place their bets in another currency such as euros or American dollars.
Are there any Betting Bonuses in Koruny?
Of the sites that offer koruny for betting, only Win Masters offer a bonus in CZK. However, there are several bonus offers for those who want to bet using koruny. These promotions are merely advertised in euros but CZK sportsbook deposits at these sites will be credited in currency equivalent.
18Bet will give you up to the currency equivalent of €50 on CZK sportsbook deposits while Jetbull, Noxwin, and Bet Adonis are all offering up to the equivalent of €75 on deposits using koruny. If you deposit with koruny at Cash Point or Exclusive Bet you can earn the Czech equivalent of €100.
Be sure to check Gamblingjudge.com for the latest bonuses and promotions for CZK sportsbook deposits.
What is the Minimum Deposit and Withdrawal when Using Koruny?
There is no single answer to this question. These limits depend on the individual sportsbook as well as the payment processor. Be aware that the limits that apply to a particular payment method at one sportsbook will almost always be different at another. Punters are urged to check with their online bookmaker to find out what limits apply to them.
Other related articles you might like: