Over under League of Legends betting | A Different Way to Bet on LoL in 2023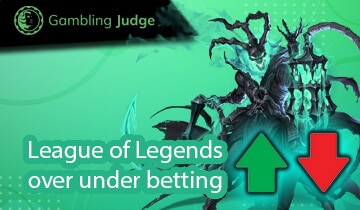 League of Legends is the most popular multiplayer online battle arena game among players and punters alike. The latter appreciate the multiple wagering opportunities, including over-under League of Legends betting markets.
Due to the popularity of this type of wagering, we have created an entire guide that explains how this form of LoL esports bet works. Keep reading to see how you can use it on the most popular leagues for LCS betting and LCK betting among others.
The best bookmakers to use over-under betting on LOL for 01 November 2023
Rank
Bookmaker
Bonus
Safe & Trusted
Rating
Get Started
What is over under League of Legends betting?
What kind of over under bets are there in LoL?
As mentioned above, simplicity and flexibility are the qualities of over-under League of Legends betting. We are briefly going to discuss the mainstream and League of Legends special bets where the over-under betting strategy can be applied. These are the three most common options, but the system is the same for FIFA, Hearthstone, Overwatch Betting and Rocket League Betting. This means that once you master the art of under and over betting you can use it on all the popular esports.
Other Esports recommended by Gambling Judge
Last update: 01 November 2023
How to make accurate over under predictions? To make money 🤑
What is a good over under LoL betting strategy? ⚔️
Understanding over under betting is the first and most important step to be successful. As mentioned above, LoL esports betting can be put to good use if they are of good quality. However, these are some of the things that we believe will help you be more successful when you bet on esports League of Legends.
Map totals
– in lopsided series,
League of Legends spread betting
is better than over/under betting. You get better odds on the favorite to win 2-0 than the under 2.5 maps to be scored and underdogs almost never win 2-0. The opposite is true for evenly matched teams when you get better odds for the under 2.5 markets and
League of Legends handicap betting
. Two game sweeps are quite frequent between top teams because the first map winners have momentum.
Kill totals – LCK usually has fewer kills scored and LPL, LEC, and LCS more, but the betting lines also differ. It's more important to analyze individual teams and the head-to-head results. Our inside League of Legends betting tips, are to bet on the under in the first match and over in the second. This works when you bet on League of Legends games played in a best-of-three series.
In game objectives – League of Legends betting sites offer markets on dragons, towers, barons, and inhibitors. When aggressive teams play, games are usually shorter because those who take an early usually snowball it. This leads to a higher number of kills but the special in-game objectives are susceptible for under bets. Conversely, when you bet on strategy-intensive LCK games, over-betting on League of Legends objectives such as dragons, towers, and barons is advisable.
Other types of bets recommended by GJ:
Over under in League of Legends: 5 easy betting steps
Over under LoL betting is only suitable for pregame wagers, so you can't incorporate the knowledge in any live betting strategy. The good news is that League of Legends live betting is more challenging because you need to react faster. There are only a few steps to consider in over under League of Legends and this is how you should proceed if you are a beginner.
Step 1
Choose a major LoL division with abundant information.
Step 2
Analyze the overall and recent performance of teams.
Step 3
Look at the head to head results for the market of interest.
Step 4
Use comparison sites such as Oracle's elixir to compare numbers.
Step 5
Open accounts at several bookies to enjoy better odds and place the bet.
How do totals LoL betting work on Bo1 matches?
Individual and team totals for kills 🐉 🔥
PROS and CONS about over-under LOL
PROS
Many game totals betting options
Available at all top e-sports books
Makes each LoL game more exciting
Rewards experienced punters who do research
CONS
Certain degree of randomness and higher risks
FAQ about over-under in LOL
Aggressive teams usually have more kills recorded but fewer in game objectives because of the fast pace.
They can help you make more accurate predictions, but they are no substitutes for thorough research.
This can't happen because the game totals are displayed in the form of 1.5, 4.5, 20.5 and so on.
These bets are available only pregame and all the markets are removed after the match has started.
Make over under LoL betting profitable
We have reached the end of our over under League of Legends betting and hope that you've learned valuable lessons. Try it yourself and focus on top leagues and mainstream markets at the beginning. Do research regarding the teams, the division and recent results as well as past performance. Use specialized websites to collect information whenever possible and exercise bankroll management. Open accounts with several e-sportsbooks to benefit from the best odds and you are likely to succeed.
🔔NOTE: Read more about our Esports treasure last updated on 01 November 2023 to bet like a pro