WebMoney Bookmakers and Betting Sites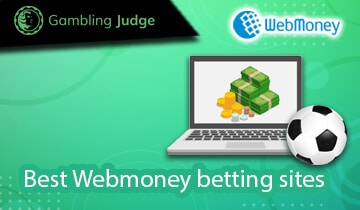 WebMoney is an electronic payment system that was established in Moscow in 1998.
It originally targeted Russian clients at Russian betting sites but has since become a much-used payment system around the world. WebMoney makes it possible for users to perform safe and secure financial betting transactions.
Customers can perform P2P transactions, make online payments for goods and services, and even secure loans.
As of 2015, WebMoney has been licensed by the FCA which enables WebMoney to be used in all countries within the European Economic Area. In all, WebMoney is currently accepted in 92 countries.
While this payment method may not be as popular as other similar payment options, WebMoney is a very safe, secure, and reliable system that is growing.
WebMoney claims to have over 31 million users worldwide and sports bettors will be happy to know that it is accepted at a large number of bookies, including the ones in our new bookmakers list.
Best WebMoney Betting Sites
in 19 September 2023 – Updated List
Rank
Bookmaker
Bonus
Safe & Trusted
Rating
Get Started
How and why should you use WebMoney for online Sports Betting?
Using WebMoney for betting is fast and easy, like SporoPay. To begin with, you need to open a WebMoney account which can be done by visiting their website. Just follow the instructions. The process takes just a couple of minutes. After opening your account, you can go to the "Banking" section and select the most convenient funding option.
Most methods are instant but there are some that can take up to a couple of days to complete. Once complete, you will receive a 12-digit Identification Number that will be linked to your "purse" (account). This is also a good time to go through the verification process which is standard procedure.
Once you have funds in your WebMoney account you are ready to find a WebMoney bookmaker. These online bookies can be found by referring to the bookmaker database at Gamblingjudge.com. There are plenty of recommended WebMoney-friendly bookmakers to choose from.
Then you need to open a betting account at a sportsbook and going through the process of making your deposit. Be sure to select "WebMoney" when prompted for a payment method and don't forget to cash in on any available sportsbook bonuses!!
This payment provider is recommended mainly due to the speed and convenience. It is also a safe and secure way of making payments as well as sportsbook withdrawals.
Is it Safe to use WebMoney for Online Betting?
Yes. WebMoney is a very safe and secure payment method. Security and privacy are a priority. The security team uses the latest technology such as SSL and encryption to ensure that your funds and personal information are safe. Of course, users must also take steps such as keeping their ID and passwords out of the hands of others.
Are there WebMoney Fees for Deposits and Withdrawals at Sportsbooks?
Sportsbooks do not generally charge fees for this kind of deposits but users should be aware that WebMoney will charge a 0.8% service fee on your deposit. Unfortunately, withdrawals are also subject to the same 0.8% service charge.
How to Make Deposits and Withdrawals using WebMoney?
We will assume that you have a funded WebMoney account and you have opened an account with a reputable WebMoney-friendly bookmaker. Now it's time to make a deposit. Simply sign into your sportsbook and select the "Deposit" option. Follow the instructions and select "WebMoney" when asked to pick a payment method.
You will then be redirected to the official site where you will login and confirm the payment. After this, you will be redirected back to your online bookie to complete the transaction. Your bookmaker account will usually be instantly credited and you can proceed to place your bets.
Withdrawals are just as simple although the processing time can range anywhere from minutes up to 10 days. Check with your sportsbook to find out what their processing times are. You are also doing yourself a favor by confirming that your bookie allows WebMoney withdrawals before you even deposit.
If WebMoney withdrawals are facilitated then just follow the withdrawal instructions at your sportsbook. If you cannot cash out using this method then you will need to find an alternate method.
What are the Best Betting Sites that Accept WebMoney?
While several sportsbooks do not accept WebMoney payments, a large number of top-rated bookies do. Bookmakers such as Marathonbet, and 888 are just a few bookmakers accepting WebMoney as are Ivi Casino, Leonbets, FavBet, and Red Kings. You can also use these payments at MobilBet, Comeon and NetBet.
For a list of recommended bookmakers accepting WebMoney refer to Gamblingjudge.com's sortable bookmaker database.
Is WebMoney Good for Betting Bonuses? What are the Best WebMoney Betting Bonuses?
Ssportsbook deposits are a great way to collect betting bonuses and there are plenty of bonuses available. Road Bet and Titan Bet are both offering up to €25 in welcome bonuses on WebMoney deposits while William Hill is offering up to €100. Those who want something a bit bigger can take advantage of 10Bet's €200 welcome package or 1Bet2Bet's €250 bonus.
You can find the latest sportsbook bonus offers in the promotions section at Gamblingjudge.com.
Are Some countries Banned from using WebMoney?
WebMoney can be used in 92 countries which is quite impressive. Of course, this means that there are quite a few countries that don't allow its use. Here is a list of countries that accept WebMoney.
Can WebMoney be used for Sports Betting in the UK?
Yes. It can be used in the UK as well as in any country belonging to the European Economic Area. Many UK-based online sportsbooks accept it and will also process withdrawals.
What are the Advantages and Disadvantages of Using WebMoney?
One of the biggest advantages to using WebMoney is that sportsbook deposits are usually instant and many online bookies allow it also for withdrawals. Many trusted online bookies accept this method of payment which means that punters using WebMoney have a lot of bookies to choose from. WebMoney accounts are fast and easy to open and users can be confident that their transactions and personal information are secure.
There are a couple of glaring disadvantages including the fact that WebMoney is not accepted on the same scale as other popular payment methods. Also, not all sportsbooks allow WebMoney withdrawals. Service charges of 0.8% on deposits and withdrawals are also a little disappointing.
FAQ about WebMoney bookmakers and betting sites
Yes, WebMoney is part of e-wallet methods industry, so you will find the best firewalls, security steps and a good customer service where you can receive assistance.
Yes, when you deposit money with WebMoney the fees are about 0,8% on the operator website. Is not big, but you should know that before you decided to fund your betting account.
Yes, you can deposit and withdraw with Bitcoin, Ethereum, Cardano and other crypto available in operator's jurisdiction.
Yes, you can find some welcome bonuses, free spins, free bets and other types of benefits available for WebMoney bookmakers and betting sites.
Yes, like almost payment methods available, is very fast, you can make an instant deposit and the withdrawals usually take up to 24 hours, or just a couple of hours.