Brazil Betting Sites and Bookmakers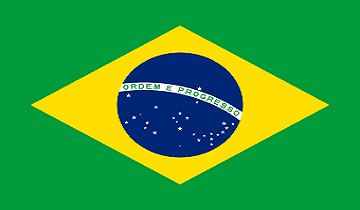 Gambling in Brazil has long been illegal with the exception of lotteries, bingo, and slot machines.
This ban extends to sports betting but does not include poker which is considered a game of skill in the South American country.
Economic hardship in Brazil has forced the government to take a second look at the gambling legislation, but if you want to learn more about Brazilia, you probably should start with our article about Portugal betting sites and bookmakers.
It is estimated that the government is missing out on $5.9 billion in tax money each year and as the country falls deeper into an economic abyss, the government's views on betting have completely changed.
They realize that their war on sports betting is a lost cause and that millions of dollars are leaving the country annually as punters make their wagers elsewhere.
In the meantime, Brazilian punters continue to wager on sports with foreign operators and the government seems unable to stop the trend.
It appears that the changes are in the preliminary stages but drastic changes seem to be coming to the Brazilian market.
Best Betting Sites for Brazil
in 01 November 2023 – Updated List
Rank
Bookmaker
Bonus
Safe & Trusted
Rating
Get Started
What are the Best Sports Betting Sites and Bookmakers for Brazil?
Because of the current laws, sports betting is still largely illegal which means there are no real regulations and no licenses being issued. This means that there are no legal online bookmakers operating in Brazil. Brazilian sports bettors have largely turned to the biggest betting companies that gladly offer their services to this very large market.
Punters looking for action have easy access to the top bookmakers in the world. Every day, Brazilian bettors turn to trusted bookies like Pinnacle and Marathonbet. At these international betting sites, which are also found among Uruguayan betting sites, punters are assured that they are placing bets with the top brands on Earth. BetVictor and Expekt also see their share of Brazilian action as do other respected bookmakers like Bethard, Sportingbet, and Betsson.
Gambling Judge has nearly 150 recommended and trusted sites listed in their sportsbook database that cater to Brazilian punters. Check out the list of sportsbooks and bonuses to help you make the right choice when looking for a reliable bookie.
What are the Most Popular Sports in Brazil?
Soccer is the most widely watched and wagered on sport in the Brazilian market. It has a long history and is a source of national pride. Brazil has the distinction of being the only country to qualify for every World Cup.
Tennis, motorsports, volleyball, and mixed martial arts are also very popular among spectators and gamblers as are basketball, rugby, and American football. Brazilian punters have little trouble finding sportsbooks that offer a wide choice of betting options on these sports.
Is Online Sports Betting Legal in Brazil?
As it currently stands, online sports betting is illegal in Brazil. Up until recently, the Brazilian government has held a hard line against internet betting. They have made several unsuccessful attempts at stopping Brazilians from placing bets with foreign online operators. These measures have included trying to block financial transactions as well as blocking out online wagering sites.
As mentioned above, the government has done a complete about-face and it is expected that new laws will be drafted that will enable punters and legal betting sites to operate in a regulated environment.
Is there any Sport that's Betting Bonuses and Free Bets for Brazilian Players?
Despite gambling being illegal in Brazil, numerous foreign sportsbooks offer their services to punters there. Brazil represents a very large betting market and the international gambling companies are fighting tooth and nail to get their cut of the billions of dollars that are at stake. This is great news for Brazilian punters as these competing sportsbooks have some very nice welcome bonuses for Brazilian sports bettors to claim.
There are many free bets being offered to punters in this market. Youwin offers free bets valued at up to €25. Ladbrokes and 12bet, all offer new customers €50 for free bets. MyBookie has very generous $1,000 free bet reload offers.
There are also plenty of cash bonuses available to Brazilian players. Iwcasino offers €100 cash bonuses while Betdna and BetOnline will add up to $1000 to your account with their promotions. Make sure to check with Gambling Judge to find the latest and greatest bonuses and promotions that are being offered to Brazilian customers.
FAQ about Brazil betting sites
Yes, you can bet legally in Brazil, by now the only legal forms of betting and gambling in Brazil are state-run lotteries.
You can make a deposit on Brazil betting sites with a credit card, debit card, Neteller, Skrill, Entropay, or even Cheques.
Yes, the Brazil Law allowed a 3% turnover tax on sports betting.
You will find the national currencies, Brazilian real, and others like USD, EURO, or CAD. But here you need to pay attention to the transfer rate because you maybe lose your profits.