Uruguay Betting Sites and Bookmakers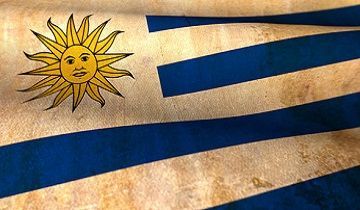 Uruguay is a small South American country that is located on the Atlantic Ocean and borders Argentina and Brazil.
It is a high-income country that is well-known for its liberal laws. Almost all forms of gambling in Uruguay are legal and there are 20 casinos and several other gambling options available here.
Sports wagering is legal in Uruguay but there are very limited options for punters.
The national lottery is a state-run monopoly and is the only legal option for Uruguayan sports betting fans.
They offer "Supermatch" which is essentially pari mutual sports wagering.
Punters that want to place fixed-odds wagers have little choice but to turn to illegal local bookies or internet bookmakers.
Internet betting is not yet addressed by Uruguayan gambling laws but updated legislation is expected to be put in place in the near future.
These new laws will provide for the legalization, licensing, and regulations for internet betting.
In the meantime, Uruguayan bettors are not prosecuted for placing bets with foreign internet bookies.
Most international betting sites accept bets from Uruguayan sports gamblers which means that punters have a vast array of top-rated online bookmakers to choose from.
Top 10 Betting Sites for Uruguay
in 28 September 2023 – Updated List
Rank
Bookmaker
Bonus
Safe & Trusted
Rating
Get Started
What are the Best Sports Betting Sites and Bookmakers for Uruguay?
A growing number of punters that want a better selection of betting options than those offered through Supermatch are turning to foreign online bookies to get their action.  Experienced bettors know that they will get competitive odds on the widest selection of betting markets at Intertops.
Uruguayan sports gambling enthusiasts know that they can rely on Bethard and Betsson to provide them with easy payment options and hassle-free payouts.
Full cash out betting and partial cash out betting is gaining popularity around the world and it is no different in this South American country which is why Bwin is one of the favorites among Uruguayan bettors.
These online bookmakers might not be licensed or regulated in Uruguay but that doesn't stop them from operating to the highest industry standards.  Check the extensive bookmaker reviews at Gamblingjudge.com to find out what makes these and many more online bookies among the best in the business.
What are the Most Popular Sports in Uruguay?
Soccer is one of the most popular sports in Uruguay and the country has had a fair deal of successes on the international stage.  Rugby and basketball both enjoy high profiles among participants, spectators, and bettors.
Golf and auto racing also draw a large following as does horse racing. In 2010, it was estimated that the betting turnover on horse race wagering exceeded €18 million.
Is Online Sports Betting Legal in Uruguay?
At the present time, online betting is not mentioned in the Uruguayan gambling laws but new legislation is expected to be enacted soon which will address online gambling. Hipica Rioplatense Uruguay S. owns and operates horse racing tracks here and they offer an online betting platform for racing.
Legal sports wagering options are limited to pari mutual-style betting that is available online through the state-run national lottery. There are currently no legal means for placing fixed-odds wagers but punters who place bets with foreign online bookmakers are not punished.
Are there any Sports Betting Bonuses and Free Bets for Uruguayan Players?
The Uruguayan betting market might be relatively small compared to other jurisdictions but international gambling companies are competing for their share. This means plenty of sports betting bonuses are being offered by the most trusted brands in online bookmaking.
Ladbrokes has €50 in free betting bonuses waiting to be claimed. YouWin offers new customers €10 worth of free bets while Fun88 offers Uruguayan sports gamblers up to £30 in free plays.
If you like free bonus cash then you will want to take advantage of Unibet's €15 welcome bonus as well as the €25 bonus betting cash package at BetSafe. It's a cinch to get your hands on €50 in bonus betting cash at BetMotion or 18Bet and many Uruguayan sports bettors are cashing in on the $100 cash bonus that Betsson is giving away.
Be sure to check out the promotions section at Gamblingjudge.com to find the latest and greatest bonuses and promotions.