Bookmakers in Serbia- Top Serbian Online Bookies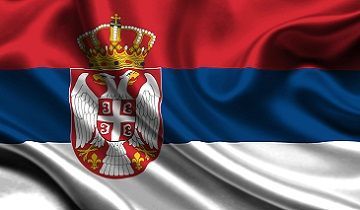 Serbia saw the country's first casinos open in the 1960s and the Serbian betting industry has since evolved into a fully regulated and profitable enterprise. With the exception of the state monopolized lottery, the Games of Chance Administration oversees all other online and land-based gambling within the country.
In Serbia, like in Hungary for example, sports betting is extremely popular and punters have their choice of placing bets with licensed international gambling companies or at any of the several land-based betting shops that are scattered throughout the country.
They can also bet on lottery-style platforms that are offered by the operators of the state lottery, Državna Lutrija Srbije. But before we start talking about sports betting companies in Serbia, let's take a quick look at the gambling history of this country.
Top 10 Betting Sites for Serbia
in 28 September 2023 – Updated List
Rank
Bookmaker
Bonus
Safe & Trusted
Rating
Get Started
Serbia Sports Betting History
We can describe the history of the Serbian bookies by dividing it into two periods: before 2004 and before 2011. In the 1960s, when Serbia was still part of Yugoslavia, there were few land-based casinos in the country. Only tourists could enter these casinos and there was no modern "license" mechanism. In these years, there were simple regulations governing gambling in the country, but there was no actual law enacted for this purpose.
This situation continued until 2004. From 1960 to 2004, there were only land-based casinos and land-based Serbian bookies in the country, and none had a truly legal basis. During this time period, online betting sites Serbia did not exist: There was no legal regulation about online gambling, and operators in the country did not offer their services online. Serbian players were forced to use operators outside the country.
The Games of Chance Act was published in 2004 and brought many regulations. Online gambling (and therefore betting sites Serbia) became legal but could only be offered by the State Lottery. In other words, the state had a monopoly, and it was not possible for any operator to obtain a license. Between 2004 and 2011, only Serbian betting sites that are controlled by the state were able to operate in the country.
In 2011, the New Act on Games of Chance came into effect and abolished the monopoly: State Lottery could now give license to operators. Currently, all licensing operations in the country are handled by the Gaming Authority affiliated with the Ministry of Finance, and it costs €1,000,000 to acquire a new license. In addition, the licensee has to pay 2,500 EUR each month and set up a company in Serbia. License holders pay a tax ranging from 10% to 15%: Online bookies in Serbia have to pay 15% of their earnings in tax. To summarize:
Both land-based and online gambling have been legal since 2004
Serbia gambling sites and laws are organized by the Gaming Authority
New betting sites Serbia are not too numerous: people still mostly prefer international operators
What are the Best Betting Sites and Bookmakers for Serbia?
Mobile Betting Sites in Serbia
Our list of top betting sites Serbia is not only for desktop users: Those who want to bet on mobile can also take advantage of it. The five sites listed above offer both desktop and mobile betting services and there is no difference between these services in terms of features or performance. So, you can simply visit these websites with your mobile device and continue betting without the need to use an app.
We test all Serbian bookies on different platforms and make sure that the services they offer work on every device. You can start playing bookies in Serbia using any mobile device (iOS/Android) in just a few seconds: Simply select an operator from our list of best betting sites Serbia.
What are the Most Popular Sports in Serbia?
Live Betting Sites in Serbia
In general, you can find live betting options in all bookmakers in Serbia, but its scope will be extremely limited. Local operators do not offer many options to bettors and their services do not exceed beyond the "basic" level. Therefore, if you live in Serbia and want to bet live, we advise you choose one of our recommended bookmaker sites: You can find much more options and a much better quality service.
Is Online Sports Betting Legal in Serbia?
Best Payment Methods for Online Betting Serbia
Are there any Sports Betting Bonuses and Free Bets for Serbian Players?
Serbian sports gambling fans have a great selection of excellent online bookmakers to choose from. Many of these bookies also offer some fantastic bonuses that are easy to claim and simple to use.
On our page, you will find a host of bookies sign up offers, all of which are ideal for players based in the country. Players in Serbia who fancy a punt on the footy will appreciate offers such as those found at William Hill.
The online sportsbook serves up a 100% match on your first deposit, and it is valid up to €100. 1xBet is prepared to throw an extra thirty on top, with their €130 welcome bonus. At the same time, Novibet delivers a 150% match up to €150 to Serbian players.
Cryptocurrency sportsbooks are growing in popularity and they, too, can dish out deals. Cloudbet is offering up one of the tastiest of the bunch. It is worth a 100% match and can double your deposit to the tune of 5 BTC. If betting at offshore sites anonymously via VPN and Bitcoins is for you, that is an offer you can't refuse.
All of these awesome sports betting bonuses and free bets are found in the promotions section at Gamblingjudge.com. Remember to read the terms and conditions that apply to each bonus. Many look similar in nature but there are significant differences in qualifying requirements and usage.
Sports Betting Serbia FAQ
All of the gambling sites are legal since 2004. Between 2004 and 2011, there was a state monopoly, but since 2011, it is possible to obtain a license. At the moment, any company located in Serbia (and ready to pay a million Euros) can get a license to launch an online bookmaker.
Yes, of course. All of the bookmakers in Serbia offer live betting to some content. However, if you want to get the best possible experience, we recommend picking one of our recommended Serbian bookies: We checked their service quality personally and guarantee that it is the best.
This depends on the options offered by bookmakers in Serbia. The local operators do not offer many exotic bets so your chances of betting on elections with local bookies in Serbia are pretty low. However, you can always pick one of our recommended bookmakers to place a bet on the elections.
Yes, and they were legal even before 2004. Since 1960, land-based gambling (casinos and bookies) is legal in Serbia. At the moment, there are two casinos in the country and dozens of local bookmakers, operating in physical shops.
You can probably guess it: Like many other countries in the world, football is the most popular sport in Serbia. Naturally, it is also the most popular option in bookmakers in Serbia. Tennis, golf, American football, and baseball are the other popular sports.
Simply by following our website. We check all of the new bookmakers in Serbia on a regular basis and test them ourselves. If they manage to satisfy us, we add them to our list and recommend. Keep visiting our site because our lists are dynamic: We always keep adding new Serbian bookies.
Try Your Luck at the Best Bookmakers in Serbia
We listed the best Serbian bookies and most popular sports in Serbia, the rest is up to you. Pick one of our recommended bookmakers in Serbia right now and try your luck today: We are sure that you will start winning in no time. We will always be here, guiding you through your adventure: Make sure to visit us often so you can see the latest list of bookies in Serbia and take advantage of the best bonuses. Good luck out there!
Other related articles you might like: