Soccer Betting – How to Bet on Soccer: Ultimate Guide [2023]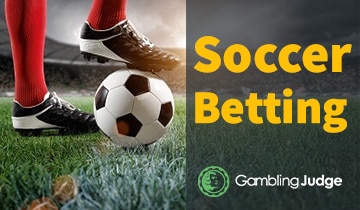 Soccer betting is one of the most popular pastimes in the world.
Any fan of the beautiful game will have some idea of how soccer betting works.
However, if you are new to betting on soccer, our soccer betting guide is for you available even that soccer is one of the hardest sport to bet on.
Throughout this footy article, we will dive into the ins and outs of soccer betting.
We'll tell you how to find top sportsbooks, go through the most popular bets and leagues, as well as discuss the steps involving in making a bet.
By the time you've finished this piece, you should have a thorough understanding of how to bet on soccer. With that in mind, let's begin.
Best Soccer Betting Sites
in 01 November 2023 – Updated List
Rank
Bookmaker
Bonus
Safe & Trusted
Rating
Get Started
Learn from the Pros: Soccer Betting Coaching
People who make soccer bets generally have a good understanding of the game. The first you should do is familiarise yourself with how soccer is played. You aren't required to have the same knowledge as soccer bet experts, but a general idea of the players, teams and leagues around certainly helps.
The quickest way to learn is to watch football, of course, particularly the competitions you are looking at betting on. Once you've got that knowledge, our soccer bets tips will make much more sense.
Getting Up to Speed on the Beautiful Game
Betting on soccer online becomes a lot easier if you can read between the odds. For instance, let us look at an imaginary fixture. Manchester United are playing at home to Brighton & Hove Albion in our example.
Manchester United are 1.20 for a home win, Brighton are at 9:00 for an away win, and the teams are at 5.50 for a draw. You should know why that is the case without much insight. If you're still asking, how does soccer betting work?
You may not know enough about those teams. Our soccer betting explained guide can only do so much in that regard. You will need to learn about the sides and the strength of the competitions they play in straight away before betting.
Finding a Place to Bet on Soccer
The first step in our betting for beginners guide is to find soccer betting sites to play at. There are many hundreds of those to choose from.
We advise you to select a soccer site which is legal in your country and one which offers the types of betting markets you are interested in. You may even want to look forward to joining a soccer Ethereum betting site.
There are other aspects to the best soccer betting sites to look out for, too.
The Very Best Soccer Betting Sites Around
As well as being licensed, legal and capable of offering the games you want to bet on, the best sites will also provide promotions, bonuses and other trinkets. These can include live in-play bets, early cash out options, and FAQs.
FAQs are ideal if you want to learn more about bagging money from betting and want to discover the method behind how to win soccer bets. Once you've learned a bit about the teams, and you have found which is the best soccer betting site for you, you're ready to start betting on soccer.
Making Your Debut Placing Bets on Soccer
The best way to bet on soccer is to start out with a pen and paper. The best soccer betting websites will display all the upcoming fixtures (matches or games) that are scheduled to take place in their lobby. From there, you can find a host of games to bet on. Make a note of the matches that are taking place (that interest you) and the odds.
You can then browse the net for soccer resources, databases, and form guides to examine why the bookies have chosen the odds that they have. Experience is key here. It will take time to hone your betting skills to successfully learn how to read soccer odds.
Using the "accept all odds movement" feature will definitely help you do so, though. However, by studying the teams, you will likely see patterns, such as clear winners, as well as which games could prove troublesome to predict a precise result. In this way, you will not even be surprised when you will encounter dropping odds. You will also be able to decide if it's worth waiting for the closing odds or not. If the odds are still not satisfying, we suggest trying the "request a bet" feature or the "edit my acca" feature.
The Ins and Outs of a Soccer Bet
Can soccer betting be profitable? That depends on the matches you choose to wager on. There will be plenty to choose from. It is tempting (and ideal for beginners) to bet on the obvious matches. The games where a big team takes on an underdog.
These don't generally return huge dividends, though, if you are simply betting on the winner. Instead, it may be worth having a punt on different types of bets. The most common types of soccer bets are explained below.
Changing Formation: The Different Ways to Bet on Soccer
Do you need soccer betting lines explained to you? Are you interested in soccer futures? Part of learning how to bet on soccer on Argentina betting sites, for example, involves learning the different types of bets which are open to you. Here are some of the most common footy bets which can be found at leading sportsbooks across the net.
Outright Result: To win this bet, you simply need to predict the overall winner of a match. The simplicity of this option makes it one of the most recommended soccer bets for beginners.
Outright Score: Also known as goal betting. You need to predict the full-time score. Soccer betting can be tough to win with this option, but the rewards are vast if you predict the score.
Half-Time Score: Like the outright score bet, this bet required you to have the correct score at half-time. It may be a touch easier than outright scores, as most goals tend to occur in the second half. Draws (or low scores) make this a popular hit with soccer sports betting fans.
Scorers: Another hit with soccer betting fans, you are essentially betting on the first or last scorer in a game. You can get some good odds with this option when betting on soccer.
Spread Betting: Soccer spreads are American players' favourite way to wager money. Soccer spread betting is a touch trickier than most of the other bets. Also known as "soccer lines" and "over/under bets", they involve betting on the total number of goals. You need to predict whether the total number of goals scored will be higher or lower than a specified amount. Traditional over/under bets may have some variants, called alternative goal line bets, which also include "whole goals" and "quarter goals".
Specials/Props: These oddities bring added fun for those who like a soccer gamble. Betting on the time of the first goal scored, betting on penalties (if there will be one or not, if the first goal is a penalty or not etc.), the number of corners (check here our corner betting guide on "each team over 1 corner in each half" betting as well as our corner betting tips), bookings ( read the how to bet on bookings article to understand more), red cards, the total number of goals in a half or both halves are good examples of special and prop bets. While notoriously tricky to pull off, they reward players with the best odds.
Single Bets, Pool Bets, Live Bets and Accumulators
While there are many different types of individual bets, there are also several "major" types of ways to bet on sports. These tend to be the best soccer bets which are globally popular.
Single Bet: A bet on an individual event, like those mentioned above. If you're still struggling with having soccer betting odds explained to you, single bets are the way to go. If you bet correctly, you will win with these straight-up individual wagers.
Pool Bet: Long popular with UK players, pools involved the creation of a pot with everybody's stakes, with the winner taking the grand prize. This can often be a large sum of money. Players pick 10, 11 or 12 games which they believe will finish in a score draw (with at least one goal scored), the most successful players will win a share of the pot. Classic pool bets use 3 points for a score draw, 2 points for a no-score draw, and 1 point for a home win. Other variants exist. For those of you asking, "what is a draw in soccer?", it is a tie. You can bet on draws on other sports too, but soccer is the most suitable one for this type of bet. You can find pool bets in horse racing too. The Scoop 6 bet is the most popular one.
Live In-Play Bet: Live (also known as in-play) bets are hugely popular. Betting trends like live odds allow you to bet on the next team to score, the next player to score, the time of the next goal on so on. They are placed while a match is in play and have fluctuating odds at the action happens.
Accumulator: Another hugely popular way to bet on soccer, accumulators combine several bets into one slop. Ordinarily, all your wagers must be correct to win. Because the odds are multiplied when betting on teams, you are looking at a considerable prize if you pull them all out of the bag. Read our guide on how to win football accumulators to increase your chances. Some sportsbooks have accumulators which also pay out if just one or two of the bets are slightly off.
The Biggest Soccer Betting Markets
Now that you know a bit about soccer betting and the types of soccer bets out there, it is time to look at soccer games. It is essential when choosing soccer betting games to feature in your bets that you pick the leagues you know. Amongst the most popular markets (and teams) are:
Premier League: The top division in England, and the most popular league in the world. Big teams include Manchester City, Manchester United, Liverpool, Chelsea, Arsenal and Tottenham Hotspur.
La Liga: This is Spain's top league, which features the likes of Real Madrid and F.C. Barcelona.
Bundesliga: Bayern München and Borussia Dortmund regularly duke it out in Germany's highest professional league.
Serie A: Italy's Serie A is full of big teams, including Juventus, Internazionale (Inter Milan), AC Milan, AS Roma, Napoli, and others.
UEFA Champions League: When considering a bet on soccer, the Champions League is usually a popular option. This competition sees Europe's leading teams engage in the group stage and knockout stages to determine the best team in Europe.
UEFA Europa League: Europe's secondary competition, featuring the best of the rest from European football.
European Championship: Held every four years, this is a knockout competition between the best European national sides. This competition can prove challenging even for soccer betting experts.
FIFA World Cup: Held every four years and should need no explanation. A firm favorite amongst fans looking for tasty soccer bet options.
Placing Your Bet
You're almost ready to place your first bet. If you know a bit about the teams, you should have an idea about how to read soccer betting odds, and how soccer betting odds work. Let's look at the betting slip next.
The betting slip is often presented to players in the lobby. Players can peruse the latest soccer bets odds until they find a bet they like. After making their choice, the bet will appear on the betting slip. Players must then choose how much they wish to wager on that bet, keeping in mind the soccer bet odds. The amount that can be won will then be displayed, and players need to confirm the bet. It is possible to add multiple bets to the same slip, and at many bookies, this will trigger an accumulator bet.
Soccer Betting Strategy: How to Develop a Winning Tactic
If you've learned anything from our soccer betting guide yet, it is that learning and watching footy is as crucial as having soccer spread betting explained or learning how to calculate soccer betting odds.
Even with good knowledge of the players, teams and leagues, though, there are still a few soccer betting tips for you to learn today. These will likely improve your accuracy in pulling off wins.
We won't dive into soccer betting systems and strategies too much (they only work if you're placing selected types of bets), but we should certainly look at a few things to do and not to do when betting online.
Hints and Tips for Betting on Soccer
Are you ready to pick up a few soccer betting tips? Our soccer bet guide will help you out in that regard. Take a few moments to fully understand our soccer betting tips and tricks, and you'll undoubtedly improve your ability to bet on games successfully.
Watch, learn and understand: Before placing a sports bet on soccer, watch a few matches, learn and understand the game. Again, we cannot stress this enough.
Only bet on teams you know: Unknown elements are risk factors when gambling. One of the best soccer bet tips out there is to only wager on what you know.
David vs Goliath Accumulators: When wagering with accumulators, the David vs Goliath matches are the most likely to come off. Add the soccer betting and odds options which feature a big team at home, taking on a little team.
Use stats centres: Most bookies offer up stats centres, where you can find resources about players, teams and leagues. A host of other leading soccer databases also exist which can help you get the inside track on the beautiful game.
Study the tables and fixture lists: Match congestion often means tiredness. Leading Soccer betting strategies for teams playing lots of matches in succession often work around squad rotation. Teams with big squads are best placed to handle match congestion and tiredness. Clubs may also play weakened teams against lesser opposition (to rest players for the big games), but this can lead to surprising upsets in terms of results. Maybe the biggest sporting upset in history was Leicester winning Premier League in 2016.
Keep tabs on the transfer windows: Keeping tabs on the transfer window is also advisable. A new signing (or a departure) can greatly upset squad balance and team selection.
Crocked players? Find out early: Soccer betting odds may fluctuate based on what injury news is unveiled at manager press conferences. Keeping tabs on injuries and squad fitness can help.
Form counts: What kind of form does your team have? It can affect morale and performance. Most soccer betting tips you'll see today take form into account.
Cups also count: People often talk about the "magic of a cup". Knockout competitions can see cubs knock out lions. It is possible to bag good soccer betting quotes on giant-killings. Progress in cup competitions can also lead to tiredness and match congestion.
Full-time vs extra-time and penalties: Check whether your outright bets are paid out on the overall result (including extra-time and/or penalties) or the result as it stands at 90 minutes. Soccer betting options may vary from site to site and competition to competition in this regard.
Isn't Betting On Football Like Betting On A Lottery? All Down To Chance
Like a lottery, a bit of luck is required to bag wins, but most football bets also require some skill and knowledge. Nowadays, players can even opt for virtual football betting. Check here our top virtual football betting strategies before getting started.
They can also just choose to wager on recommended soccer bets for today, but if they want to learn how to win soccer betting daily, they'll need more than luck. They'll need insight into the game or games which are taking place.
FAQ: Post-Match Analysis for Those Who Still Require Help
You should now have an idea about how to bet and win in soccer. You should also know which are the best online soccer betting sites. However, if you still have a few lingering questions, our brief frequently asked questions guide may be able to help.
Is soccer betting profitable? Yes. Can soccer betting make you rich? Yes. However, while it is possible to win millions in months, it isn't likely to happen without a considerable balance to kick-off with. Even with excellent soccer spread options, it is a lot to ask in that timeframe.
Probably you've found a far-flung Thai or Saudi match which offers odds at 30:1. General soccer betting rules dictate that you should avoid these types of bets unless you fancy popping a very small bet on them on the side. When soccer betting to win, avoid them entirely, and certainly don't pop them on an accumulator.
You will probably lose the lot. However, some sites do offer reduced winnings, but this varies. Soccer bet lines provide a decent alternative to accumulators if you're concerned about that.
Yes. There are soccer betting apps for Android, and most bookies have soccer betting app for iPhone users, too. There are soccer betting apps for all devices, even those who still use Blackberry and Windows-powered phones.
Following a series of losses, you might ask yourself, is soccer betting good? If so, you may be able to reverse your fortune by applying a few tweaks. Engage in soccer betting bankroll management, or claim a soccer betting no deposit bonus may help you keep boost your cash flow, too.
Yes. It doesn't matter whether you prefer soccer line, accumulators or other types of bets, the format of the odds and the available currencies can usually be adjusted to suit your needs. American, fractional and decimalised odds should be available at the biggest domains.
Yes, but betting on a win, draw and a loss over the same match will see you lose two out of three bets. Prop bets are better if you want to place multiple wagers on the same game unless you bet on soccer games with a three-way bet.
A three-way bet is a way of hedging your bets on two out of three possible outcomes. As mentioned above, it is risky. When done correctly, the worst-case scenario should be that you break even. However, players need to study maths to ensure they don't corner themselves when placing such a soccer bet online.
That depends on the bookie. Most of the significant soccer gambling sites offer live streaming, especially if you have funds in your account, or a bet on the game.
In your account, there will be a betting history page. It will tell you what you have wagered, and the outcome of the soccer bet. On top of that, if you've won, your balance will be higher than it was after you'd placed your bet or bets.
The Final Score: On Your Way to Landing Silverware with Soccer Betting
If you've followed us all the way through this guide, you will know how to analyse soccer betting, and how to bet on soccer and potentially win. You will also be aware of a few tips when betting on soccer.
Now it is time to put all that information to good use, by signing up at a leading online sportsbook. You'll find many top bookies here on this page, and all come highly recommended. But wait, this is not all, you can apply these betting skills on Portugal betting sites or other countries where football is basically a religion.
Other related articles you might like: