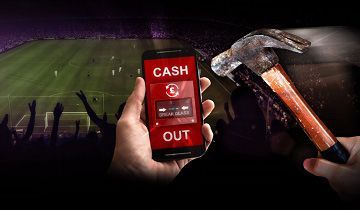 Most punters are familiar with that sickly feeling that comes from watching a potentially winning bet go up in flames. Maybe you have a play on a big underdog and they are carrying a slim lead into the late stages of the game. The opposing teams begins to absolutely dominate and you can sense that the lead is about to evaporate. You sit on the edge of your seat and helplessly wait for the inevitable. As you reach for your roll of Tums it happens. The dreaded last minute collapse comes to be and you are left searching for a motion sickness bag while you dry your teary eyes with the now worthless bet receipt.
If only you could have closed your bet before the unfortunate turn of events. Well, now you can. By taking advantage of partial cash outs, punters can close their bets and lock in profits before it turns ugly. Most sportsbooks offer partial payouts and they are becoming a popular way sports bettors to maximize profits and minimize losses.
What sportsbooks offer paritial cash outs?
There are currently several sportsbooks that offer this feature. BetVictor, 10Bet, Unibet, and Betway offer this and they all work much in the same way. Of course, the big sportsbooks such as Ladbrokes, Paddy Power, and William Hill are also allowing their customers to take advantage of this handy option. Check with your online bookmaker to see if this feature is available.
How do partial cash outs work?
Cash outs are simply a way of settling bets early for a lower return. While the finer points of partial payouts vary at different sportsbooks, the main idea is the same. Bookmakers will allow you to sell a portion of your wager while letting the remaining portion ride. For instance, let's say you have placed a $10 bet on the Jacksonville Jaguars to pull off a major upset of the New England Patriots at 6-1 odds. The Jaguars have somehow managed to take a 27-21 lead into the late stages of the fourth quarter but the Patriots have the ball and are marching downfield against an exhausted Jacksonville defense.
You start to get that sick feeling in your stomach as the Patriots enter Jacksonville territory with plenty of time left to score. You check the live odds and see that your bookie is offering a buyout at 2-1. Now it's decision time. If you hang in there and the Jags defense holds then you will win $60. If the Patriots strike for the touchdown then your bet is sunk. However, you can opt to sell out a partial portion of your wager to ensure that you at least break even. If you redeem 50% of your wager you will get your original $10 stake back. This allows you to keep $5 of your action on Jacksonville.

You decide that the stress is too much and you elect to sell out 70% of the bet at 2-1. This means that you have locked in a $4 profit. You now also have $3 left from your original $10 stake which you have chosen to let ride. Because you opted to use the partial cash out feature, your odds are updated to match the payout odds (this is not true at all sportsbooks). In this case, the odds are 2-1 on your remaining $3 bet and not the original 6-1. So if the Jaguars hold on for the win then you make a $6 profit bringing your total winnings to $10. If the Patriots score then you have at least made the $4 profit as a result of the partial cash out.
You can easily see the conundrum. With a Jacksonville victory, using the payout option cost you $50. But this is the nature of gambling. At least you were able to come out ahead regardless of the result.
Partial cash outs can also be used to minimize your losses. Let's use the same scenario as above except that the Jaguars are losing at half time. You feel that the Jags have little chance to mount a comeback and you want out of the bet. The bookie might be offering you 20% of your wager amount to cash out. While you aren't going to finish ahead in this one, you can at least salvage a portion of your bet by taking the sportsbook's offer. Partial cash outs are better than regular cash outs because they give the punter the option of keeping some of their bet in play.
General Terms and Conditions
When activating a partial cashout, the remaining money that is left in play will be adjusted to the odds that are offered at the time of activating the payout. Partial payouts are also not available on every event. Check the betting menu at your sportsbook to see which games they are offered on. At 10Bet, the minimum partial payouts need to meet or exceed the minimum bet amount for the particular event while the maximum partial cash out is normally the full cash out less the minimum bet requirement.
These are just some of the terms and conditions that are common but they differ between sportsbooks. Be sure to read and understand the rules at your bookmaker.
Partial Cash outs and Bonuses
If you are using a free bet such as BetVictor's welcome bonus bet, then it is almost certainly not going to be eligible for the partial pay out option. If you have a bet in place that you are using to meet a rollover requirement on a promotion like a match deposit bonus, then using the payout option might be counterproductive. The overwhelming majority of online bookies will not count a partial payout bet towards any rollover requirements.
Other bonuses such as William Hill's enhanced odds, be prepared to have it paid out according to the normal odds, not the enhanced odds.
Other articles you might like: