New Independent Bookmakers (2021)
---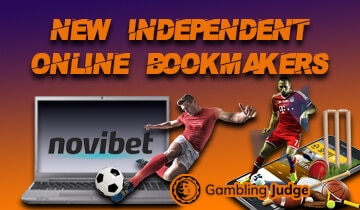 If you're looking for the best betting odds in a world where everything belongs to big companies, new independent bookmakers may be the best option for you. Moreover, if you make the right choices, they will be as reliable as Ladbrokes and Corals. Newest independent bookmakers are also a suitable option at high stakes betting sites because they often offer the most competitive odds.
So, how exactly do new independent online bookmakers work and what advantages do they offer? More importantly, which ones are the best? Below we answer all these questions and talk about everything you need to know about independent new bookmakers.
The meaning of independent bookmakers: What are they?
Top new bookmakers with the best welcome bonuses- [2021] Updated List
Rank
Bookmaker
Welcome Bonus
Year Established
Rating
Get Started
New independent online bookmakers are on the rise
This is because new independent online bookmakers can work at lower costs. Since they do not have expenses like shop rent, they can use their budgets directly to increase their service quality. They are aware that this is the only way to compete with the largest sports betting companies, so they have to offer better odds and bigger sports betting bonuses. In other words, if you are going to play on independent bookies, we recommend choosing new independent online bookmakers.
The best new independent bookmakers in 2021
NOVIBET - Our independent bookmaker pick
If we made a list of the best new independent bookmakers 2021, Novibet would be at the top of that list. If you are looking for a reliable new independent online bookmaker, we recommend Novibet. Because:
✅ It is licensed from two reliable agencies, The United Kingdom Gambling Commission and The Isle Of Man Gambling Commission.
✅ New UK members can get a £25 free bet bonus with their first deposit. And the wagering terms are more than reasonable: You must wager the bonus with an accumulator bet of three selections and the odds of each selection cannot be lower than 7/10 (1.70).
✅ Novibet offers thousands of betting opportunities every day and covers even the most exotic sports & leagues, such as ice hockey, darts, cycling, and e-sports. You can place regular or live bets, both service types are available.
✅ You can also take advantage of the online casino & live casino services: Sports betting is not the only thing offered by Novibet.
✅ You can reach customer service via phone as well as live chat: Telephone support is a quite rare feature and lets you get help as fast as possible.
✅ The minimum limit for deposits and withdrawals is 10 EUR/GBP, so you can place a bet with any bankroll.
Welcome Bonus: 100% up to €100
Minimum deposit: €10
Wagering requirements: 5x
Minimum odds: 1.50
New independent bookmakers vs the "old guard": Which one to choose?
The answer to this question depends on what you expect. Most of the new UK bookmakers now prefer to work independently. The reason for this is to make a difference by making independent decisions. For example, when new independent bookmakers want to offer a bonus, they do not have to get approval from the "headquarters". Likewise, they can freely determine odds and do not have to take into account the rates at other sports betting companies. This freedom also offers a lot of benefits for players: In general, we can say that you will get much higher bonuses and better odds at new independent online bookmakers.
The biggest bookmakers in UK, on the other hand, cannot compete on bonuses and odds, but they can offer a smooth-running service and reliable customer service. The budget of new independent bookmakers is often too low for these services, but large companies do not have such a problem. They offer a more stable service.
The decision is yours: If you want a service that works smoothly but cannot exceed a certain level, you can choose one of the old guards like William Hill. But if you want to get better bonuses and odds even if there is a disruption in the service, switch to new independent bookmakers.
How to find the best new independent bookmakers online?
Finding the best new bookmakers is not an easy task, especially new independent bookmakers and it can take quite a long time if you don't know what to look for. You can use the following criteria to make your job easier: We use the same for our top 100 bookmakers.
License and regulation
Payment options
Coverage
Bonuses
Customer support
The effect of FOBT limit on new independent UK bookies
In order to talk about this, we need to first explain what FOBTs are. FOBT is the shortened version of "Fixed Odds Betting Terminal" and it is possible to compare them to slot machines used for sports betting. They are especially common in betting booths in England. They work with coins, just like slot machines, and allow you to bet on sports events at fixed odds. Some time ago, a law was passed that limits the maximum bet amount of these machines to 2 GBP. (Before that, the maximum limit was 100 GBP.) FOBT terminals no longer accept higher bets and therefore pay less than before.
You can estimate the impact of this situation on UK licensed bookmakers: Bettors are switching to online betting sites without such restrictions. Even the old-school customers now prefer to use websites for sports betting, as they do not have a maximum stake limit. But they are also suitable for sport bettors who want to play for low betting stakes. Moreover, new independent online bookmakers are increasingly preferred because they offer better odds. In short, this restriction made new and safe betting sites much more popular.
The pros and cons of small independent bookmakers
PROS
Bigger and better bonuses
Higher odds
Seamless compatibility with mobile devices
More coverage for e-sports and other major sports events
CONS
Service may be interrupted from time to time
Customer service options are usually limited
FAQ about new independent online bookmakers
Yes, but we cannot say that it is a very active association. This Glasgow-based organization does not even have a website.
As long as you play at our recommended safe betting sites, sure. New independent bookmakers also have licenses and they get audited on a regular basis.
According to the official United Kingdom Gambling Commission data, the gross gambling yield (GGY) in Great Britain was 14.4 billion pounds in 2018. We can only assume that it got bigger in recent years.
There are 9.000 physical betting shops in the United Kingdom and 90% of them are owned & operated by four companies: Ladbrokes, Coral, Betfred, and William Hill.
Dozens of brand new independent bookmakers are waiting for you!
There are lots of new independent bookmakers to choose from and you can start with our recommendation mentioned in this guide: It is currently the best new independent online bookmaker in 2021. But we have lots of recommendations for all needs and expectations: Visit us often to play at the best independent bookies and get the most useful bonuses & odds. Good luck at the tables!