Bookies That Don't Limit | Play at Fair Online Bookies Today
---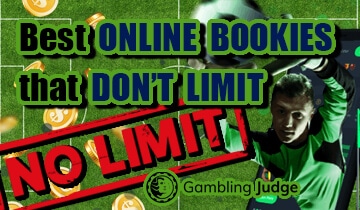 Bookies that don't limit your account or activity in any way are where you should be playing in 2021. It is hard to believe, but there are still sports betting websites out there which try to put the brakes on your activity, hinder your bets, or even – in extreme cases – close your account entirely.
Why do bookies do this, and what can you do to put a stop to it? In this gambling article, we will look at some of the top UK bookies that don't limit players. We will also provide you with a few tips and tricks to ensure that you don't end up stuck if you do choose to play at a bookie which limits your activity. If you are ready to begin, read on to find out more…
Can bookies legally limit or close my account?
Betfair | Our recommended bookie that doesn't limit accounts!

✅ The largest
betting exchange site
in the world!
✅ Offers great odds on popular markets.
✅ New customer offer: 100% match bonus up to €100.
There are bookies that don't limit and close accounts, and we would always recommend playing at these over other sites. Here is a list of the biggest betting companies you can be highly trusted:
🥇 Best and most trusted online bookies [2021]
Rank
Bookmaker
Bonus
Safe & Trusted in UK
Rating
Get Started
For what reasons and how could a bookie limit or close my account?
Unless you are playing at bookies that don't limit or ban accounts, you run the risk of this happening to you. There can be many reasons why bookmakers close or limit accounts (like arbing or dutching, for example), and here are just a few of teh ways in which they do that:
They could refuse your withdrawals
One form of limiting your account is to see your withdrawals refused. This is rare at bookies, and usually only happens if you have done something wrong. For instance, you might be trying to withdraw bonus funds, or have placed bets with bonus funds and tried to withdraw without fulfilling any outstanding wagering requirements. This can also happen if the bookie suspects you of cheating, or you have reached the bookmaker withdrawal limits specified at the site. Learn here more about how to place a bet at the bookies.
---
Limit your deposit and betting sizes
It is possible that a bookie may limit the amount you can bet, even at high stakes betting sites. If you have decided to set deposit limits, the bookie may only be enforcing the limits you have set. However, less trustworthy bookies may limit your betting sizes if you wager large sums and tend to win a lot.
---
Limit your access to some betting markets
A bookie could do this in theory, but it would be silly of them to do so. However, some markets may not be available where you reside, and bookies have been known to exclude players from certain markets for several reasons, especially if they are thought to have insider knowledge of those markets.
---
Set maximum win limits
We all want to play at bookies that don't limit winners. However, some can do. If you are exceptionally good and win a lot, they might suspect you of cheating. If this is the case, you could end up facing maximum win limits, or worse. This is usually only the case when playing with bonus funds or claiming promotions, though.
---
Full account closure
There are occasions when a bookie will close your account. For instance, if they suspect you of cheating, money laundering, ID theft, problem gambling or other serious issues. Some sites also close your account if you take a cool-down period. Some will never allow you to re-join at a later time if you have asked them to close your account, and this is worth remembering. Most bookies which close your account may allow you to withdraw your balance first. Less secure and untrustworthy bookies will not.
Play at these types of bookies that do not limit your account
There are three types of bookmakers that don't limit accounts, at least most of the time. If you want to enjoy winning regularly, and do not want your account or activity to be penalized for being successful, we recommend these types of online bookmakers:
10 Tips to avoid having your account limited or closed at bookies
There are many bookies that don't limit you in the UK. However, there are steps you can take to ensure that you can avoid having your account limited, even if you do play at "other" bookmakers. If you are wondering "how do I stop being restricted by bookmakers?" even at these sites, then this next section is for you…
1️⃣ Deliberately tamper with your streak
You may not be happy about doing this but tampering with a winning streak can throw the bookie off your scent. If bettors were to 'fake a loss' and throw a bet or two to ensure that they do not end up winning every time, the bookie would be less likely to investigate their activity and limit their account. You know that you are doing it deliberately, and the bookie probably knows it, too, but they cannot prove it, and so, they cannot do anything to limit you.
---
2️⃣ Break up your pattern
If you are using the same strategy again and again, such as underdog betting, and you always win, the bookie might get suspicious. Even if you have done nothing wrong, it can help to place the odd accumulator or in-play to change your betting pattern. This will likely show the bookie that you do not have insider knowledge.
---
3️⃣ Wager different sums
You should not be so precise with your stakes if you are on a winning streak. Mix things up with both large and small wagers and always place round bet amounts. No minimum deposit betting sites can be ideal for this, as they allow you to deposit what you want into your account.
---
4️⃣ Diversify your bets
You might also want to try diversifying your bets a touch. Do not always choose the easiest sport to bet on. Why not try betting on different sports, or wagering different sums of money on both popular and unpopular markets? Consistent bets on horse racing or low profits on low odds might raise alarm bells at bookies – check our low odds laying system.
---
5️⃣ Be careful with bonus bets
If you like to play with bonus deals, such as reload offers in the UK, change things a bit. Use some, but not all the offers available to you. Again, this makes it look as though you are a casual bettor looking for a deal, not a man with a plan.
---
6️⃣ Mix it up with soft and sharp bookies
Have you heard about soft and sharp bookies? Soft bookmakers change odds slowly and are designed for casual, on-off bettors. Sharp bookies react quickly to changing markets, rapidly adjusting their odds, making them ideal for professional gamblers.
If you are going to play with more than one account, make sure that you try and have an account at each type of bookmaker. Remember, bookies talk to one another, so using different log-in details and trying to make your two accounts as different from one another as possible is ideal, especially when claiming lots of risk free bet offers.
---
7️⃣ Never use more than one account with the same site
This is straightforward. It is against the rules at all bookmakers. Never open multiple accounts at the same bookie, or you are asking for trouble. Moreover, try and avoid opening betting accounts at sister sites – that means to say, bookmakers which share the same operator. 
---
8️⃣ Think about your transfers
Are you making lots of small withdrawals? How about plenty of deposits? To a bookie, this can look like you are a problem gambler, and that is a cause to limit or close your account as bookies pay fees for these transactions. Making a few deposits and the odd withdrawal looks a lot better. Think about things like how your deposit/withdrawal history looks. If you do insist on doing this, use e-wallet betting sites as they are more accustomed to small bets, deposits or cashouts and of course have lower fees for the bookies.
---
9️⃣ Keep tabs on your history
You can use your betting history to keep tabs on how you have fared, how much and how often you have deposited and withdrawn from the site. If you are on a hot winning streak and want to throw a match, or need to limit your deposit or withdrawal activity, your history will help you figure out when and how to do it. 
---
🔟 Take a "vacation"
If there is no practical way to make any of the changes above, you can always take a break for a few weeks. Take a break especially if you are on a winning streak. Pretend you are on holiday, as this shows the bookie that you are not "addicted" and can take a time out whenever you wish.
Questions and answers on bookies that don't limit
If you still have questions about sportsbooks that do not limit your gambling activity or close your account, then we have prepared an FAQ (frequently asked questions) guide for you. Below you might find a few answers to any questions you may have.
Some bookies can do it. Sharp bookies are usually ideal for arbitrage betting, and they typically permit this. Soft bookies are hardly the most arbitrage friendly bookmakers out there and may limit or close your account if you bet in this manner. Check our relevant casino list for the best arbitrage opportunities online.
Some can do, yes. You should always read the terms and conditions of any betting site before you wager. Ideally, you want to play with a bookie which does not punish you for opting for the easiest sport to bet on.
Not really. Unless you are quite obviously cheating, you should not expect to encounter this problem. Most of the biggest betting companies certainly think twice before they limit or close accounts. Even so, if you follow the tips above, you will be in great shape to bet how you want, when you want.
You should really read the terms and conditions of your bookmaker first. When you sign up to a betting site, you are agreeing to those rules. The bookie may claim that you knew that they could refuse to pay you any money owed because you broke one of their rules. There are organisations and websites which can help protect players and fight bookies for you, though.
Not normally. If you choose to use deposit limits, you are going to have to fight tooth and nail with customer support to alter them. Deposit limits are often part of a bookmaker's responsible gambling policy, so it is tough to get them changed.
Play at the best bookies that don't limit today!
There are many bookies that don't limit your activity or close your account. You can find the biggest bookmakers UK sites, and the best sports betting exchanges to join right here. Check out our reviews of these sites to play at safe, secure and the best bookies that don't limit your betting activities today.
Other articles you might enjoy: