Bookies That Don't Limit | Play at Fair Online Bookies Today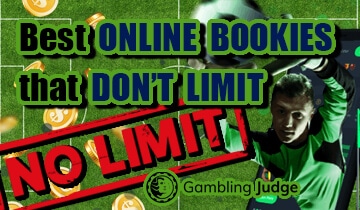 Bookies that don't limit your account or activity in any way are where you should be playing in 2023. It is hard to believe, but there are still sports betting websites out there that try to put the brakes on your activity, hinder your bets, or even – in extreme cases – close your account entirely.
Almost all bookmakers restrict putners in one way or the other. Bonus hunting and arbing are considered by bookies and efforts are made for structuring the deal at an early stage for avoiding such betting strategies.  No limit bookies can be accessed by making a quick deposit via a crypto wallet or a bank account. 
Top Bookies that Don't Limit Accounts
in 01 November 2023 – Updated List
Rank
Bookmaker
Bonus
Safe & Trusted
Rating
Get Started
Definition Of Bookies That Don't Limit
No limit bookies are betting sites that offer limitless betting options and respect their clients from the UK and beyond. Bookies that don't close accounts impose no limits on the punters and they can fully enjoy betting. Newbies also get to try out no limit bookies for gaining experience. Such bookies also provide amazing bonuses and promotions for their customers. There are several criteria on which bookies that don't limit are based. 
Zero Payment Limits: These betting platforms do not impose bookmaker limits like payment restrictions. High rollers may upload amounts they want and bet with it. Topping up the account takes no time. 
Easy Winnings: Many international betting sites delay or do not cash out the punter's winnings. However, this is not the case here since the operators do not block winnings or scam punters in any way. 
No Limits On Casino Games: Besides being no limit bookmakers, these no-limit platforms are open to all UK punters. This makes it easier for them to shuffle up things and enjoy casino action.
There are three main bookies that don't limit punter activities most of the time. Without being penalized for winning too much, one must consider online bookies like : 
Betting Exchanges: These are ideal for sports betting and strategies in favor of a punter. There are no account closures or limits imposed if rules are followed. 
Asian Bookies: These are also considerate and flexible in comparison with other betting platforms. These are a great alternative to UK bookmakers. One must always verify these websites in order to find an ideal platform. 
Crypto betting sites accept crypto payments and have generous limits. They can be an ideal option for many punters if you want to bet part of the crypto betting industry.
Bookies That Don't Close Account
Bookmakers without limits offer multiple advantages to their punters. They operate on trustworthy licenses and honest rules which make them popular. Certain important traits include : 
Operate Under EU Gambling Authorities: These arbitrage-friendly bookmakers hold renowned licenses by GBGA, MGA, and other authorities in the EU. Thus they meet safety protocols for punters and high operational standards.
Honest Terms & Conditions: These bookies that don't limit operate with fair and honest terms and conditions which helps in easier cash outs and money withdrawals. 
Have Exclusion Systems: These bookies offer alternative methods for problem gamblers. They offer their own exclusion systems for the punters to take a break whenever needed. 
Good High Stake Options: These no limit bookmaker are a great choice for punters who spend more. These allow punters to upload large amounts for placing high stakes. This results in massive winnings too. No limit bookies include : 
It took a while for betting brokers to break into the mainstream among other bookies tips. Over the years, they have managed to become a viable option for the punters. A betting broker acts like a middle man where a punter deposits his money to him and he is responsible for placing all bets. These brokers have access to bookies that aren't available in your country.
Some brokers might charge commissions for providing maximum payout. Betting brokers evade the same licensing hoops that bookies do. They have to undergo fewer legal systems if busted. The licenses of bet brokers are regulated under the authorities of each jurisdiction they register. 
Betting exchanges are different from traditional bookmakers since punters directly bet against other players. The first player places a back bet and involves choosing an outcome and a stake. The second type of punter lays the bet against an outcome. 
Best sports betting exchanges do not win when a punter loses. There are no maximum bookmaker betting limits but one can still be penalized for winning. Many bookies have rules which allow them to set excessively high commissions for exchange bettors.  Even if punters do not fall into the top category, they can still find profits with higher commissions but it would also limit the income potential for a win.
With betting exchanges, one will never lose their betting account. These are also a good option for getting away from the bookies offering the best risk-free and no-lose betting offers that have a set limit.  Betting exchanges take a small Commission ranging between 2%-5% on winnings. BetFair is the leading betting exchange formed in 2001 and is often the most liquid market. It offers 2-5 times the wager on the exchange compared to other bookies. Factors to consider while choosing a betting broker : 
Country-based restrictions: Betting brokers might not accept punters from all countries depending on their rules and regulations. 
Supported bookies and exchanges: Different brokers cover a set of bookies and betting exchanges. One must be clear about these before getting hold of a betting broker. 
Commissions: Betting brokers offer multiple commission rates. These can make a difference if long-term profits are considered.
Deposit or Withdrawal fees: Many brokers offer free deposits and a free withdrawal per month. Other brokers might charge for deposits and withdrawals.  
Payment modes: Standard payment methods for brokers include bank transfers, e-wallets like Skrill and Neteller. Some also offer crypto payments and card payments. 
Betting limits: Betting brokers make a profit out of high turnovers. Thus, high stakes betting guide attracts them. Many brokers offer minimum deposit limits of €100 and minimum betting limits of €5 or more.
The Bitcoin bookmakers and betting sites are turning out to be extremely competitive offering multiple sites to choose from. Online bitcoin bookmakers offer lucrative crypto bonuses, especially for crypto football bettors, to attract more bettors and high rollers. With crypto payments as the main medium, bookies with easy withdrawals and deposit currencies like Ethereum, and Bitcoin are popular. Crypto bookies have a faster processing time where the transactions are processed without intermediaries. There is no third-party involvement.
Crypto bookies come with minimum fees. Bitcoin and Ethereum have risen in value resulting in raised fees. However, Ripple XRP and Dogecoin are alternatives too. One of the most important aspects of crypto bookies is a blockchain where everything is recorded and accessible. Ultra-fast registration ensures that one does not have to go through KYC checks for account verification. Instead, an email address is enough for account opening.
Crypto transactions can have low deposits and operate without limits regarding withdrawals. Bookmakers process crypto payments within minutes. However, approval from bookies is important. Manual bookies take a day or two to process cryptocurrency transactions. Safe betting sites are a critical find. 
These payments are anonymous if personal details can be protected. Conventional bookies still require a KYC check for withdrawals. Most Cryptocurrencies are decentralized and are not tied to any specific jurisdiction. Thus, no laws can prevent a punter from accessing them. Thus, crypto bookies are accessible throughout the world and operate under trustworthy complete software for bookies. 
10 Tips to avoid having your account limited or closed at bookies
There are many bookies that don't limit you in the UK. However, there are steps you can take to ensure that you can avoid having your account limited, even if you do play at "other" bookmakers. If you are wondering "how do I stop being restricted by bookmakers?" even at these sites, then this next section is for you…
1️⃣ Deliberately tamper with your streak
You may not be happy about doing this but tampering with a winning streak can throw the bookie off your scent. If bettors were to 'fake a loss' and throw a bet or two to ensure that they do not end up winning every time, the bookie would be less likely to investigate their activity and limit their account. You know that you are doing it deliberately, and the bookie probably knows it, too, but they cannot prove it, and so, they cannot do anything to limit you.
---
2️⃣ Break up your pattern
If you are using the same strategy again and again, such as underdog betting, and you always win, the bookie might get suspicious. Even if you have done nothing wrong, it can help to place the odd accumulator or in-play to change your betting pattern. This will likely show the bookie that you do not have insider knowledge.
---
3️⃣ Wager different sums
You should not be so precise with your stakes if you are on a winning streak. Mix things up with both large and small wagers and always place round bet amounts. Low deposit betting sites can be ideal for this, as they allow you to deposit what you want into your account.
---
4️⃣ Diversify your bets
You might also want to try diversifying your bets a touch. Do not always choose the easiest sport to bet on. Why not try betting on different sports, or wagering different sums of money on both popular and unpopular markets? Consistent bets on horse racing or low profits on low odds might raise alarm bells at bookies – check our low odds laying system.
---
5️⃣ Be careful with bonus bets
If you like to play with bonus deals, such as reload offers in the UK, change things a bit. Use some, but not all the offers available to you. Again, this makes it look as though you are a casual bettor looking for a deal, not a man with a plan.
---
6️⃣ Mix it up with soft and sharp bookies
Have you heard about soft and sharp bookies? Soft bookmakers change odds slowly and are designed for casual, on-off bettors. Sharp bookies react quickly to changing markets, rapidly adjusting their odds, making them ideal for professional gamblers, but for more informations read our article about: What is sharp betting? 
If you are going to play with more than one account, make sure that you try and have an account at each type of bookmaker. Remember, bookies talk to one another, so using different log-in details and trying to make your two accounts as different from one another as possible is ideal, especially when claiming lots of risk free bet offers.
---
7️⃣ Never use more than one account with the same site
This is straightforward. It is against the rules at all bookmakers. Never open multiple accounts at the same bookie, or you are asking for trouble. Moreover, try and avoid opening betting accounts at sister sites – that means to say, bookmakers which share the same operator. 
---
8️⃣ Think about your transfers
Are you making lots of small withdrawals? How about plenty of deposits? To a bookie, this can look like you are a problem gambler, and that is a cause to limit or close your account as bookies pay fees for these transactions. Making a few deposits and the odd withdrawal looks a lot better. Think about things like how your deposit/withdrawal history looks. If you do insist on doing this, use e-wallet betting sites as they are more accustomed to small bets, deposits or cashouts and of course have lower fees for the bookies.
---
9️⃣ Keep tabs on your history
You can use your betting history to keep tabs on how you have fared, how much and how often you have deposited and withdrawn from the site. If you are on a hot winning streak and want to throw a match, or need to limit your deposit or withdrawal activity, your history will help you figure out when and how to do it. 
---
🔟 Take a "vacation"
If there is no practical way to make any of the changes above, you can always take a break for a few weeks. Take a break especially if you are on a winning streak. Pretend you are on holiday, as this shows the bookie that you are not "addicted" and can take a time out whenever you wish.
Bookies offer odds in order to sell a bet instead of odds to back it. It is done to attract punters for betting because if nobody matches a punter's betF the market closes and the bet will lapse.
If a punter ends up winning too much, it gives a reason to close up the betting account since sportsbooks are in business to make money. Clients who abuse their promos and bonuses are also targeted along with identified arbitrage. Operating more than one account under a bookmaker also brings suspicion.
To avoid being limited, a punter must not bet with exact amounts and round up stakes to the nearest number of 5. The overall betting pattern has to be monitored and placing arbitrage bets along with casual punters is important. Small deposits while signing up avoids attention from bookies.
Bookmakers can ban you for winning too much. It is done because they have a limited amount of money that can be given out on single selections. To avoid paying out too much money to the winners, some bookies might eventually restrict the amount they can stake and then ban altogether.
Bookmakers can refuse to pay out with legal impunity. The larger bookies accept the rulings of the punters' bible, the Sporting Life, in the case of disputes, but there is no requirement for them to do so.
Bookies can make out if you are arbing by the odds they provide. Bookies bunch you up along with the rest of the punter placing a bet. However, bookies might not limit you but can limit the particular bet or bets which received many requests.
It is a bit of a task to navigate through bookmaker restrictions and protocols. Thus, bookies without limits come to the rescue. There are many bookies that don't limit your activity or close your account. You can find the biggest bookmakers UK sites, and the best sports betting exchanges to join right here. Check out our reviews of these sites to play at safe, secure and the best bookies that don't limit your betting activities today.