Quadpot | What is a Quadpot & Quadpot Rules (2023)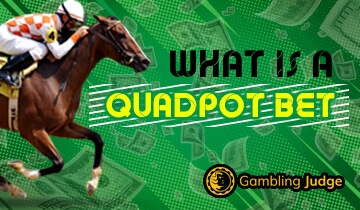 Similar to a Placepot, a Quadpot is a popular betting option at pool betting sites and most leading sportsbooks offering horse racing stakes. What is a Quadpot bet? How does a Quadpot work?
In our guide to Quadpot betting in 2023, you will have Tote Quadpot betting explained to you. We will look at how the bet works, how you can wager with it, and discuss a few tips and tricks to understanding it and making the most of this type of horse racing bet.
If you have got a desire to wager on the nags, and you happen to be signed up to a bookie which offers horse racing betting, this is the guide for you. Read on to find out more…
Your guide to Quadpot bets in 2023
What is a Quadpot in horse racing? A horse racing Quadpot is a Tote bet, where the winnings from all bets are pooled together. The more bets that are made, the greater the pool will be; thus, the bigger your share of the rewards could potentially be.
There are many horse betting terms that are worth knowing. These include Scoop 6, Trixie bet, Yankee Bet, and Patent bets. The Quadpot is more easily explained, though, making it ideal for players who only have a basic understanding of fixed-odds stakes at horse racing betting sites in UK. If you are interested in learning how it works, let's begin with our review.
Our Top Pick Bookmaker for Pool Betting in 01 November 2023 – Updated List
Tote Betting on William Hill
➤ William Hill is an agent for the Tote and accepts bets at Tote odds on horse racing in Great Britain and selected pools in the Republic of Ireland and other countries where their acceptance is advertised.
➤ The bets accepted at horse race meetings in Great Britain are the Scoop 6, Jackpot, Placepot, Quadpot, Trifecta, Exacta, Swinger, win, place and any other new bet introduced by the UK Tote.
➤ Where the UK Tote offers a pool facility for horse race meetings taking place outside Great Britain and the Republic of Ireland bets will be accepted.
What is a Quadpot bet?
What is a Quadpot? This type of bet requires you to wager on horses to place in the third, fourth, fifth and sixth races at a meeting. Quadpot rules state that you cannot wager on the first and second races with this bet – that would constitute a Tote Placepot bet, instead. 
If the first two races at an event look tricky to call, then a Quadpot bet could be ideal for you. It works differently from a conventional Forecast bet and is far simpler than an Alphabet bet. Provided you have some knowledge of how to bet on horses, though, you will understand how it works.
Let us start by looking at how Quadpot places work before moving on to how much a Quadpot costs and answering "how do you win on a Quadpot" when engaging in UK horse racing betting.
Place a Quadpot bet online: Quadpot rules
Learning how to bet on a Tote Quadpot is not as tricky as it sounds. Following these Tote Quadpot rules to start betting today:
Aren't Quadpot and Placepot bets the same thing?
Quadpot pools are often considered the same thing as Tote Placepot bets. In reality, there is a subtle difference. Placepot bets span the first six races of any event. By contrast, Quadpot bets only cover the third, fourth, fifth, and sixth races at any event. The definition of what is a quadpot states that you cannot place Quadpot bets on the first two races in an event.
How are Tote prizes from Quadpot bets calculated?
How to choose horses with Quadpot bets
You need to choose carefully when selecting your horses, especially when placing Quadpot live bets, as the odds change radically. You are wagering on horses to place with a Quadpot. Here is how the places work…
What is a Quadpot definition states that in each race, the number of runners will determine the Quadpot positions for your horses.
If there are just 1-4 runners, then you need to pick the winner. If there are 5-7 runners, then your horse must place first or second. Eight or more runners allow your horse to finish in the top three. If your race has 16 or more runners (only for handicap races), your horse will place in the top four.
Ideal Quadpot strategies to consider when Tote betting
👉 Banker Legs:
Ultimately, you want to use as few legs as possible to ensure that you keep your total stake down. One way to do this is if you only target races where one horse is almost certain to win. When betting with Banker Bets, always go for the hot favourites.
👉 Identifying Weak Favourites: Weak favourites are ideal for those who want to bag a sizable prize. The more non-favourites win a race, the greater the pot will be. This is a riskier strategy, but one that could pay massive dividends if you identify a weak favourite or an outsider to place.
👉 Playing Multiple Lines in Competitive Races: Your primary goal will be to keep your Quadpot alive if you can over the four races. To do this, you may have to wager on single horses to place in easier to predict races and select more lines in other races to keep your Quadpot alive. Keeping live Quadpots is more challenging the further into the event you go, so do not be afraid to add a few more lines if you need to.
The pros and cons of Tote Quadpot bets
PROS
Non-runners are replaced by SP favourites
Great returns if your bets come good
Found at most major UK bookmakers
CONS
Can prove costly with many lines
Does not count on the first and second races in an event
FAQs: Your questions on Quadpot bets answered
If you still have questions about Quadpot bets, allow us to try and answer them in this brief FAQ guide.
Quadpots can be just as ineffective as Trifecta Box betting and Tricast bets if you predict incorrectly and just as valuable as others if predicted correctly. It is all down to which horses you select, but Quadpots will make you more money with successful bets than many other options.
If you are stumped as to who will win the first two races in an event, then Quadpots can be more beneficial than Placepots. If you want to learn more about Placepot bets, then read our guide on "What is a Placepot?"
Tote betting spans many different types of bets. You have got Tote Swinger, Tote Exacta, Tote Trifecta, and many others. We would not say that one is more profitable than the other. It really does vary depending on how your race pans out.
No. While horse racing betting sites in the UK all offer this type of bet, several international racebooks do, too. For instance, Betfair Quadpots are possible across Europe.
There is no cap on how much you can win, per se. The total amount you can win depends on your total stake, the bets you have made, and how many other players have winning tickets.
Start betting with Quadpots at online bookmakers today
Now that you know the Quadpot meaning, it may be time to head over to horse racing sites to start betting? If you need more assistance, do not hesitate to read our other horse racing guides, including "what does SP mean in betting?", Placepot bets, Tote Exactas and more. Do not hesitate to claim UK free bets at our top, recommended bookmakers before placing Quadpot bets, too, many of which you can find right here.