Best Betting Sites in Ghana | Online Betting in Ghana Definitive Guide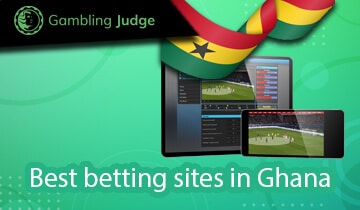 Sports wagering is one category of gambling that is taking off in this West African country. There are many betting companies in Ghana eager to offer their services to players. There is a growing demand for more betting sites in Ghana but also the traditional sports wagering shop is turning out to be a large part of the solution.
Several international gambling companies have invested in land-based sports betting shops and they have been well-received. The success of brick and mortar betting establishments doesn't mean that Ghanaian sports bettors aren't keeping the internet operators busy. It is the opposite: Almost all betting companies in Ghana also offer online sports betting companies' services.
It should also be mentioned that many sports betting enthusiasts here do not have the financial capability to own computers and internet connections so the land-based betting shop provides a doable alternative. The same situation is also in other African countries like Uganda or Egypt. This is a common disadvantage of all Africa betting sites. These Ghanaian sports betting shops are also safer than many of the rogue internet operators that are present here.
But if you choose reputable international betting sites such as Unibet Ghana, William Hill Ghana or Melbet Ghana, you can get the best of both worlds: The security of land-based betting and the practicality of online betting sites.
As we will explain below, finding Ghana betting sites is not a problem: There are many bookmakers operating legally in the country and there are no restrictions for international operators too. So, the problem is finding the best sports betting sites Ghana: Among so many options, it can be challenging to understand which ones are the best.
As always, we are here to help you: We analyzed all the new bookmakers and tried all of the online betting companies in Ghana for you. We have only added those that have succeeded in satisfying us to our list of betting sites in Ghana: Below, you can see them all.
Top 10 Betting Sites for Ghana in 01 November 2023 – Updated List
Rank
Bookmaker
Bonus
Safe & Trusted
Rating
Get Started
Laws & regulations in 2023 for bet companies in Ghana
Betting companies in Ghana have been legal since 1960. The first law on gambling was the "Lotteries and Betting Act" of 1960. This law legalized lottery draws, land-based betting companies, and gaming machines in land-based casinos. Until 2006, the law remained in effect and (naturally) did not contain a regulation on Ghana betting sites.
In 2006, a new law called the "Gaming Act" came into force: This was a much more comprehensive law and included regulations on Ghanaian bookmakers who offer their services online. But interestingly, the same law made lottery draws illegal.
As of 2021, the legal status of betting sites in Ghana is as follows:
In short, it is quite easy to bet or play casino games in Ghana: You have a lot of options both locally and internationally. In fact, we can say that the only thing you will have difficulty with is choosing among them. We take care of this problem too: You can use our compare bookmakers tool to find the best bookmaker for your needs or browse directly to our list of best bookmakers in the world.
How to pick the best betting site in Ghana?
Creating a list of betting companies in Ghana and selecting the best ones is not an easy task: You need a certain level of expertise and experience in the iGaming industry. Therefore, if you want to make a list of the top 10 betting sites in Ghana, we recommend you take a look at our selected operators. But if you are wondering how we selected them (or if you want to do it yourself), we used the criteria below and we recommend you do the same.
Watch out for bonuses and available markets. There should be as many betting options as possible on as many sports as possible. In this context, make sure that odds are also competitive.
---
Check the features of the betting site and make sure you can use different services. For example, live streaming betting sites allow you to watch the matches live and to bet in real time. Likewise, the cash out feature is always useful.
---
Pay attention to bookmaker's payment methods. In this regard, make sure that there are payment methods you can use and you can pay with Ghanaian cedi: Otherwise, you may have to pay exchange fees.
---
Mobile friendly bookmakers are always better. Truth be told, there is no such thing as a best betting app in Ghana: Each of the apps developed by mobile betting sites has different advantages. Find out what works best for you by comparing them (or take a look at our best sports betting apps guide). 
---
Make sure that customer service is available 24/7 and is professional. Also, support should be available in English language: This way you can communicate more comfortably.
Best bookmakers in Ghana that support Ghanaian Cedi
As we mentioned above, it's always better to play on bookmakers that support Ghanaian cedi, so you don't have to deal with exchange rates. To help you with this, we looked at the new betting sites in Ghana one by one and determined which ones support the local currency. Next, we have compiled a list of the top 5 betting companies in Ghana: Every operator on this list supports the Ghanaian cedi and offers advantageous bonuses. We list these sites and bonuses below: Note that this is also a list of free betting sites in Ghana.
Most popular sports & markets for sports betting in Ghana
As can be guessed, the most popular sport in Ghana is football:
Ghana has won the African Cup of Nations 4 times and the FIFA World Cup three times.

Ghana is also the only African country crowned in the FIFA U-20 World Cup Champions.

Asante Kotoko SC and Accra Hearts of Oak SC are the most popular football teams in the country.
Boxing and basketball are also extremely popular when it comes to sports betting in Ghana: Ghana is the birthplace of multiple World Boxing Champions and many Ghanaian athletes play for Europe's leading basketball teams. Finally, we can say that esports betting has become increasingly common in the country recently.
Which betting company is the best in Ghana?
If you are looking for the betting site with highest odds in Ghana, don't bother: There is no single bookmaker that offers the best odds for everything. However, there are multiple bookmakers that offer quite competitive odds for a variety of sports, like: 22Bet, Betwinner, Melbet, Betway or MyBet.Africa . Before placing your bet, we recommend checking all these Ghana betting sites and prefer the one with the highest odds.
Best payment methods to use at Ghanaian betting sites
As there are no restrictions on payment methods, we recommend that you choose the easiest (and cheapest) methods to use on Ghana betting sites. Below are some of the local and international methods you can use for this purpose:
FAQ: Your questions on betting in Ghana answered
Yes, all betting sites in Ghana are legal since 2006. Land-based casinos and bookmakers are also legal since 1960. As long as licensed by GCC, Ghana betting sites will be legal.
There is a 17.5% tax for gambling winnings in Ghana, but this is just for the operators (bookmakers and casinos). As a player/bettor, you do not have to pay any taxes for gambling winnings.
There is no single best betting company in Ghana: There are lots of bookmakers that are best at different things. We recommend checking the list of our recommended Ghana betting sites and picking one.
Yes. All operators (foreign or local) must obtain a license from Gaming Commission (GCC) in Ghana if they want to offer their services legally.
Mobile payments are pretty common in Ghana, so we recommend starting with them, such as Airtel money and Vodafone cash. Credit cards and debit cards will be your next best option.
We picked these betting sites for you: 22Bet, Betwinner, 1xBet, Betway, Melbet or MyBet.Africa. Check our list of betting companies in Ghana above. Each of them accepts payments in local currency so you don't have to deal with exchange rates.
Start online betting in Ghana & use the best bonuses
You can start playing at betting companies in Ghana right now and take advantage of the best bonuses: We listed all of your options above. These Ghana betting sites offer you the best possible service when it comes to online gambling: Useful bonuses, local currency support, amazing betting markets, professional customer service, and more. You just need to pick one and make your first deposit today: Good luck!
Our top recommendation for betting in Ghana
You won't regret this betting bonus