Types of horse racing | Horse racing explained [2023]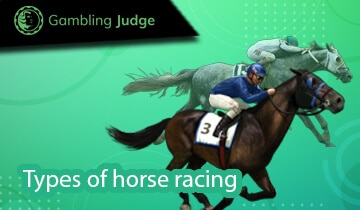 Horse and greyhound races have always fascinated punters and contributed to the early success of betting. Today, you can wager online or in land-based locations, on more types of horse racing than ever before.
In this guide, we teach you how to bet on horses and explain the most common horse betting terms. By the time you finish reading, you will have a thorough understanding of how you can be successful. We'll help you find the best new horse betting sites UK has to offer, to enjoy the best odds and offers.
Best Bookmakers for Horse Racing Betting
in 29 September 2023 – Updated List
Rank
Bookmaker
Bonus
Horse Racing Offer
Rating
Get Started
Brief history of horse racing
Before we take a closer look at the different types of horse racing events, let's talk about a bit of history. Horse races were invented more than 2000 years ago, but modern racing events began in the 12th century. UK horse racing betting is immensely popular, so it comes as no surprise that it all started in England.
Crusaders returning home brought with them Arab horses, which were fast, therefore the perfect candidates for different horse race events. It turned into a professional sport at the beginning of the 18th century, under the reign of Queen Anne.
Some of the main horse races of today were established in the 19th and 20th century. These are still some of the most important horse racing events you can bet on.
Quick glance at the many types of horse racing
Dog betting is a relatively new thing, but people have been placing different types of horse racing bets for centuries. Now that you know what's horse racing about, let's check out some of the most popular horse racing types. There are five that stand out from the crowd and you will find them at bookmakers offering free horse racing bets no deposit promos.
The 5 English classic horse races explained
Veteran punters using advanced Superfecta strategy to beat the odds in different types of bets on horseracing prefer English competitions. Now that you have the basic concepts about horse racing explained, we can check out the most important five events.
Top 3 most important horse racing cups
Knowing what are the types of horse racing will allow you to bet on the most popular horse racing cups. This can also help for a virtual betting guide, as these competitions are available to virtual sports enthusiasts. These are the top three most important events scheduled on a yearly basis.
How to pick the best type of horse racing for you?
In order to be successful with any type of horse racing, you need to thoroughly understand the event. Research goes a long way and you need to put a lot of time into analyzing competitors. This includes jockeys and horses, as each has their strengths and weaknesses based on the type of the competition.
Hunt for the best odds and take advantage of promotions and any special offers available at online bookmakers. These will allow you to take advantage of fleeting opportunities and boost your bankroll without taking unnecessary chances. Pay attention to the wagering requirements and special conditions.
Equally important is to understand the meaning of each type of wagering. Learn what does bar mean in betting, and get familiar with terms such as trifecta, each way, and superfecta. If you want to find out how much a 50 cent trifecta box costs in 2023, check our updated article. When predictions and betting tips are available, take them into account but also with a pinch of salt. Do your own research but try to tap into the best knowledge of savvy punters who are familiar with different types of horse racing.
Pros and cons of various types of horse racing
PROS
Higher odds than on most sports
Incredibly exciting way of betting
Numerous bonuses at online bookmakers
CONS
High volatility that doesn't suit risk-averse punters
Types of horse racing FAQ
The Mongol Derby is the longest and most demanding horse race, spanning over 1000 km.
The Kentucky Derby is the most popular of all race horse types and takes place every year in May.
Bill Shoemaker is regarded as the all-time greatest jockey and Secretariat is perhaps the best horse ever.
Horses can be both female and male and they frequently compete against each other with mixed results.
Competitors can be thoroughbred, Pinto, Freisian, Cleveland Bay, Arabian horse or Appaloosa.
Of all the competitors in different race horse types, Arrogate is the highest paid horse so far.
Various types of racing horses events, have black, chestnut, white, grey, brown and palomino horses.
Master the art of betting on different types of horse racing
Horse racing is just as exciting today as it was hundreds of years ago. There are more types of horse racing events for punters to bet on than ever before. Online bookmakers offer irresistible odds and an incredible variety of special betting options.
Once you understand each type of race and available betting options, all you need is research. Horse racing involves a high degree of volatility, which doesn't make it ideal for risk-averse punters. If you don't mind taking your chances for the sake of bigger winnings, you will have a lot of fun betting on horse races.