What Are Key Numbers in Sports Betting? | Most Important NBA & NFL Key Numbers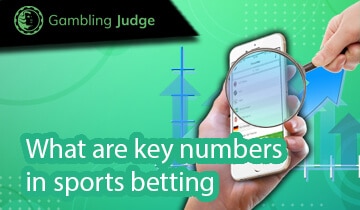 Key numbers in sports betting help punters reduce the house edge by betting on the ideal lines. Used mainly for NFL and NBA, they can also be applied to other sports, with relative success? which one is the best? NBA vs NFL?
In this guide we look at the importance of key numbers in sports betting to help you make an informed decision. Make sure you also read our guide on buying points sports betting to improve your winnings.
Useful for handicap betting and point spread betting, the most important key numbers can make the difference between a marginal winner and losing player.
Top Betting Sites with the Best Welcome Bonuses
in 01 November 2023 – Updated List
Rank
Bookmaker
Bonus
Safe & Trusted
Rating
Get Started
What are key numbers in sports betting?
While not particularly useful for futures bets or ante-post bets and rather irrelevant for soccer betting, tennis betting and other low scoring sports popular in Europe, they are valuable on the other side of the Atlantic. Understanding key numbers in NFL betting is the first and most important step, with the emphasis on point spread and point totals.
👉 Point spread betting is perhaps the most popular option on NFL betting sites and the first to master by those who learn how to bet on football. It is a variation of the moneyline betting, so instead of picking the winner you indicate the margin of victory. Players win if they correctly bet on the favorites or underdogs to cover the spread. For this type of wagering, the key numbers sports betting figures are +/-3.5 and +/-7.5. Most common NFL scores revolve around these numbers due to the scoring system used in American football.
👉 Points totals are also among the basic betting terms that punters use routinely for over under betting. They are used in all popular sports, but they are particularly useful for high scoring sports. They help in crafting a college football betting strategy on game totals and are perfect for NFL betting.
Check Out the NFL Key Numbers
In order to have the key numbers explained properly we look at the most common spreads and game totals in NFL. Depending on how lopsided the affair, these numbers can vary, but multipliers can be used to adjust the betting line movement. Any serious handicapper will use these key numbers in sports betting for selling and buying points.
These are the key numbers NFL totals and those for spread betting.
NFL point spread key numbers
Key numbers for betting NFL totals
Game totals are also popular wagers and some of the key numbers in football are dedicated to these values.
Regardless of how evenly matched or unbalanced the games might be, these numbers tend to come up more often. Any betting guide will highlight these values and suggest to incorporate them when crafting football strategies. These are specific to NFL matches, but they bear many similarities to the key numbers in college football betting.
Tips and strategies for using NFL key numbers
If you want to learn how to win at sports betting, you need to have a coherent plan that you respect. The goal is to find value in football betting odds and the key numbers in sports betting are essential. These are some of the things to try when wagering to maximize the returns without increasing the risks.
1. Make the most of half-points
Commonly referred to as the hook, these are winning margins that range from 3 to 7 points. If you know how to use key numbers the hook can help you make a profit instead of a push.
-3.5 and -7.5 spreads are back there if you want to bet the under, while over +2.5 or under 2.5 goals and +7.5 spreads work better for overs.

This can also work for over/under bets that focus on the 41, 43, 37, 44, 51, 33 and 47.
Once again, you should tinker with the half-points to avoid the push and make a profit if any of the aforesaid game totals are recorded.
2. Buy points to get key numbers
Bookmakers will highlight the even odds for under and over, as well as spread betting rather than key numbers. It's likely you will have to buy points to find the best value and this is always centered on these key indicators.
Shop around for these opportunities and check out the drop-down menus for spread betting. If the odds are worth the effort, betting on key numbers on NFL will pay off, so it's worth buying points. Most bookmakers allow you to choose your point spread, so you should take advantage of this option.
Key numbers in NBA basketball betting
We explained what are key numbers in sports betting and why they work better for specific sports. The higher the number of points scored, the more useful they are, so the NBA is an excellent choice. As soon as you learn how to bet on basketball and find the best NBA betting sites, you should focus on these numbers which are based on the scoring system.
A free-throw counts for 1
Field goals are worth 2 or 3 points depending on the shooter's position relative to the ring.
Do key numbers really matter in sports betting?
Key numbers in sports betting are definitely important, but they weigh heavily in some sports. American football and basketball are shining example because a lot of points are scored, so there are more key numbers to consider.
Ice hockey and soccer are less suitable for a strategy involving key numbers, because the spreads are narrow. As a rule of thumb, use key numbers whenever you have the opportunity to bet on high-scoring sports.
FAQ: Your questions on key numbers in sports betting answered
Key numbers refer to the margin of victory or the total number of points scored in a match.
American football and basketball punters are more reliant on key numbers than soccer and hockey fans.
The key numbers in NFL are three and seven, followed by 10, 6 and 4 for spread betting. 41, 43, 37, 44, 51, 33 and 47 are the most common numbers for over and under betting.
Key numbers in basketball are 7 and 2, followed at a distance by 5, 6, 8, 3 and 4.
Harness the power of key numbers in sports betting
NBA and NFL are some of the most popular and lucrative leagues for American football and basketball fans. You can maximize your winnings by understanding what are key numbers in sports betting and how to use them for spread and game totals. Each sport has its own key numbers and they differ based on the type of wager preferred by punters. Master the art of using key numbers, shop around for the best odds and buy points when needed to improve your success rate. Don't hesitate to apply the NFL and NBA knowledge to college and other basketball leagues to boost your profits.
Other articles you might enjoy: