Scoop 6 Betting | Scoop 6 Horse Racing Explained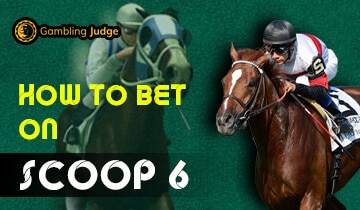 If you are interested in the possibility of winning a fortune with a 2 EUR stake, scoop 6 may be the perfect option for you. This is one of the most popular horse racing terms and you can see it at all of the pool betting sites.
It is based on the horse races in the United Kingdom, so scoop bets are mostly found in UK licensed bookmakers, but you can find them at other bookmakers too and place a bet from anywhere in the world.
In this article, we will explain how does the scoop6 work and let you make a fast start to your horse racing scoop 6 adventure. However, let's start from the beginning: what is the scoop 6?
What is a Scoop 6 in horse racing?
If you are asking where can I play scoop 6 question, we already picked the best and biggest bookmakers in UK for you: The websites below offer the best odds and bonuses for totesport scoop 6 bets. Pick one, create an account, and place your scoop 6 bet today: Good luck!
Our Top Pick Bookmaker for Pool Betting in 01 November 2023 – Updated List
Tote Betting on William Hill
➤ William Hill is an agent for the Tote and accepts bets at Tote odds on horse racing in Great Britain and selected pools in the Republic of Ireland and other countries where their acceptance is advertised.
➤ The bets accepted at horse race meetings in Great Britain are the Scoop 6, Jackpot, Placepot, Quadpot, Trifecta, Exacta, Swinger, win, place and any other new bet introduced by the UK Tote.
➤ Where the UK Tote offers a pool facility for horse race meetings taking place outside Great Britain and the Republic of Ireland bets will be accepted.

Scoop 6 explained with rules
In other words, how to win the scoop 6? To answer that question, we need to talk about scoop 6 rules. Once you fully understand scoop six rules, you will also find out how does the scoop6 work. Here is everything you need to know:
➤ During the race season, scoop 6 races are announced every Friday.  On each Saturday, you can place your bets.
➤ Your goal is, as explained above, to pick the winners of all 6 races.
➤ However, there is a consolation prize for picking the second horse (placed horse) too. If one of your selected horses places second, your bet is still valid.
➤ However, you don't need to pick only a single horse in each race. It is possible to pick multiple horses in races and claim that one of them will be the winner. Thing is, doing so will increase the cost of the scoop 6 bet, as we will explain below.
➤ It is possible to pick specific horses (with their names) or just select unnamed favorites. Picking the unnamed favorites mean that you are siding with the market and trusting the choices of other bettors.
➤ If you prefer the "unnamed favorite" option, the favorite horse at the time of the starting price (abbreviated SP in betting) will be chosen automatically for you. If there are multiple favorites, the favorite horse with the lowest racecard number will be chosen.
➤ If one of your horses turns out to be a non-runner, your bet will automatically become a bet for the favorite horse in that race. Let's say you picked "Horse A" for your bet. At the time of the starting price, Horse A is out of the race, and the favorite for that race is "Horse B". Your selection of Horse A automatically becomes Horse B.
➤ The odds of winning scoop 6 are not high but still better than winning the Lotto or Euromillions. To give you an idea, you have 1.872.000/1 odds of winning a scoop 6 bet. Winning the Lotto is 45.000.000/1. For Euromillions, this is 140.000.000/1.
How much is the Scoop 6 bet?
The cost of a scoop 6 bet depends on how many horses you pick in each race. If you pick only a single horse, the cost will be 2 EUR/GBP, because:
We listed the odds of winning a scoop 6 bet above: If you pick only a single horse in each race, this number is indeed 1.872.000 to 1. However, by picking more horses in each race, you can increase these odds too. For example, selecting two horses in each race will reduce the odds to 29.250 to 1. 
How to bet on the Scoop 6?
This is not a how to bet on horses guide, so we will give only basic information about how to play scoop 6. We will assume you have basic knowledge about horse racing bets and explain how to place a scoop 6 bet accordingly. In addition, we picked the William Hill Scoop 6 as the example, but the steps you need to follow are almost the same in any bookmaker, like Betfair or Betfred. In other words, once you learn how to bet on scoop 6, you can use this info everywhere.
Step 1
Make sure it is 8.00 AM (GMT) and Saturday. Scoop 6 bets will become visible/selectable only on this date
Step 2
Most probably, scoop 6 bets will be listed under the "tote" category. So if you are not seeing the "scoop 6" as an option, open the tote betting page of the bookmaker
Step 3
On this page, you will see multiple betting options such as placepot, jackpot, quadpot, etc. Pick "scoop 6" among these options
Step 4
On the next page, you will see a list of 6 races. Pick the winners in these races: As explained above, you can pick a single horse or multiple horses
Step 5
Place your bet: You can see the cost of it on the betting slip. Good luck!
Scoop 6 payout: What to expect?
As we mentioned above, the stales of all bettors are added to a "pool" in scoop 6 betting, and the winners (who guessed the 6 winners correctly) get a share of the funds in this pool. In this regard, there are two pools and another bonus pool:
1. Win Fund
The Win Fund is the main pool we explained above: Bettors who guess the 6 horses correctly get a share of it. 
2. Place Fund
Do you remember the part where we talked about a consolation prize? If your horses come second instead of first, you get a share from this pool. The payouts are not big as the win fund, but you still get something. 
3. Bonus Fund
There is also a bonus fund: It is exclusive to scoop 6 winners. Simply put, scoop 6 winners are eligible to place a bet on a race to be held next week. If they can guess the winner of this race correctly, they will earn all the money in the bonus fund (not just a share).
Scoop 6 betting tips for beginners
👉 Prefer
new horse racing betting sites in UK
to place scoop 6 bets. New bookmakers always offer the best bonuses to gain more customers. Speaking of which, make sure to use a bonus (i.e. free bet bonus) for scoop 6 bets too. 
👉 Don't just choose the favorite horses. Dividends will also be small, as almost everyone will choose them. Sometimes it is better to bet on underdog horses, and doing so will increase the payout considerably.
👉 As always, do your research. Track horses throughout the racing season and learn about their performance. You have to follow not only horses but also jockeys. Know which horse is doing well on what type of track. Don't just play relying on your luck.
👉 Although the 2 EUR bet sounds like an attractive idea, you can raise the odds in your favor by choosing two horses instead of one for each race. If you have enough budget, make sure to choose two horses: Your chances of winning will increase significantly.
Should you try bet Scoop 6 online?
PROS
You can score big payouts with small wagers
It is possible to increase the odds
You can still use bookmaker bonuses
CONS
Winning chances are not high
It may seem complex to beginners
FAQ: Your questions on the Scoop Six bet answered
If your horse is a non-runner, it will be replaced automatically with the favorite horse at the time of the starting price.
If the race is not re-run on the same day, the result of the scoop 6 bet will be settled on the remaining legs, so it will be enough to guess the 5 winners to win the prize.
Simply put, all money in the fund rolls over to the next week, which means it is added to the pool of the next week. This is the reason why you see multi-million-dollar scoop 6 payouts from time to time.
The minimum cost is 2 GBP/EUR, but the maximum cost is based on how many horses you pick. The cost can be thousands of Euros too, if you pick too many horses.
The official Tote website publishes them but your bookmaker will also let you know the results almost instantly.
You learned how to bet scoop 6: Try it today
This is the end of our tote scoop 6 explained guide: You now know what is the scoop 6. More importantly, you know how does the scoop 6 work. Now go out there and make some practice: You can be the next scoop 6 winner. Pick one of our recommended bookmakers, read our other guides, do your research, and win big: We are sure that you will enjoy scoop 6 betting very much. Good luck!
Other articles you might enjoy: